February 26, 2018 by: Mark R Dawson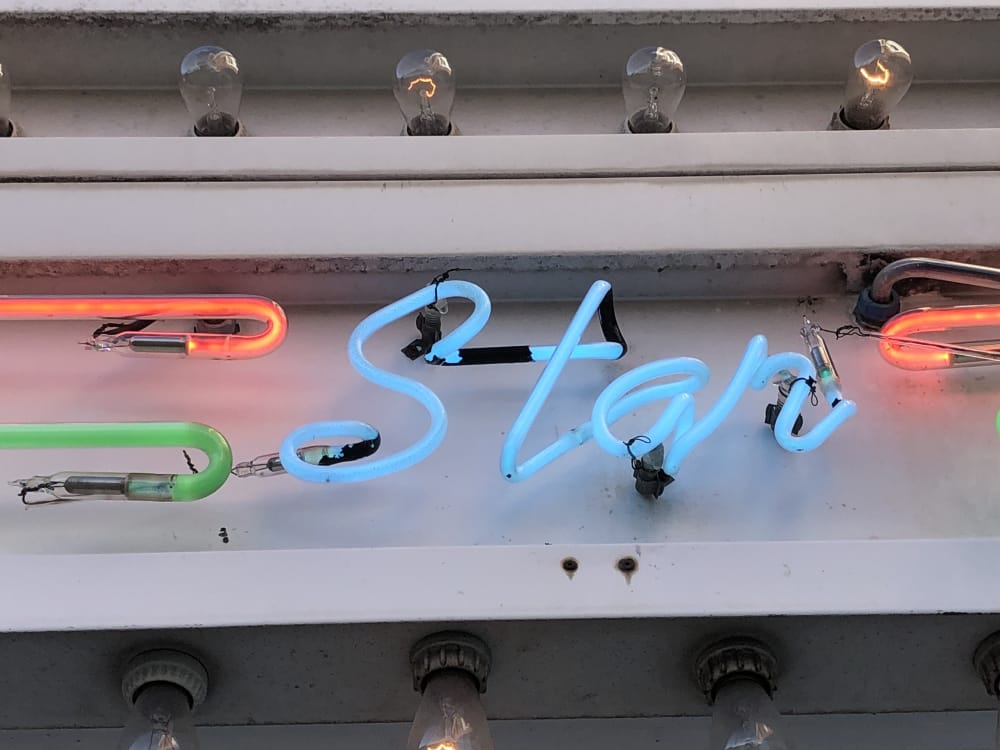 Willow Springs Star Theatre Performance
During a recent LiTE-Retreat, I had seen mention flash by on the television and event at the "Star Theatre - Willow Springs" but that was all I caught, so mentioned it to our guests, since they came to us from Willow Springs, Becky said "I called the station and had them post that. You and Dixie should come over. It's Sunday at 3 pm". I was selfishly more interested in an old small town theatre than anything, and it perked my interest. Becky said they were part of a local group, the Southern Ozarks Community Orchestra, doing a "Love Notes Concert" (belated Valentines concert due to previous weather). Willow Springs is a little over an hour east of us on US-60, so we said "why not, we don't get out much"!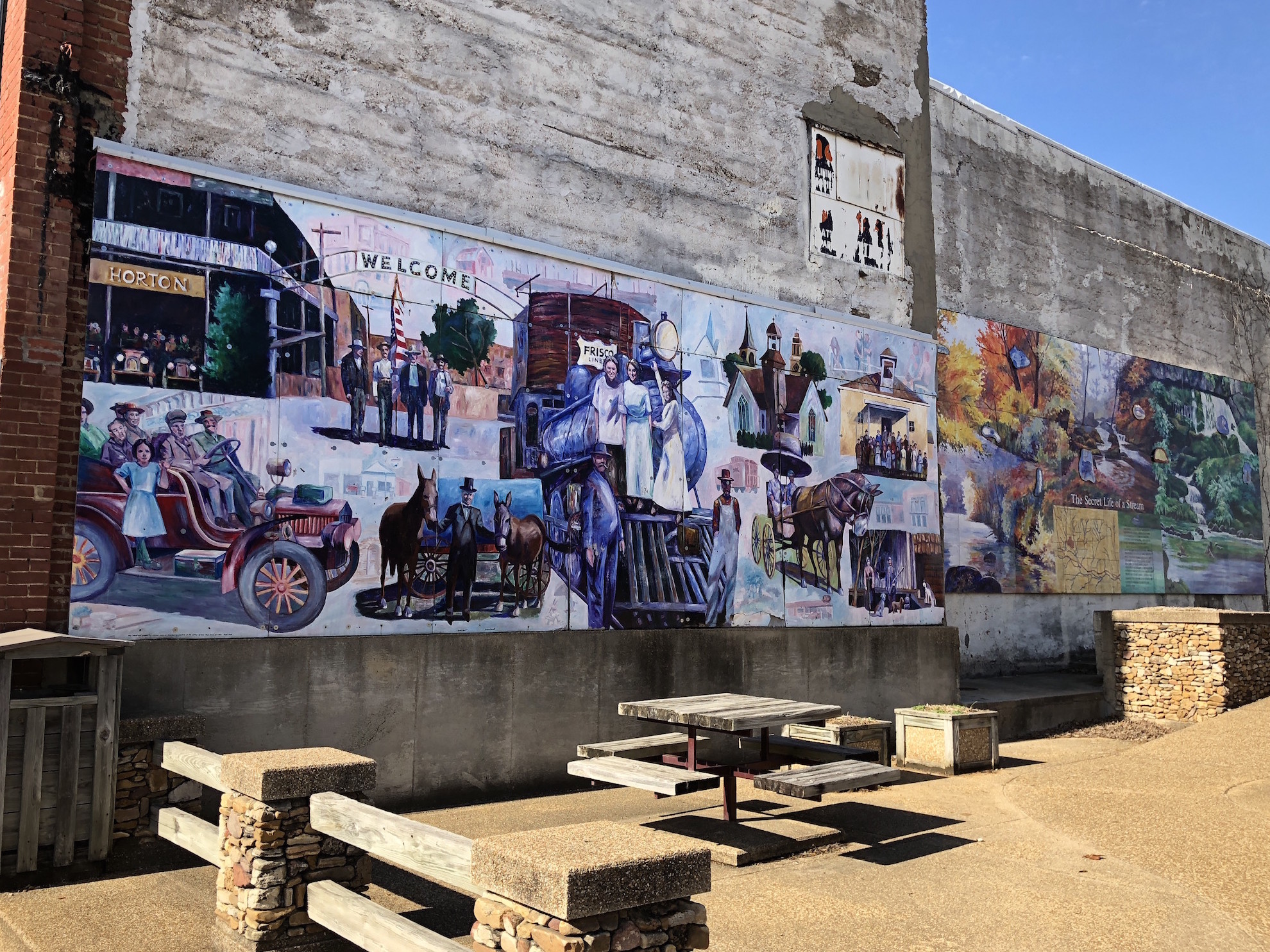 East side of Star Theatre and Murals depicting Willow Springs history and life, with nice outdoor seating park area.
We love small towns, especially those still alive, and retaining many of their historical buildings. We drove over on a beautiful sunny day (after a rain drenched week) and found the Star Theatre on Main Street next to a coffee shop, and small park area with murals on the side of the theatre. Across the street, a pizza place, Quilt Shop, and music shop. Nice. One of our friends was parked and waiting, and we were joined by another and her family. These ladies have visited us on several occasions, but at our B&B, so now we get to visit them on their turf.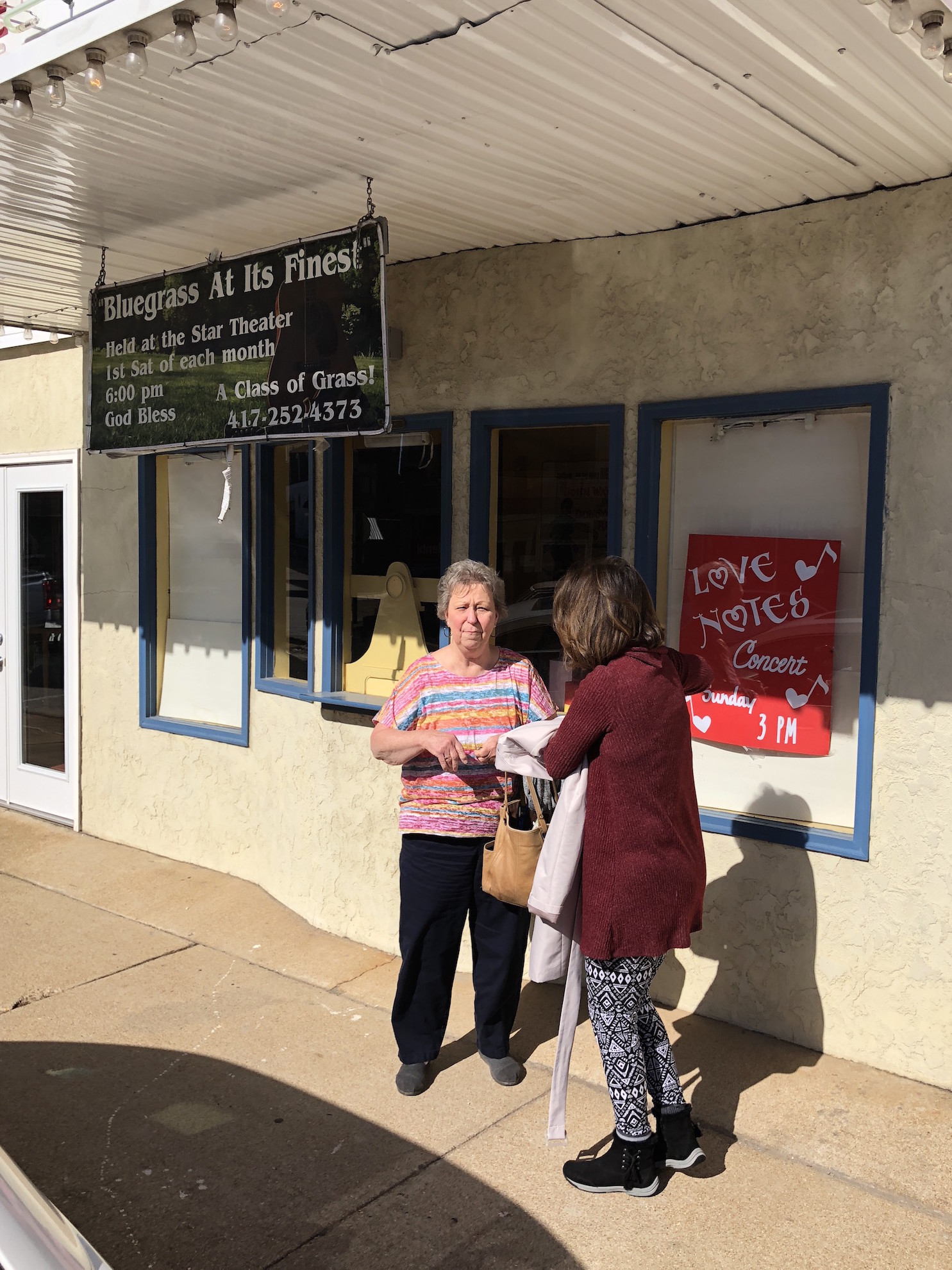 Scrappy Stitcher Kathy (she's a stitcher / quilter) was waiting when we arrived. Here Dixie asks about tickets for Love Notes.
Let me say that what the Star Theatre lacked in grandeur of the larger theatres like Springfield's Gilloz, it made up with in small town charm, hospitality, history, and perseverance. Imagine building this theatre to serve the community of Willow Springs in 1922, then the silent movie era. A few years later, sound was added as movies developed. For about 50 years, into the late 70's, when it closed, The Star Theatre served this small community.
A few years after closing, in the 90's, the Willow Springs Community Foundation purchased the building, and began renovation for their use, which began in 1998. In 2016, there was a devastating fire, and the building was gutted and rebuilt quickly to what we have today, No Federal or State Funds or grants were used in the rebuilding, just community service.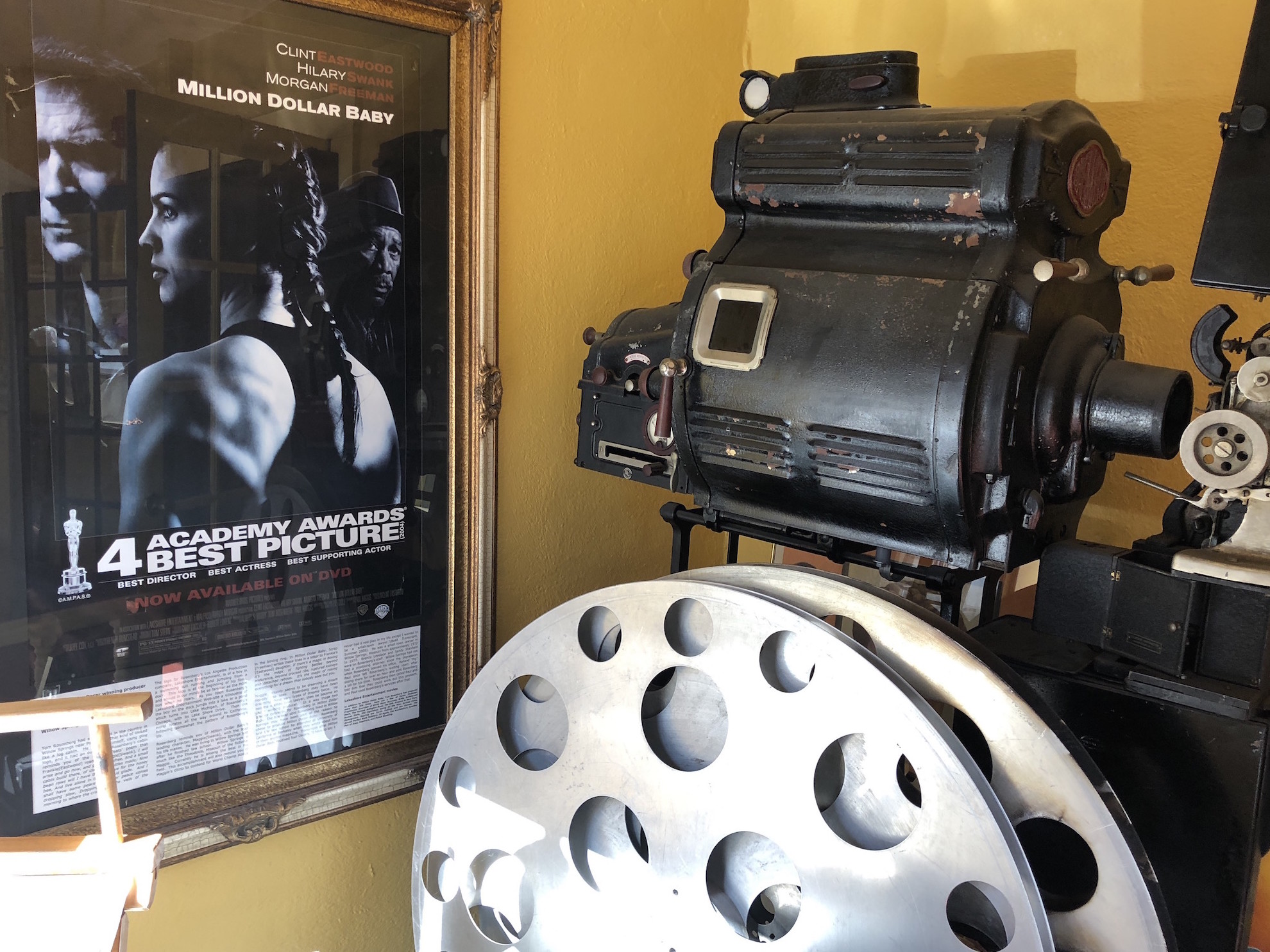 Original Star Theatre Projector with a write-up honoring Tom Rosenburg, Academy Award Winning Producer of "Million Dollar Baby"
The Star seats about 200, has a balcony and light/sound booth, beautifully crafted staircase (local craftsman after fire)a, and performance stage. The lobby was small but accommodating, and popcorn and drinks offered up. One corner an exhibit with the original projector, and homage to Producer Tom Rosenberg, a former Willow Springs attorney/resident, who later grabbed an Academy Award for "Million Dollar Baby". Interesting history to tie into this theatre.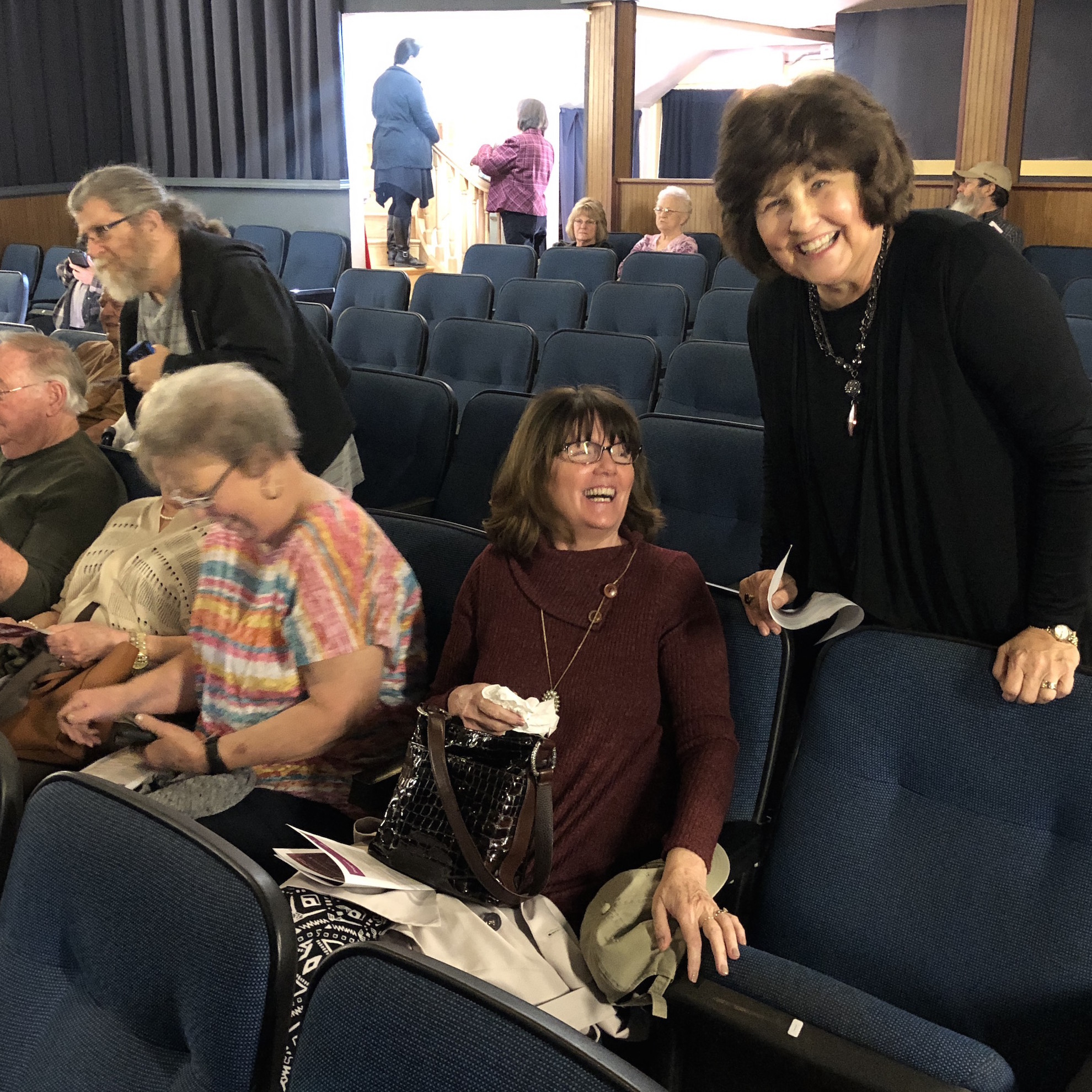 Our gang of friends....Becky there on the right will grab her violin and begin performing soon.
Once inside, we found seats and the performance began. Consider that is group of 30 musicians are volunteers, any money taken in goes to the Foundation, and many of them travel several hours (from Liberty, MO and Arkansas for example) to present their art. We enjoyed their combination of genres and composers like George Gershwin, Hoagy Carmichael, Gustav Holst, Mozart, and wrapping up with Journey's Greatest Hits (all Love Songs, you know). All were introduced and explained by their conductor, Jodie Forbes. During Intermission, ticket drawings for donated gifts were called out (Dixie got the first of maybe a dozen, an insulated drink holder from the local pharmacy).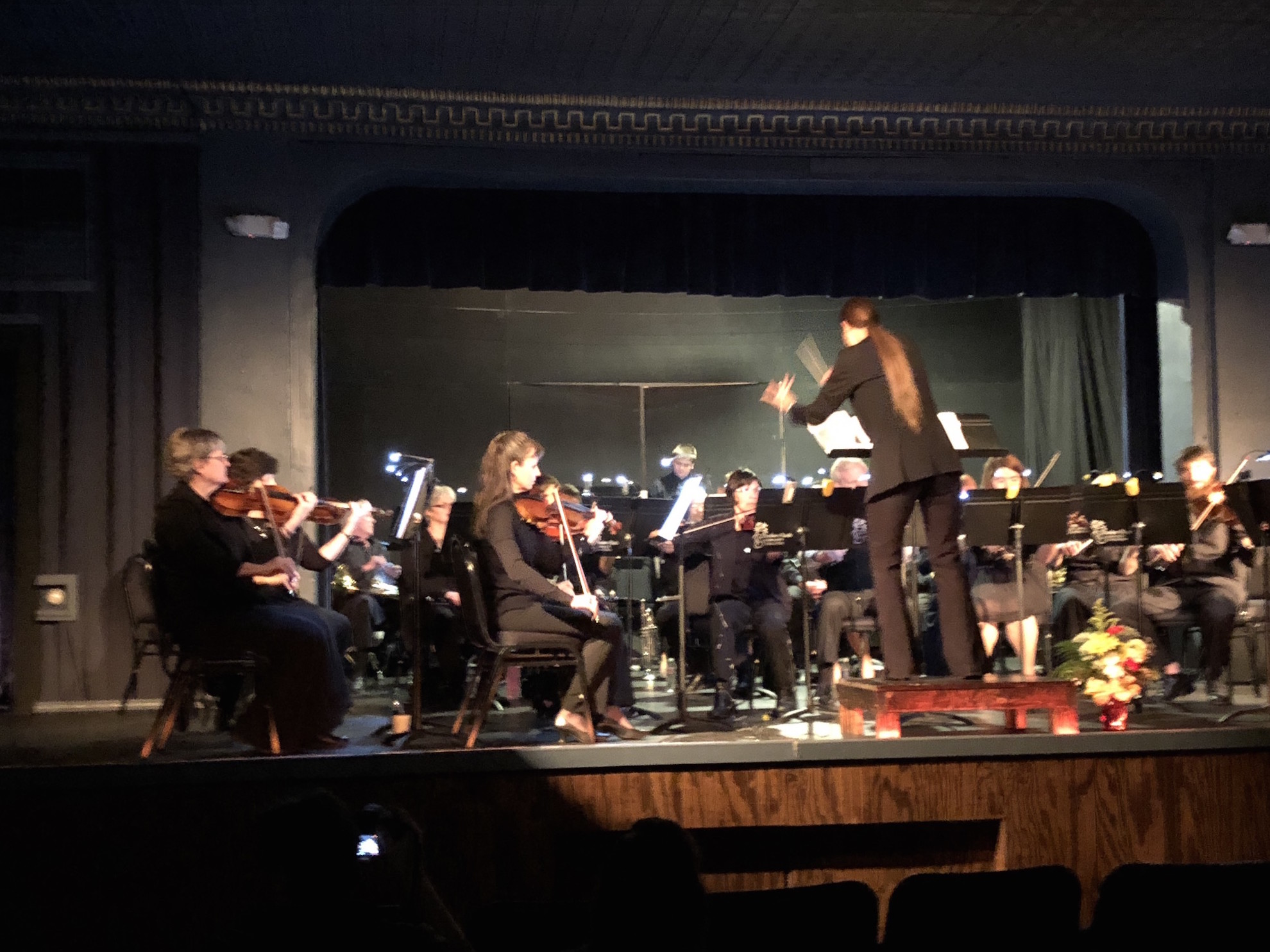 The Southern Ozarks Community Orchestra perform Love Notes...
We were made to feel very welcome as first timers, and many wanted us to know all about the other upcoming events i.e. CATS, Annie, more orchestra - they just had the day before two performances of Ballet to Frank Sinatra hits! Very entertaining, and our tickets were a bargain at $7, there is not excuse for not attending.
Many thanks to Becky for inviting us, and we invite you to visit the Star Theatre and one of it's many events for a fun filled Ozarks happening. You can find their schedule at: