During the recent drought June through July in these parts, the only mowing needed was to cut off those "nuisance" weeds with the seed tops, which seemed to be the only thing growing. As I mowed, I wondered what this common sight and weed really was. I do remember as a kid growing up, we'd take the stem and snap it off, wrapping the long stem around itself and push it forward, "firing" the seed, or bullet at my brother or a friend. Dixie recalls making bracelets out of them "splitting and weaving" the stems together.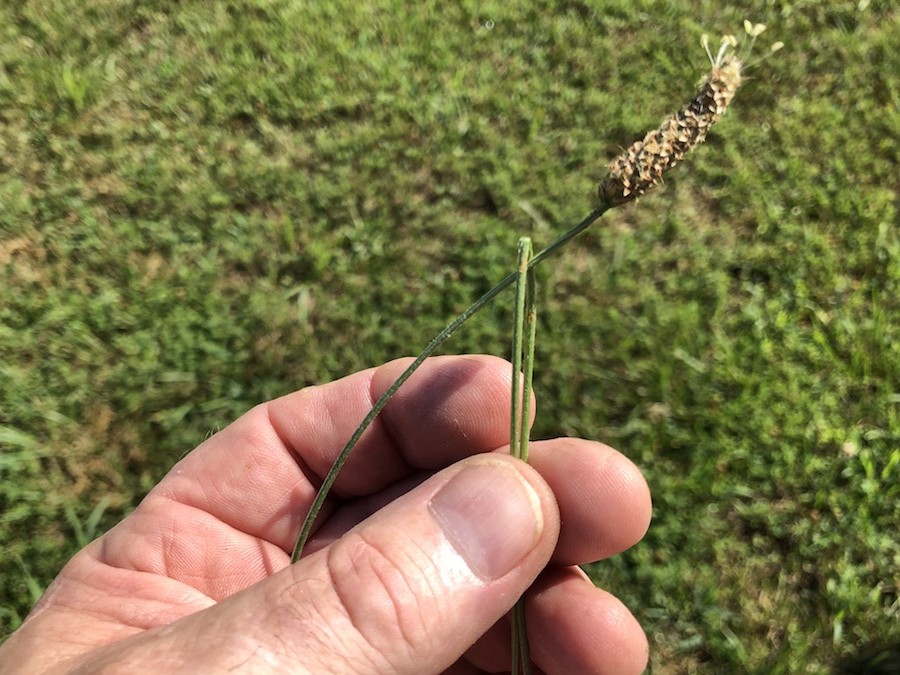 Wrap the stem around itself, pinch and push – the "bullet" flies off and a bunch of pollen too!
Shame to say, that is about all I knew about this weed until recently, an e-mail came in that send me searching another item, that turned out to be the same plant, with an interesting history and uses. You see, like many, allergies affect me when pollen counts rise, and when they do, I get a daily e-mail showing pollen count in area from pollen.com, and it shows what pollens are present. One of these showed two that day – Grasses and Plantain. Isn't plantain a small banana we use to eat in the Caribbean?
Well, that is true, it is. However, THIS Plantain is a plant, and not only one that produces an allergens, and IS the same one I was mowing and shooting my brother with, but also many medicinal benefits, and a history as well.
My search found this "weed" called many things over the years i.e. "White Man's Foot" by the Indians, "Bullets" by us kids, "Plantago" it's scientific name, "Soldiers Herb", "The Hardiest Plant on the Earth", "Cuckoo Bread", "The Little Big Weed", "Englishman's Foot" (not sure these foot references), "Mother of Herbs", and many more.
Some plantains, and there are over 200 species, can produce up to 14,000 seeds per plant per year and seeds may remain viable for up to 60 years!!! Seeds germinate in late spring, through midsummer, and again in early fall. No wonder I am doing so much mowing!!!!
However, the more I "dug", the more interesting information I uncovered about it's medicinal properties. Plantain is loaded with vitamins and minerals and is considered one of the most nutritious plants. I see references back to the Trojan War, Saxons (considered to be one of the nine sacred herbs), and used by the Chinese. It's uses span from salads (the leaves) to flour (the seeds). Remedies for bug bites and wounds (chew leaves and put on bite or wound), treatment of various liver, bladder and lung disorders, and even chelating heavy metals from the body!!!
Rather than boring these readers with more facts and uses, here are some links I found interesting, even some with recipes!!!
LINKS – MORE INFORMATION (AND THANKS FOR THE INFORMATION)
– Plantain – A Foraging Guide to Its Food, Medicine and Other Uses
RECIPES:
– Aubergine And Avocado Bake With Ribwort Plantain
– Spiced Greater Plantain Seed Mix
Now, I haven't yet ventured down the path of trying these medicinal remedies, or made Plantain Flour, but wanted to share this little discovery as I continue to mow and now reflect on these tall stemmed "weeds" I am cutting down with wonderment "should I be harvesting these things?