As many of your know, one of our biggest events of the year is supporting the Missouri Cherry Blossom Festival in our nearby county seat of Marshfield, Missouri. After cancellation in 2020 due to the pandemic, this years roared back with an interesting line-up of guests, events and forums fulfilling most visitors interests. As always, our Bed and Breakfast is blocked for visiting CBF dignitaries, some new, some returning. I would like to highlight in this post those events and forums we attended, which might give a snapshot of why this is one of Missouri's most interesting festivals.
We began Wednesday at our facility hosting a private (invitation only) kick-off "Amish Luncheon" for the CBF Committee and early arriving guests. You may be aware, we have hosted several Amish dinners and events, and THIS one is what started our interest and exploring the Amish as a source for such things. We had about 55 guests attend that luncheon.
Our guests began arriving that evening and the next day. Since each is called to different functions, we often drive some (those without vehicles) to their events and "host" them in many ways. For example, if they want to return back to the B&B after the day's events, we know dinner will be required (their are dinner events, but not all attend). One night, we ran to Skinners Bar-B-Que and returned with enough to last a few days. One lunchtime, it was Chinese….you get the point.
So, will proceed with a pictorial post of those events this Innkeeper was able to visit and capture. There were many, many more events and forums not taken in or documented. An example is the Randy Travis Foundation concert featuring Rhonda Vincent. Clink of the links to learn more about the Cherry Blossom Festival and variety of programs to attend.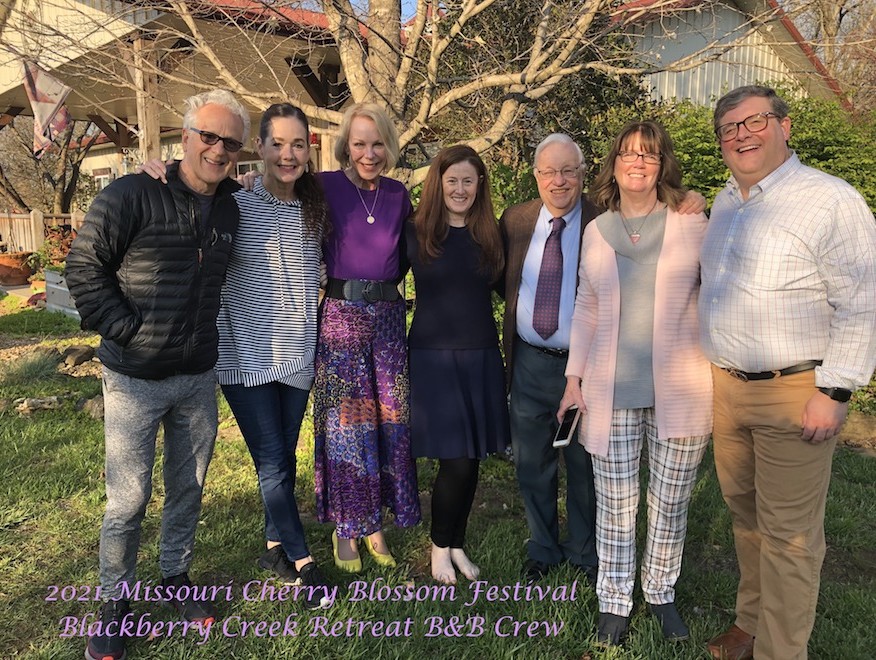 In 2021, our guests here at the B&B included (l to r) – Keith & Kathy Thibodeaux (Keith played Little Ricky on I Love Lucy, Johnny Paul on Andy Griffith, drummer in band David and the Giants – together they own Ballet Magnificat), Mary Jean Eisenhower (youngest grand-daughter of General & President Dwight Eisenhower), Kami Cotler (Elizabeth on The Waltons, runs charter schools in CA, husband Kim not in photo), Tweed Roosevelt (Great Grandson of Teddy "TR" Roosevelt), Innkeeper Dixie Dawson, and Massee McKinley (descendant of Presidents McKinley and Cleveland). Mary and Kami returning guests.
Massee and Tweed are officers in the Society of Presidential Descendants, a group dedicating to locate and preserve lineage of Presidential families and their descendants.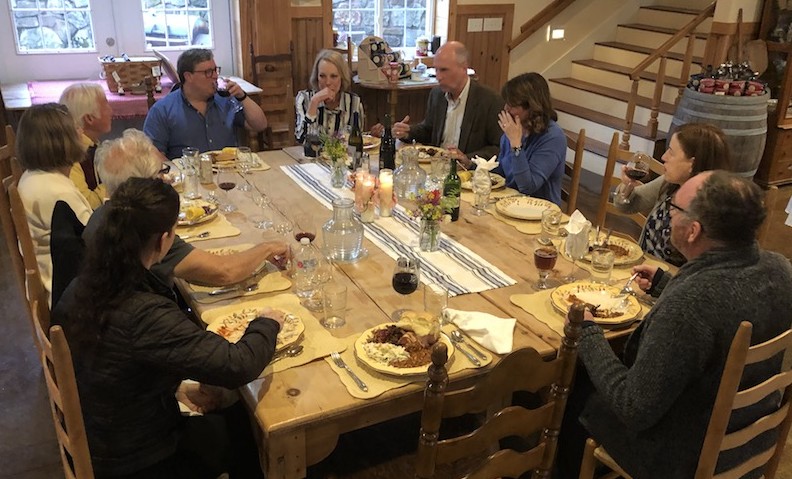 Bar-B-Que dinner after first day's event for our guests and joined by Bertram and Carol Hayes-Davis (Jefferson Davis Great-Great Grandson) and Richard Gatchell (President James Monroe 5th Great Grandson). Lots of HISTORY and interesting conversations at this table…
Dixie and Kami Cotler with Kami receiving her boot!!! That's a LONG story for another time, but certainly a good one that gets retold…..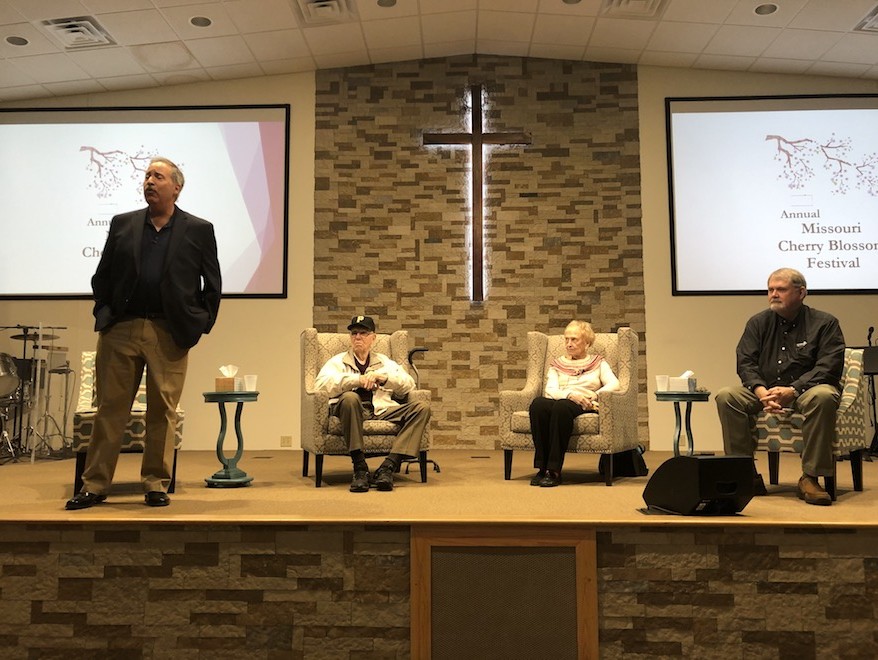 Interview with our friends and Baseball Legend, Bill Virdon.with wife Shirley Moderator, Tim Pletkovich (left) has authored a great book I read and is available at the B&B for your reading as well, and on the right we find David Jerome who is working on Bill's memoirs. So much about baseball in the past, so different today.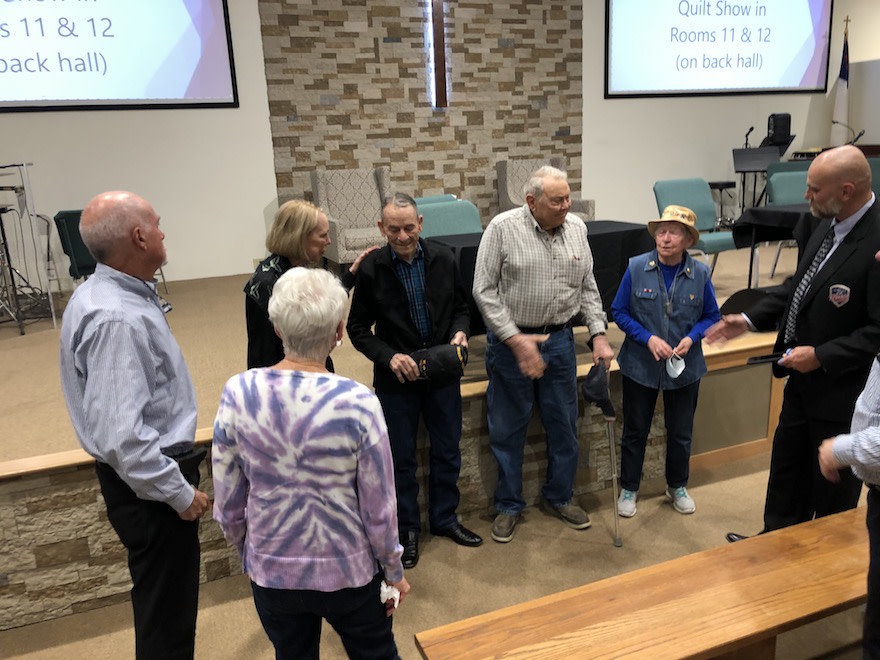 "Remembering the Korean War" panel. Featuring Korean War veterans, sharing personal accounts of the forgotten conflict that shaped the modern world.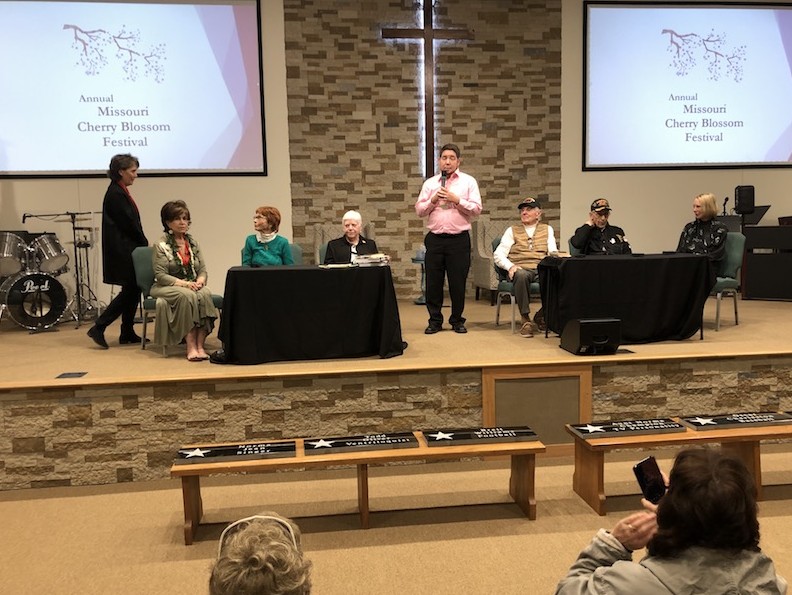 "Remembering WW II" panel, featuring WW II veterans, including: Dorinda Nicholson (Pearl Harbor child), Robert Boeke, Laura Hunt and others. Moderator, Myra Miller who has authored two wonderful WWII Veteran books highlighting their stories (we have at the B&B). Amazing these upper 90-year-olds came and shared their stories…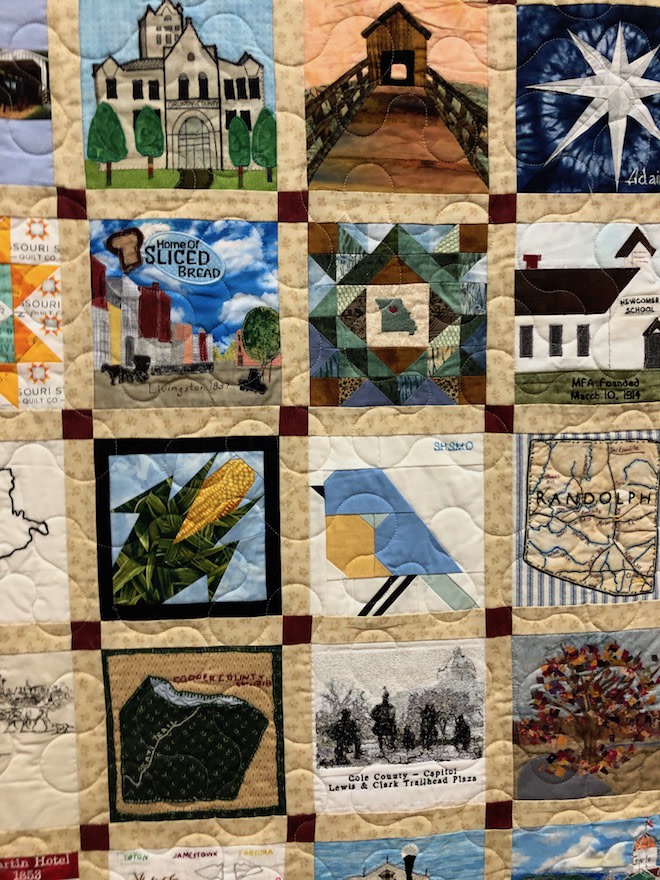 Section of the traveling Bicentennial Quilt which made a stop at the CBF. We previously did a post about this beautiful quilt made of squares submitted by EACH county in the state. BEAUTIFUL.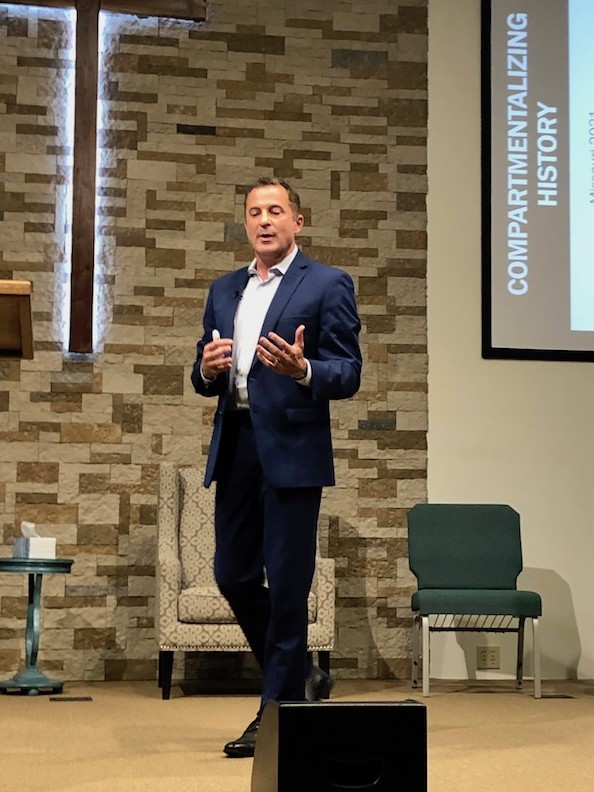 I was excited to attend this forum with John Brown (Fox 2 News, St. Louis) speaking about his book, "Missouri Legends: Famous People from the Show Me State" . I had recently bought and read his latest publication "Missouri – An Illustrated Time Line" of our past 200 years (can find on our shelf at the B&B!). His stories and facts about our state and it's people was fascinating. Bought another book of his at CBF "100 Things To Do in Missouri Before You Die".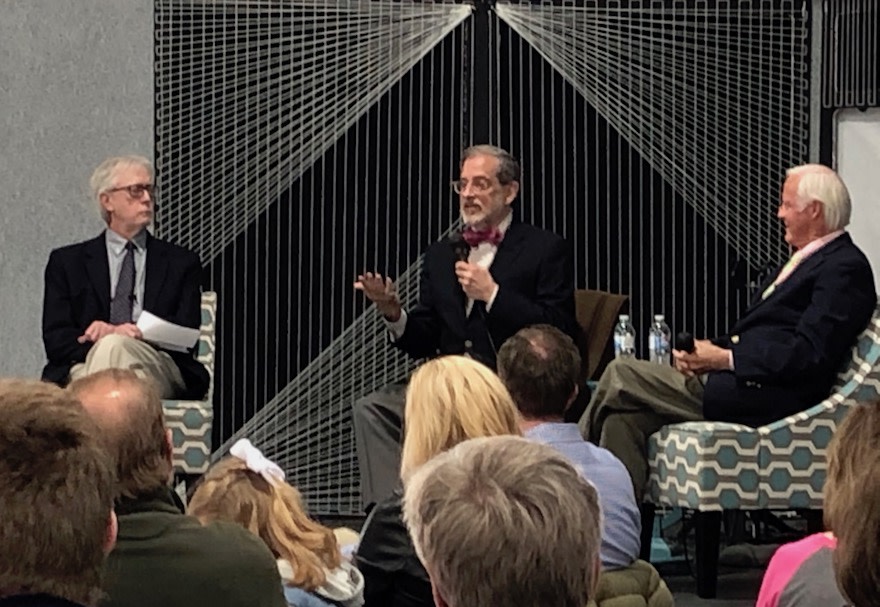 We attended a luncheon fund raiser benefiting and featuring Wilson's Creek National Battlefield Foundation. Commemorating the 160th anniversary of the first major battle of the Trans-Mississippi Theater of the American Civil War- Ulysses Grant Dietz (great, great grandson of President Ulysses S. Grant) and Bertram Hayes-Davis (great, great grandson of Jefferson Davis) will be interviewed on stage about their Civil War ancestors and their leadership during the war. We entered a raffle and WON aa print by one of our favorite artists Andy Thomas, called "Don't Yield An Inch" (and had both these speakers sign it!). We'll get that framed and hanging soon at the B&B.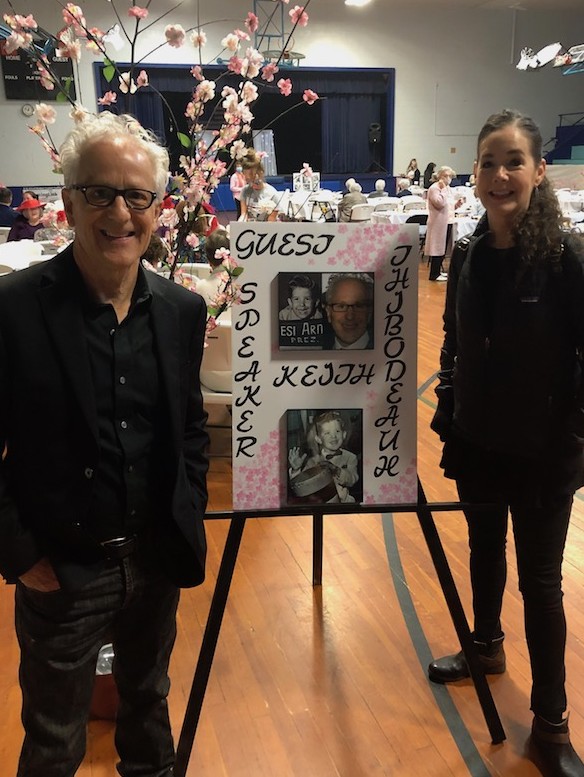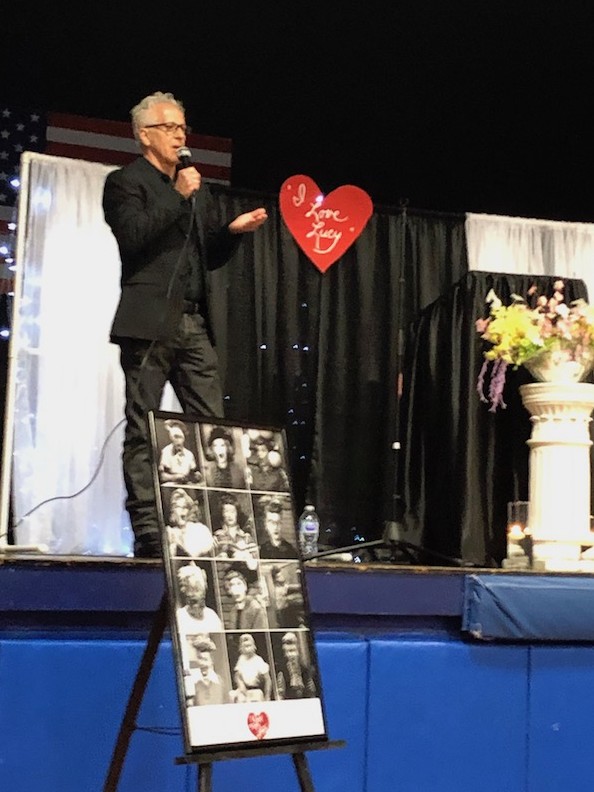 What can we say about these two, which we were blessed to have hosted during the Cherry Blossom Festival – Keith and Kathy Thibodeaux. All we knew was "he is Little Ricky in I Love Lucy". Nope, these two represent much, much more. OK, so he started his career as Little Ricky for several years, then appearances as Opie's best friend Johnny Paul in Andy Griffith. HE then began drumming for a secular group called "David and the Giants", later switching after their conversion to a more well known Christian group by the same name. Speaking at the CBF Tea, a most popular luncheon event, Keith spoke of his life, becoming a Christian, and the Christian Ballet Group Kathy and he now direct in Jackson Mississippi – Ballet Magnificat. Click on it to see what a ministry they have! We didn't realize the magnitude of this part of their lives until we stopped in on a recent trip and toured Ballet Magnificat.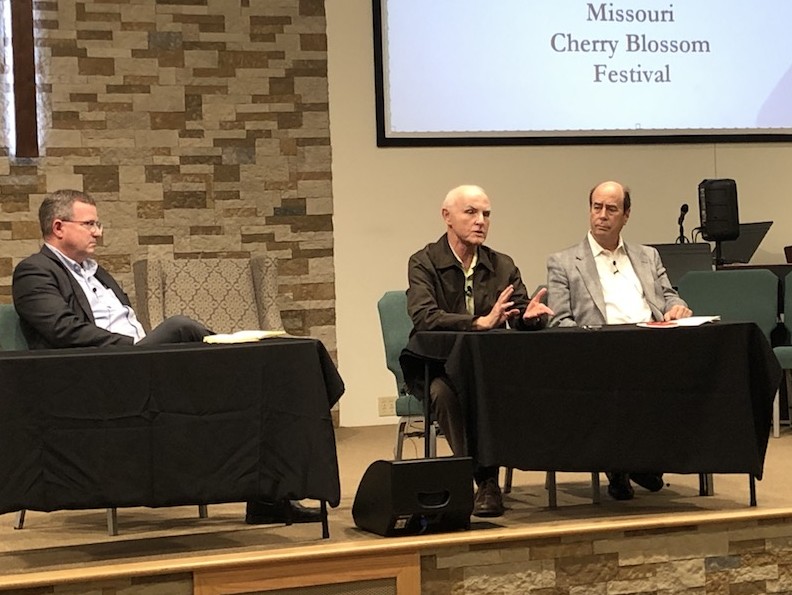 "Remembering the Ozark Jubilee" Panel, featuring cast members of the 1950's ABC television network program that showcased country music's top stars of the day- Moderator, Tom Peters (Missouri State University) . Our Ozarks Guestroom features some Jubilee items.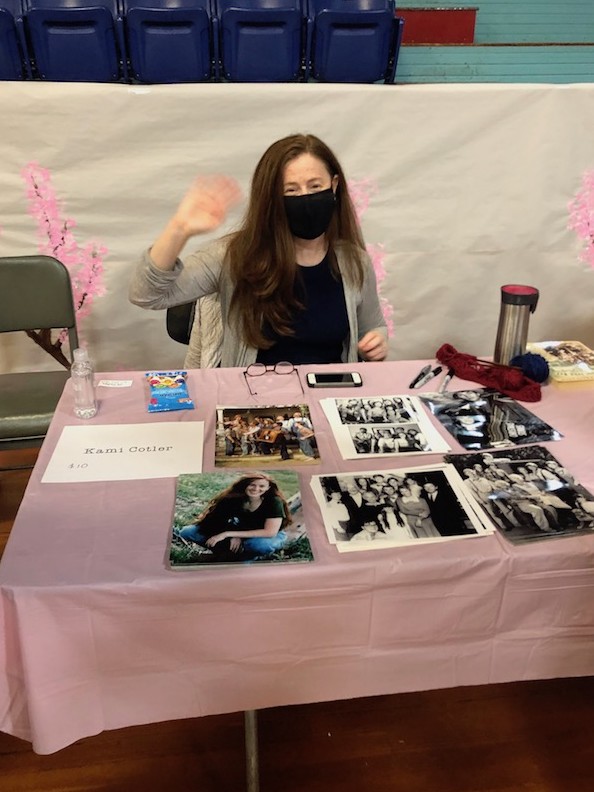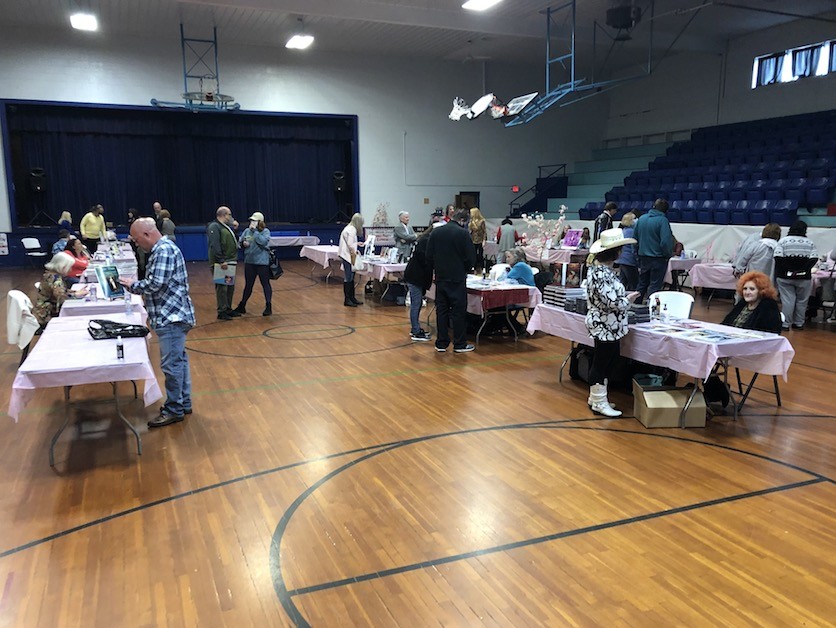 Kami Cotler (The Waltons and our guest) and view of the Nostalgia Fest Autograph Show at the Marshfield Activity Center. Featuring the VIP guests of the Cherry Blossom Festival, complete with cast members from numerous classic television shows and other VIPs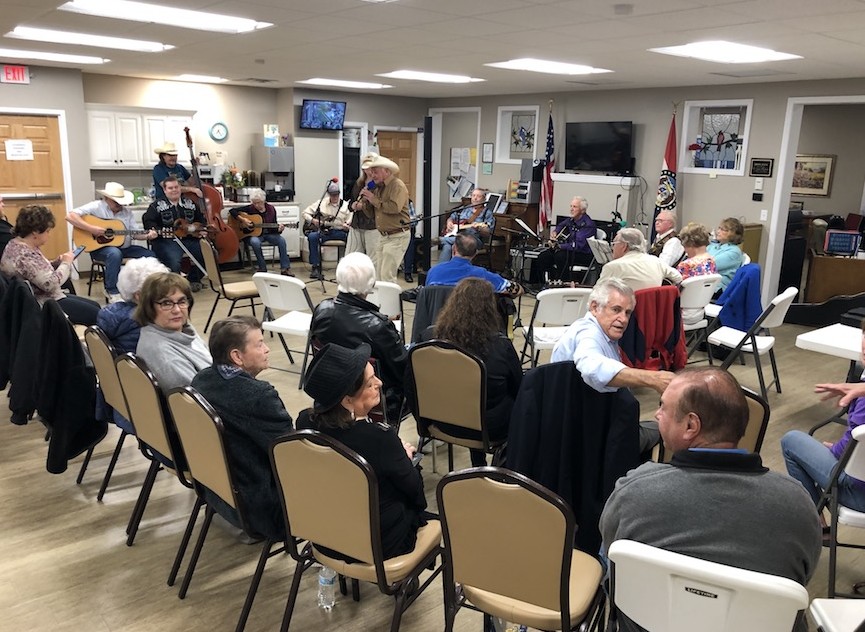 So this was a deviation from the normally scheduled Hubble Dinner (COVID concerns with this dinner?). So why not have a music jam? Keith Thibodeaux still refers to it s "tt Ho Down thing", cracks me up. So as a last minute thing, it came together at the Marshfield Senior Center, a food truck parked outside, and full house for a variety of music styles.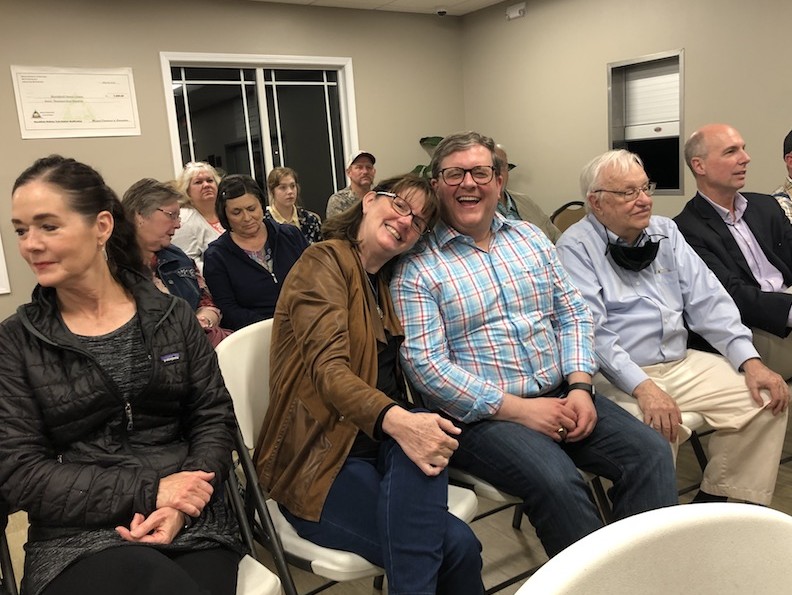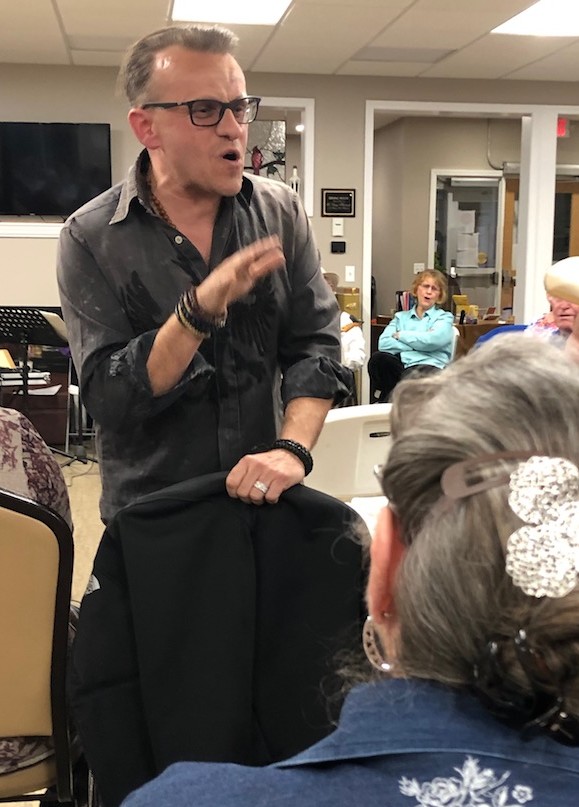 Dixie and Massee getting close at The Jam, and think Richard LaMottte's singing "Wind Beneath My Wings"…and swoonng the locals who had no idea who he was. Richard is a CBF repeat guests, former Air Force, and Flight Attendant for the Air Force One fleet. He has stories to tell, but that dude can sing…..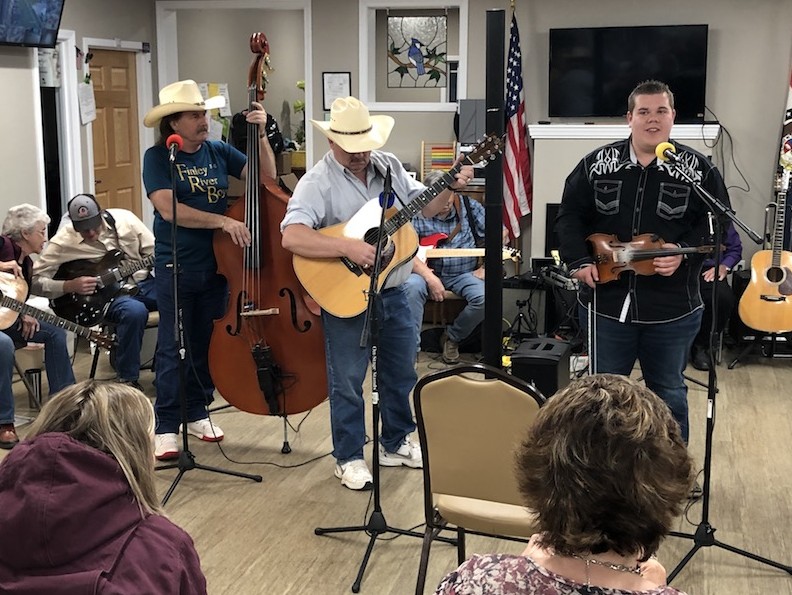 3/4 of our friends, The Finely River Boys were at the Jam and made a couple solo songs….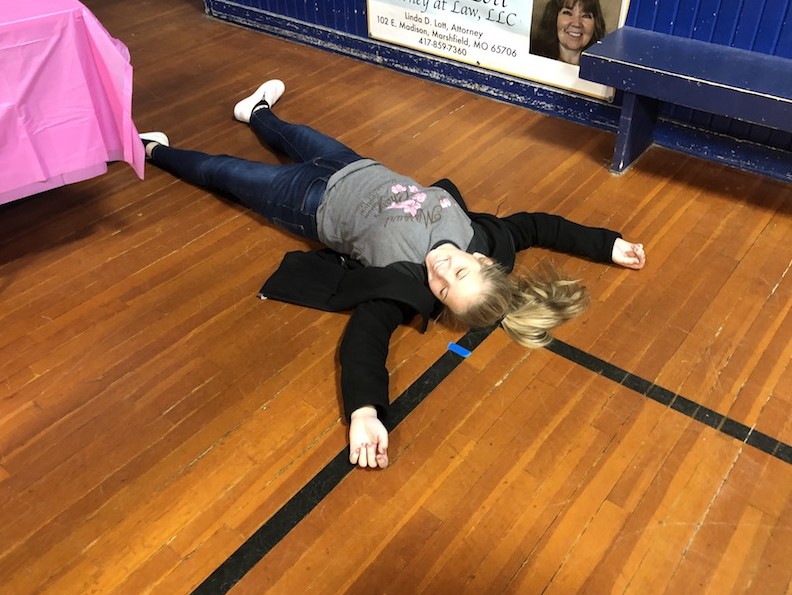 Volunteer Down!!! Hazards of Cherry Blossom Festival work load….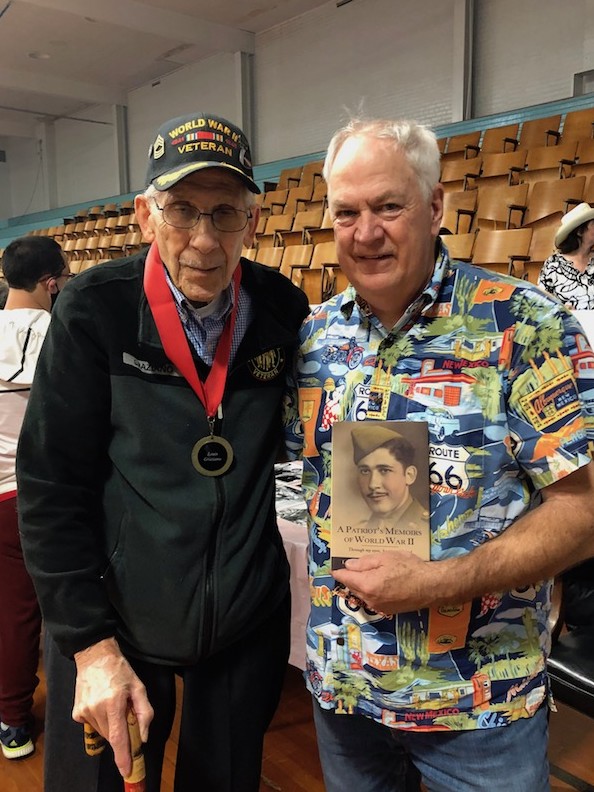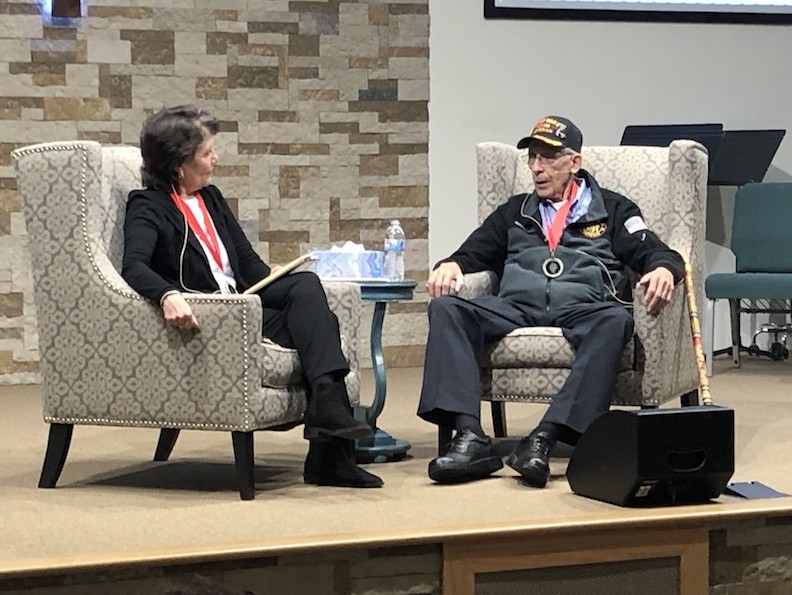 WOW, one of my favorite visitors – Louis Graziano )and his daughter/son-in-law). I am holding his book, written at 95 years old (3 years prior) about his service in WWII, and being the LAST survivor at the signing of the German Surrender in France. He worked for IKE, and he and our guest Mary Jean Eisenhower have a special relationship. He spoke with Mire Miller about his service and family. I have read through the book nd recommend it (and yes, it's available to browse at our B&B).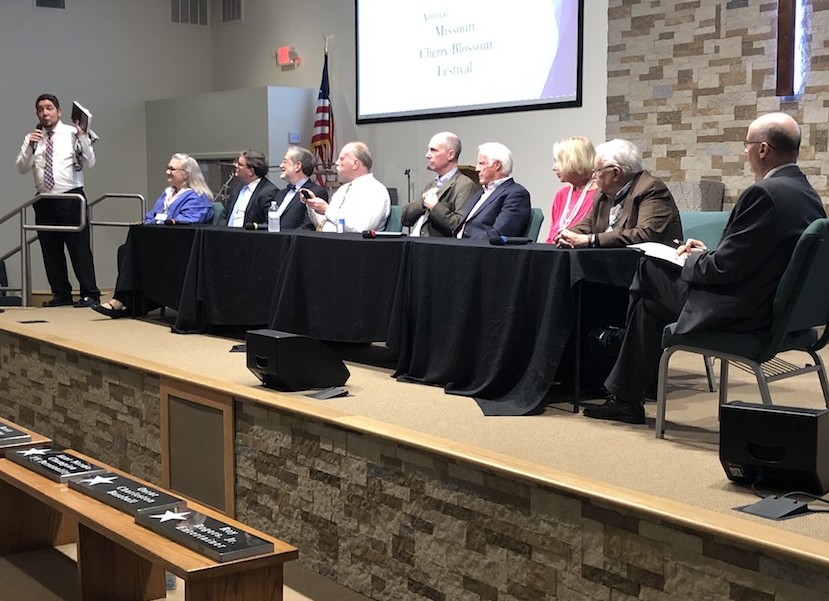 The last forum of the festival is always the "Presidential Family Forum" featuring descendants of many of the American Presidential Families, Moderator, Larry Cook (Presidential Historian) – and family members/descendants of Clinton, McKinley, Grant, Cleveland, Monroe, Davis, Eisenhower and Teddy Roosevelt this year (one year we had 38 presidential families represented!!!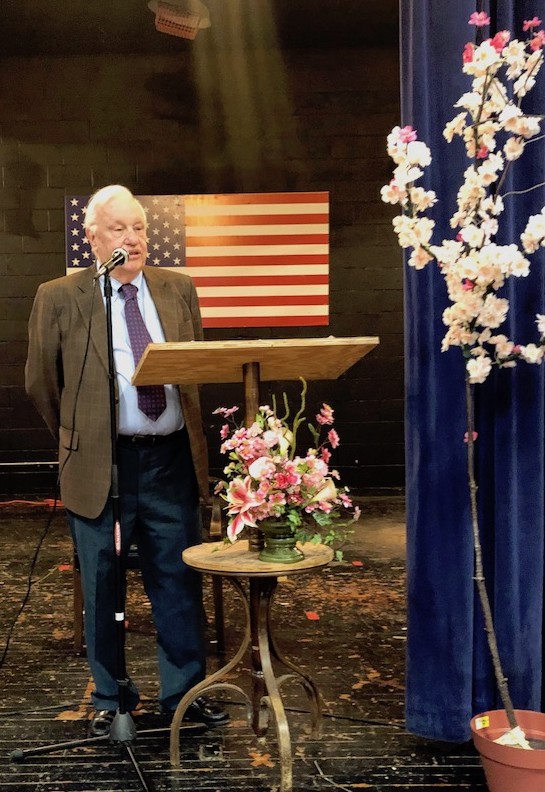 The last dinner and speaking engagement of the Festival is the "State Dinner" featuring our guest Tweed Roosevelt, Great-Granson of Teddy Roosevelt, that spoke about the Environmental side of TR's presidency and after. First time to CBF, and hope we see him back.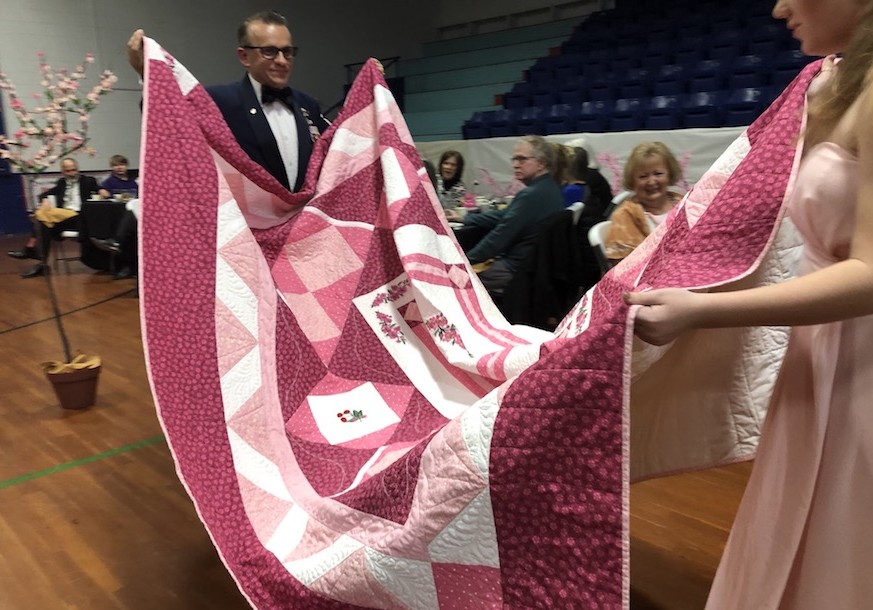 There were items to be auctioned off raising funds for the CBF, and usually, a CBF Quilt is the most sought after. This year's quilt brought $2000 at auction.