June 29, 2020 by: Mark R Dawson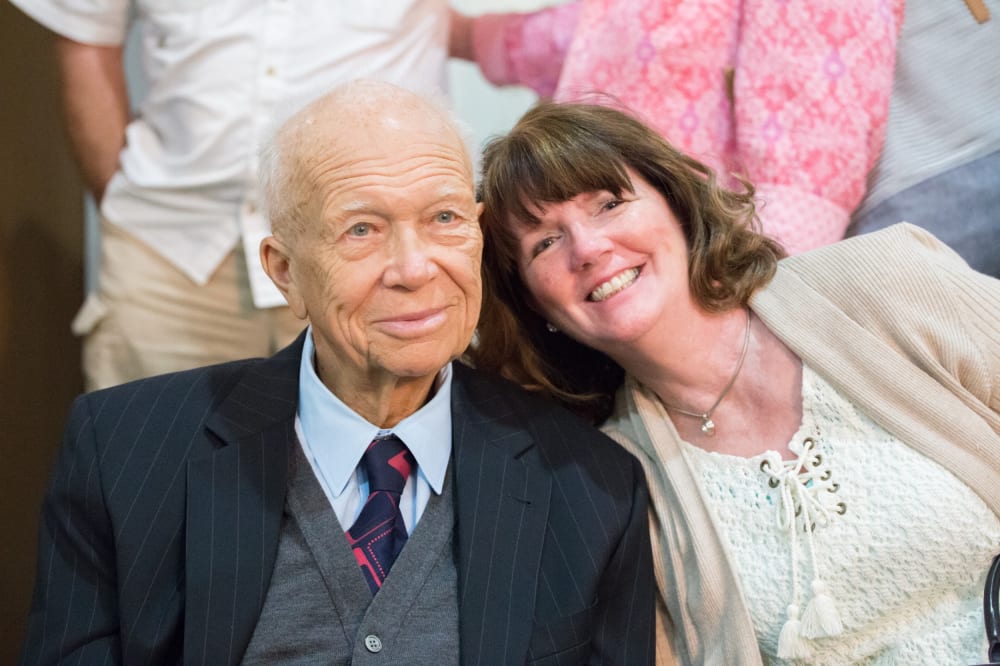 Sergei Khrushchev (1935-2020)
I don't know how many times something reminds me of a certain person, then that person reveals themselves one way or another. The something was funny in the refection, sad in the reveal.
A few days ago, I began reading the book "America on Six Rubles A Day", authored by Yakov Smirnoff. We were honored to have Yakov and his son stay with us, surprisingly, several years ago. Surprisingly, because Dixie invited him after his Branson Show we attended with visiting Texas friends. I told her, "Dixie, did you see all the photos in the lobby with him and Presidents, stars, and places all over the world? Yakov is not going to come to ROGERSVILLE, Missouri and stay at our B&B!" Next day, phone rang, visitor answered it and yelled "Dixie, it's Yakov on the phone!" But that is another story……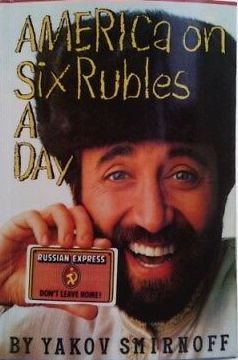 The material in this book is from years gone by, yet I still found myself laughing at his humor and discoveries. If you've seen his show in Branson, then many of the lines would be familiar, but there is a lot of other hilarious things he points out. Chapter after chapter, I kept thinking about another Russian guest, more recent, and wondered what he would think of this material? During the Missouri Cherry Blossom Festival, we hosted Sergei Khrushchev, son of Nikita Khrushchev, former Premier of the Soviet Union for a decade during the Cold War.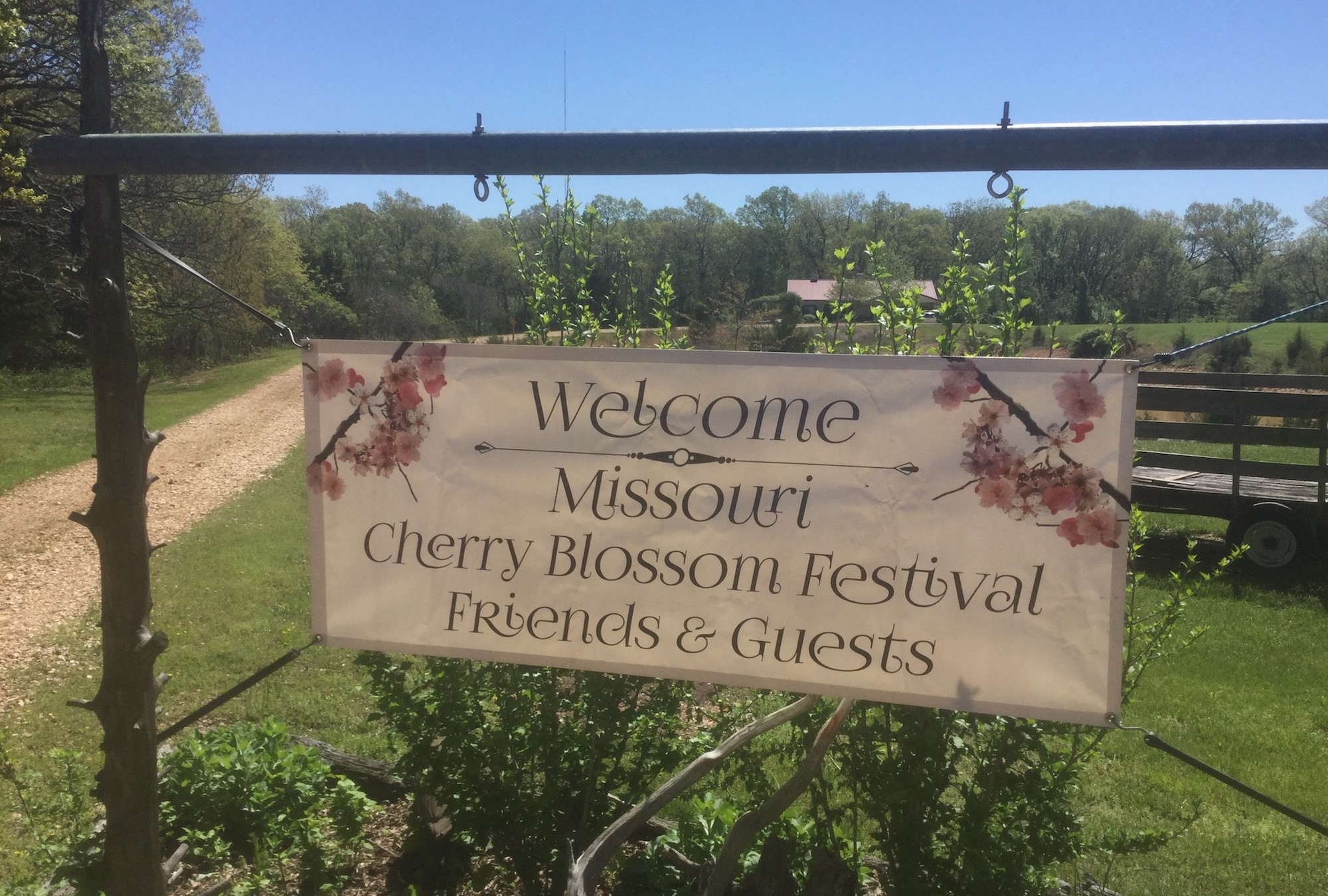 The sad reveal was we JUST learned of Sergei's passing in June. I thought "how strange, to be thinking of him, and be delivered this news." In the short time we hosted him, and many miles we walked and talked (more later) I like to think of him as a friend. More so, friendships extended to and between other guests during Sergei's stay, and some memories I wanted to share. I cleared this with one of our guests and friend, Mary Eisenhower, President Dwight Eisenhower's youngest granddaughter.
Cherry Blossom Festival brings together an eclectic mix of people, culture, history. Just hit link if you'd like to know more. During the 2017 Festival, Mary would interview Sergei during one of the events. Mary arrived at our facility prior to Sergei's arrival, so we had a little time to talk and visit. She said she had met Sergei before, in 1996 and has not seen him since. She then back filled the story.
You may be well aware that tensions were high during the Cold War, and none more than between President Eisenhower and Leader Khrushchev. Mary told us a story about meeting Khrushchev at the family farm in Gettysburg when he visited Ike. She recalled never seeing her grandfather both so angry and fearful during their meeting on the porch at Gettysburg. She said Nikita did give the kids Russian Matryoshka Dolls (those wooden stackable decoratively painted dolls you may be aware of), which she still has at her home.
Fast forward to 1996, Newport Beach, California. People To People International, a wonderful organization started by President Eisenhower, was having their 40th Anniversary gathering, and Mary was nervous hearing that Sergei Khrushchev would be there, recalling his father and the impact left on her grandfather years before in Gettysburg. A PTPI Trustee took Mary over to him, and her heart sank, saying "he looked just like his father and his father scared us when I met him as a young girl!" They shook hands and then he pulled me close to him saying, "My dear, I hope you aren't as uncomfortable as I am!" Mary said this veil just dropped away and they had a memorable time, so much so, she left the gathering, returned home and resigned from her job, and dedicated herself full time to People to People!!!
Sergei, 82, arrives at our B&B for the Cherry Blossom Festival and everything seems to be very cordial. He is a US Citizen, living in Rhode Island, and taught at Brown University and the Naval War College. Imagine that! Still had a strong Russian accent. Over breakfast, he and Mary review their material and compare notes. She mentioned recalling that meeting in Gettysburg, to which he replied "no little girls should have to hear that, bring buried alive". Mary wondered how he knew the details about that episode.
As he prepares to head upstairs and get ready, Mary said he turned and shot that smile, before continuing up the stairs. She was topping off her coffee cup and missed the whole cup flustered…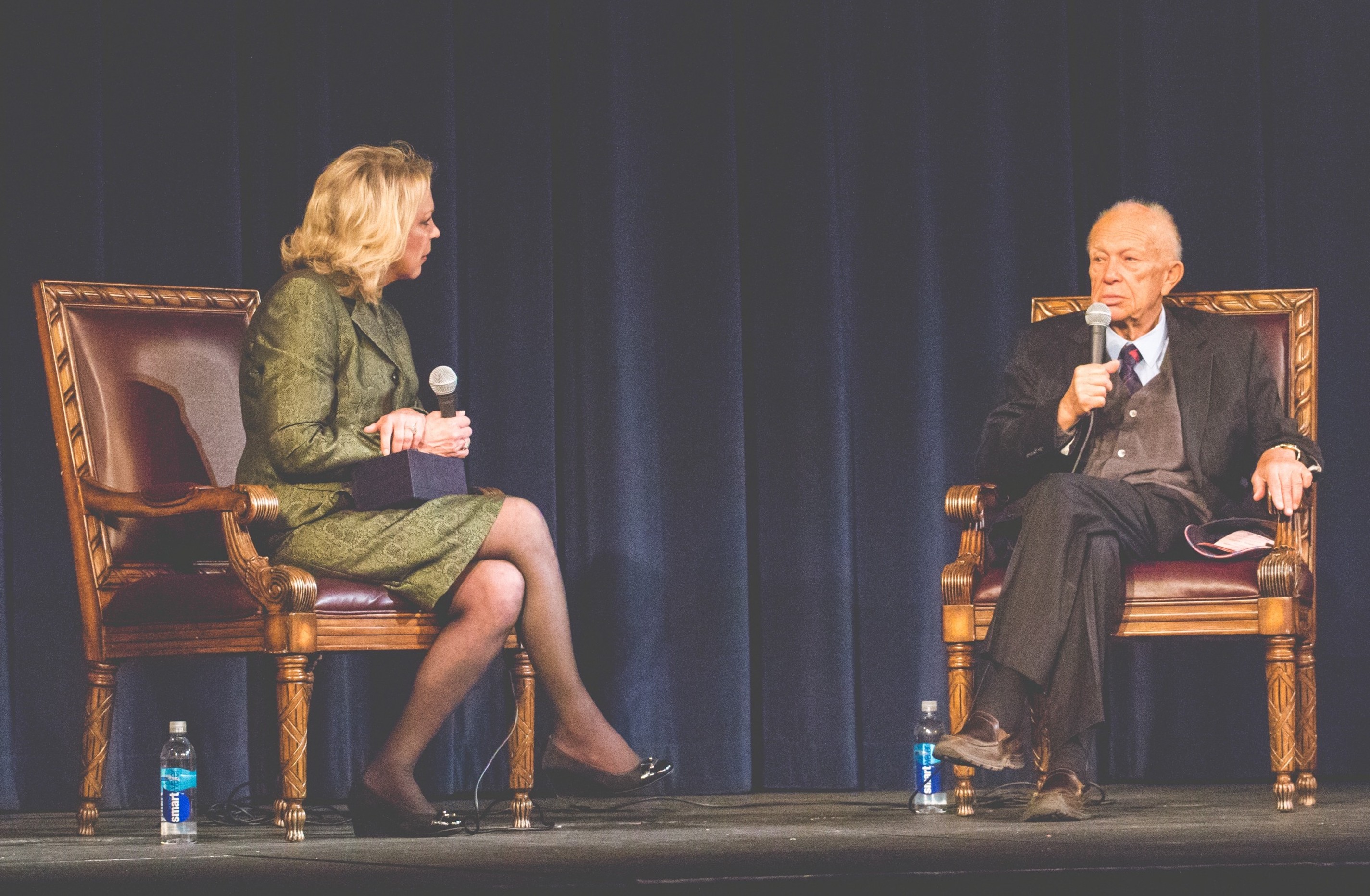 Mary Eisenhower interviews Sergei Khrushchev at the 2017 Cherry Blossom Festival (photo courtesy of His Fingerprint Photography)
I purchased a book authored by Sergei, "Khrushchev on Khrushchev", and had it here when he arrived, and to autograph. Mary told me she saw our book, and on the back there was a picture of Sergei younger, with his father, and from that picture she recalled his younger face and realizing he was there in Gettysburg (he traveled several times with his father). She said this was how Sergei knew about the conversation upsetting her grandfather, What he was referring to was Premier Khrushchev threatened President Eisenhower with "burying his grandchildren alive." This was what sparked of her grandfather's emotions from that meeting.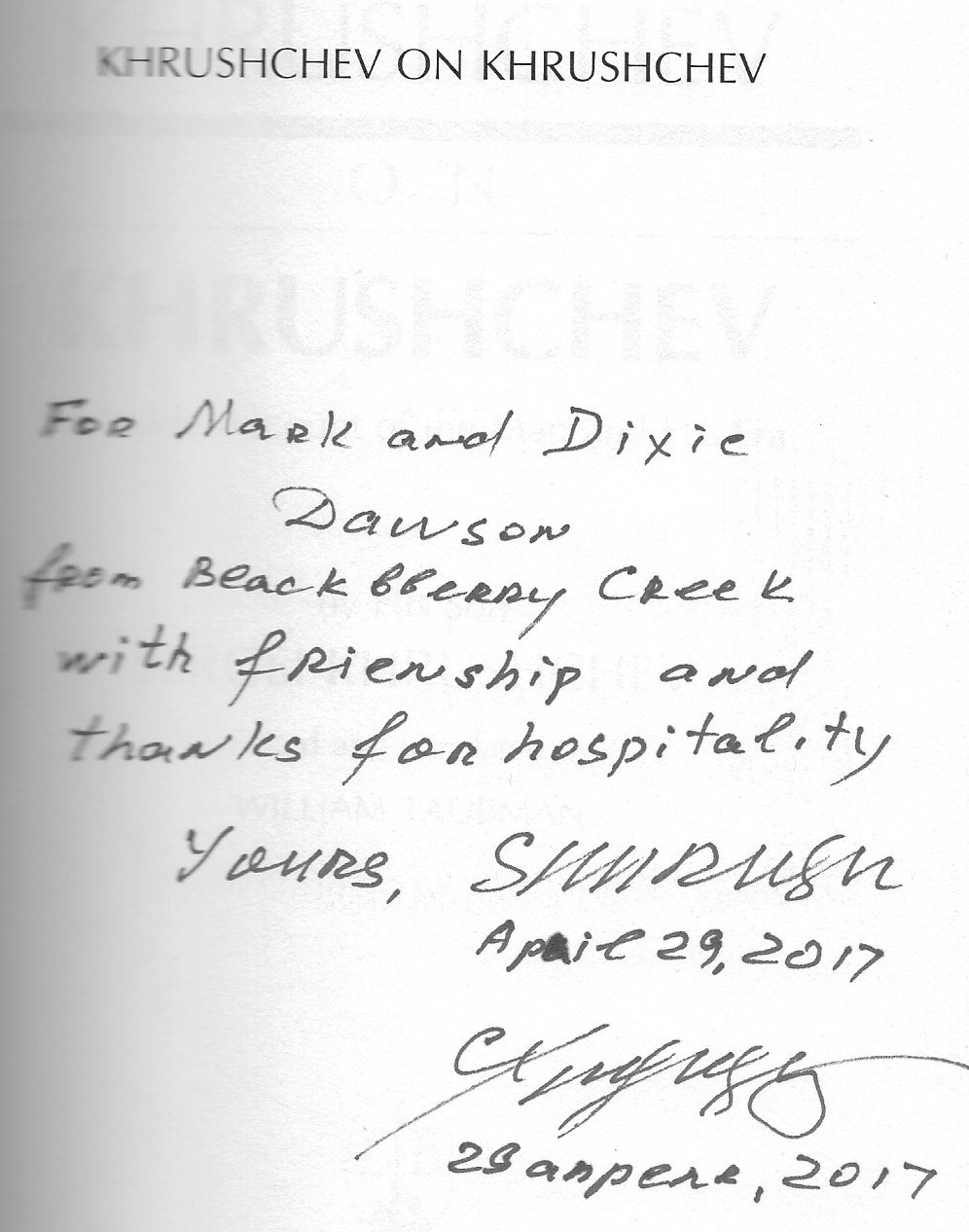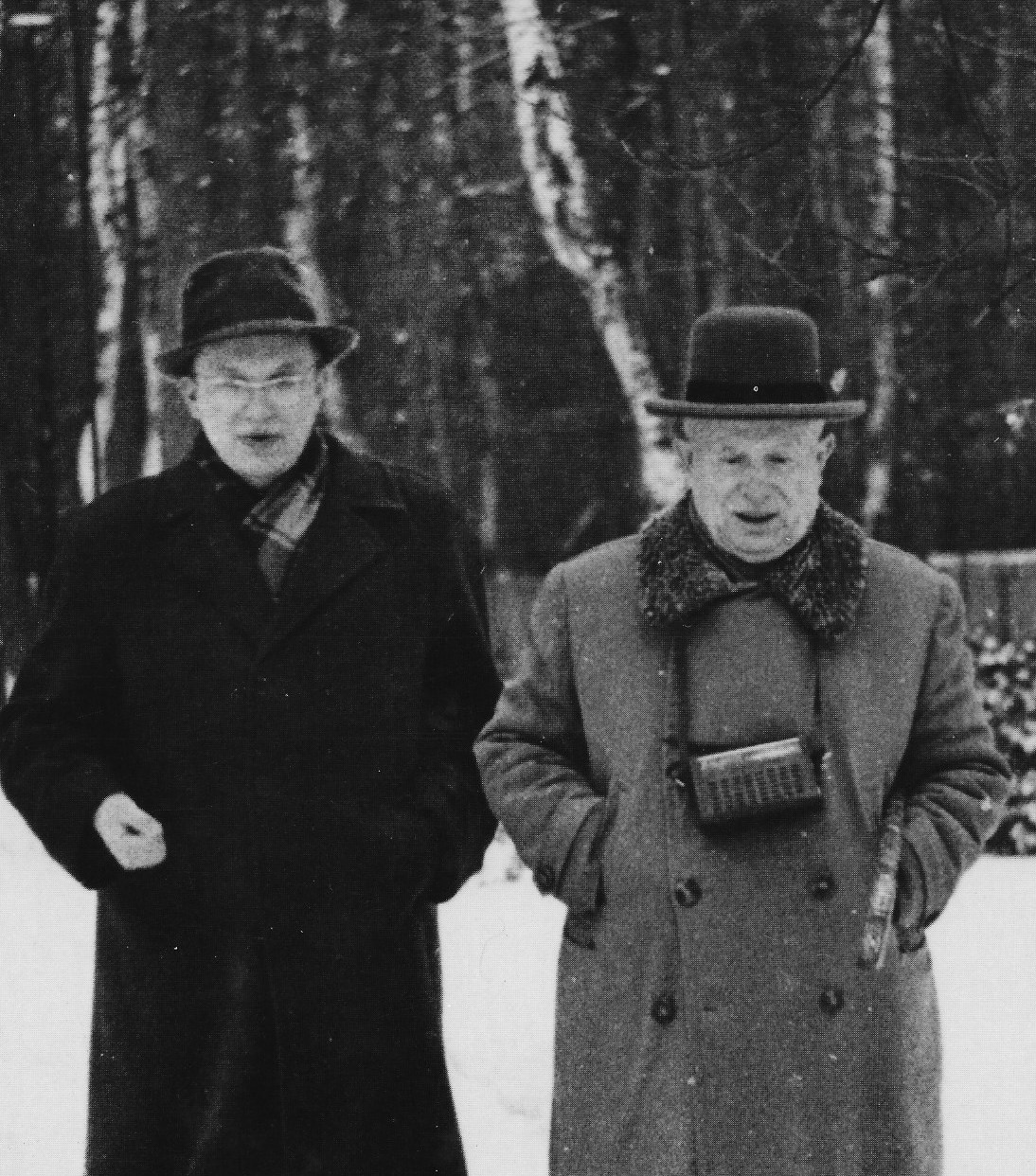 From our book "Khrushchev on Khrushchev" by Sergei, he autographed our copy for the B&B (left), and backcover picture of Sergei and his father, which Mary saw and realized "Sergei was there in Gettysburg".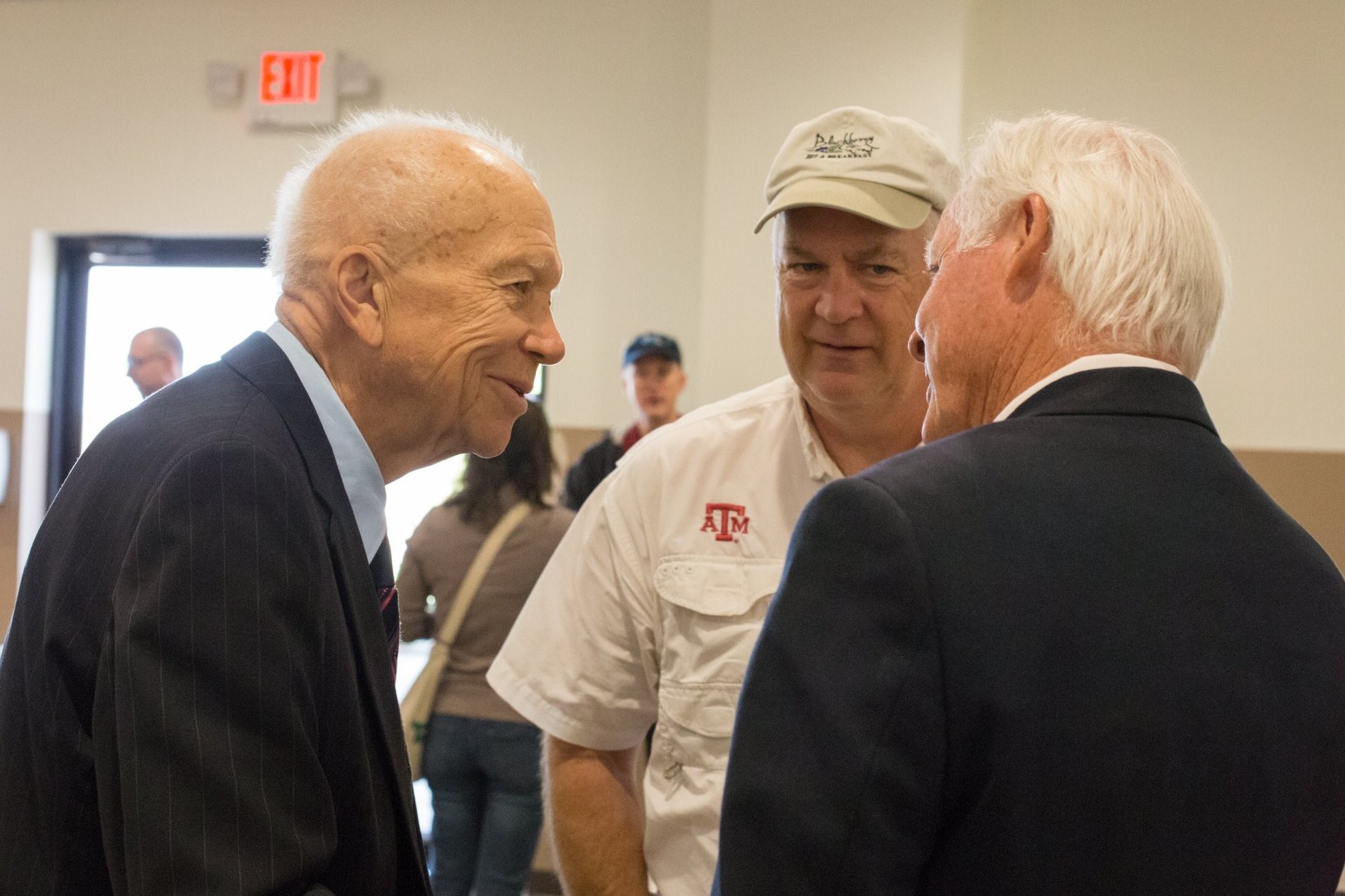 Sergei Khrushchev (left) enjoys stories with another Cherry Blossom Guest, Bertram Hayes Davis (Jefferson Davis's Great-Great Grandson) while Innkeeper Mark listens in....(photo courtesy of His Fingerprint Photography)
During the stay, I asked Sergei which events he wanted to attend, or was there anything special he'd like to do, trying to be a good host. He said he wasn't interested to the forums and events, other than those he was scheduled to. He said, "I like to walk!" I told him I'd be happy to walk with him, and the first day, we did so around Marshfield. Thinking he was 82, this won't be a long stretched out event. WAS I WRONG. Sergei apparently walks twice a day at home, about an hour and half each time!!! He wore me out…..Day 2 we had events to attend, he said he'd stay at the B&B and rest. Returning to the B&B later, he was just returning, in the drizzle, from a walk our on Highway KK (not recommended)!!! Day 3 was rainy, so I offered to take him into Springfield and walk indoors at the Mall. During our walks, I had a lot of questions, and he was very patient to answer about life in the Soviet Union, what his path was, life here in the US, and on and on. I wished I had asked him about Yakov!! He wore me out, did I say that?
Prior to leaving us, Sergei did attend an event where the Cherry Blossom Pie Auction took place. Mary jumped into the bidding war against the winning pie's (contest too) baker's wife and drove the pie up to, and won it at $250. She said enjoying eating a piece later with Sergei was worth the investment. Good memories like I said. So that was the last time we saw him.
Sergei died at his Cranston, Rhode Island home two weeks before his 85th birthday. Rest in Peace friend and thank you for the memories….