A picture is worth a thousand words. We have heard that for many years, and with today's photo taking cell phones, we do capture many pictures, and videos, and many times the subject wished they hadn't. Well, this isn't the case – no cell phones captured this story, and the subject matter was more than willing to come back and reenact that day, and event.
Let's go back a couple months to our Country Christmas Open House and Craft Bazaar, a crazy time in the lives of your Innkeepers. Dixie was running the store and Mark the kitchen, each visiting a bit if time allowed. Mark had visited with a new face, Ron, who he discovered was a Veteran, and chatted about that. Ron had come with a couple ladies who had gone off shopping. After our discussion, life continued. Mark found a few familiar guests, and started chatting with one neighbor up the road, Junior. Notice last names aren't used here to "protect the innocents". As we were catching up, Dixie comes running over and says "Mark, come here QUICK". I said "I'm visiting with Junior", to which she replied "BRING HIM, COME ON"…..I followed her over to the Store, where I saw Ron, the guy I had visited with earlier, hung up in our cash register!!!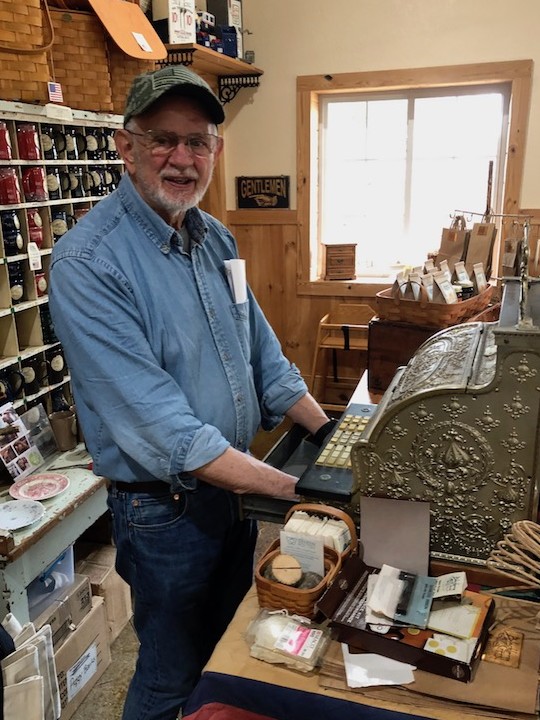 Christmas Bazaar Browser, Ron, Hung Up in our Cash Register (reenactment)
My mind was racing, thinking "was this guy trying to grab the money", or of those lawyers on television all day chirping "have you been hurt in an auto accident", "were you disabled in a fall", thinking "were you dismembered in a cash register accident"? As I got closer to see how we could safely dislodge Ron from the guest eating cash register, he says "I was showing your wife how to unlock this drawer and pull it out. I use to work for NCR and sometimes, if a serviceman worked on them, he'd leave his name or initials inside the cavity here. Let me show you!!! Imagine the huge sigh of relief I let out. Junior moved on far away from us!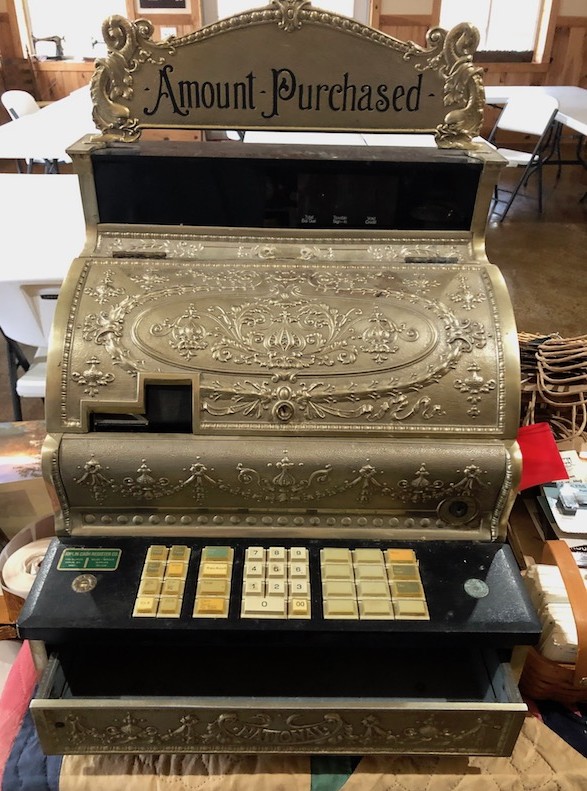 Our NCR 2114 Cash Register – Clerk Side
Ron DID proceed to show us how to remove the drawer and one could tell the machine brought back many memories oif all those years he worked for NCR. Regarding our machine, which we bought more for the looks and fit in our store (we keep the money elsewhere), we did learn a bit about this machine.
Apparently it is a more modern machine using the vintage brass castings of yesteryear's NCR machine. Build by NCR in 1984, it included the brass case, but modern electronics to celebrate their 100 year anniversary. It is called the NCR Model 2114 Classic. The electronics are the same as used in a Casio ER2114, who you might know took a large portion of the electronic cash register market.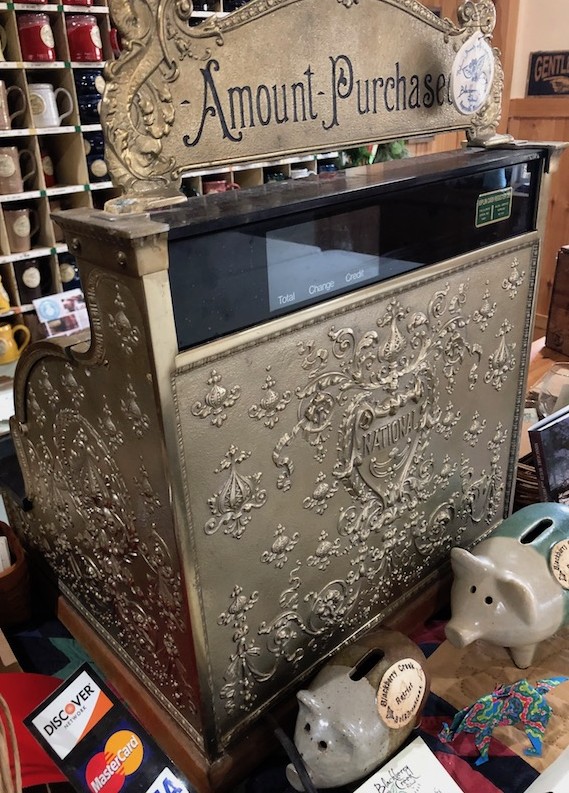 Our NCR 2114 Cash Register – Customer Side
Ron's two lady sidekicks joined us later, heard the story and we all had a good laugh. In fact, one has returned with girl friends for a weekend stay, the trio are coming to our Amish Dinner and Bluegrass event in March, and needless to say, we have become instant and hopefully, long lasting friends. Ron had heard I wanted to reenact that day in December, and showed up yesterday to snap that photo. What a guy…..and further more, anxious to help show me more about this machine that sits as a fixture, but now has me interested in it's history and workings, as well as NCR the company.
The reward of our business is not the money made, rather the friendships we make. This is just one example….