January 27, 2020 by: Mark R Dawson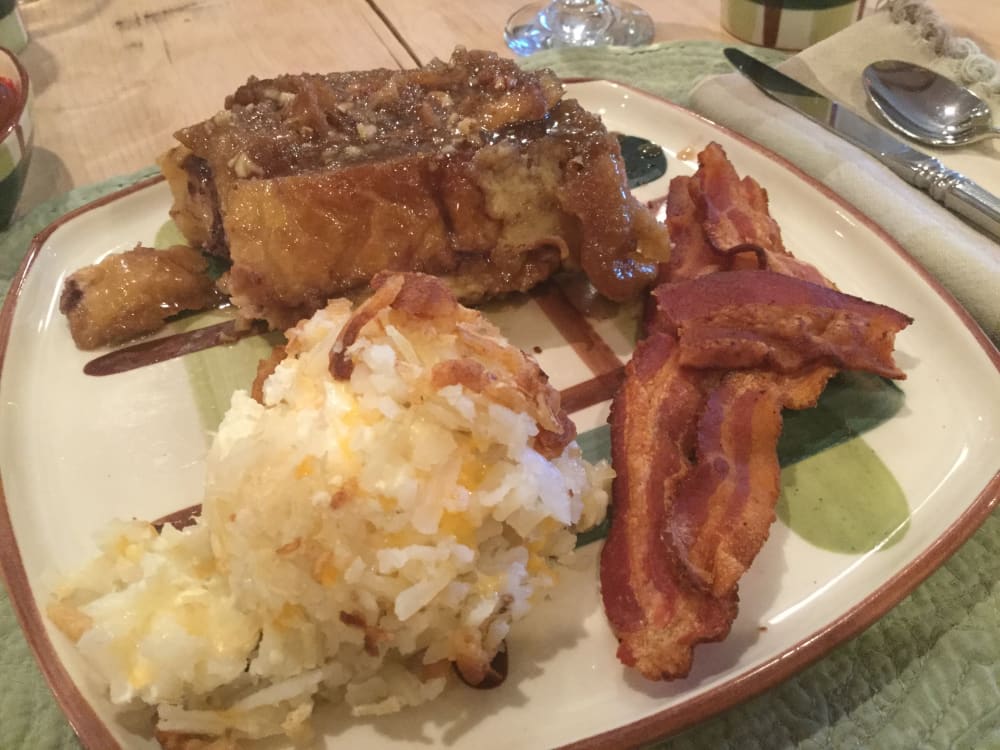 Our Blackberry Creek Retreat Loaded French Toast Recipe
We have made this dish a traditional "Send Off Breakfast" for our Retreaters staying multiple evenings, and it seems to be a hit. I enhanced a version of a Murphy, Texas neighbor's "Caramel French Toast" recipe (the loaded part) to give it a "Blackberry Spin" by adding a center layer or Honey/Pecan Cream Cheese and Bekemeier's Blackberry Butter with Pecans on top to accent this favorite.
We serve with Cracker Barrel Cheesy Hash Browns or Hash Brown Casserole, and Burgers Smokehouse Bacon. Supporting Missouri products, we use local Farm Fresh Eggs, Ozark Mountain Creamery Milk, Bekemeier's Blackberry Butter (available in our store) and Burgers Smokehouse Bacon.
Ingredients
1 & ½ cup Brown Sugar
¾ cup Butter
1/3 cup Corn Syrup
¾ cup Chopped Pecans
(20) ¾ inch thick slices French Bread
½ Small Tub of Pecan and Honey Cream Cheese
Bekemeiers's Blackberry Butter
Pour This Mixture Over Assembled Casserole
4-5 Eggs
2 ½ cups Milk
1 Tbsp Vanilla Extract
¼ tsp Salt
Morning Before Baking
3 Tbsp Sugar
½ tsp Cinnamon
¼ cup melted butter
Preparation
In saucepan, combine Brown Sugar, Butter, Corn Syrup and heat over medium heat until melted and combined stirring constantly about 4-5 minutes or until bubbly. Pour mixture into greased 9x13x 2 baking dish. Sprinkle Chopped Pecans over mixture, then add (10) slices of French Bread. Should cover the 9x13. Can use pieces cut to fill open holes if desired (you know, round pieces in square holes – Ha).
Spread thin layer of Pecan Honey Cream Cheese, then a thin layer of Bekemeier;s Blackberry Butter. Top each piece with remaining 10 slices of French Toast, Again, fill holes with scrap pieces of French Bread.
Mix together Eggs, Milk, Vanilla extract, and Salt, and pour evenly over top of Toast, allowing to soak down into dish. Cover and refrigerate overnight.
Next Morning, preheat over to 350°F. Remove plastic or foil cover and discard. Mix Sugar and Cinnamon and sprinkle over Toast. Pour melted Butter across this.
Bake for 45 minute to an hour, or until toast top browns and syrup is bubbly. Remove from over and let stand 5 minutes. Cut into 10 pieces and loosen edges. Using a spatula, pickup individual pieces, carefully flip and plate, so that caramelized not bottom is now top. You can spoon out leftover caramel sauce and top pieces with.
Recommended serving with a Hash Brown Casserole, and crispy bacon (as shown).
Serves – 10
Prep Time – 15 minutes + refrigeration time (overnight)
Bake – 1 hour