The Missouri Cherry Blossom Festival is a special event to many aware of it's existence (you'd be surprised how many don't know about it) and to our Bed and Breakfast. Each April, presidential descendants, historians, personalities tied to Presidents, actors, authors, famous Missourians gather in our County Seat (Webster) Marshfield, Missouri to participate in this annual creation of a local "young" man, Reverend Nicholas Inman. Sadly, THIS YEAR, the Festival was cancelled forecasting, and justifiably so, we would be in the midst of the COVID-19 Pandemic.
The impact of this festival on the community and our Bed & Breakfast is not forgotten as we are reminded of it as many, many Japanese Cherry Blossom trees start to bloom, and they are beautiful, both in Marshfield and here at Blackberry Creek Retreat B&B. Maybe we should share a little history regarding the cherry blossom tree plantings at both locales.
MISSOURI CHERRY BLOSSOM FESTIVAL BEGINNINGS…..
I recall a relative and former schoolmate of Nicholas Inman telling us once "he use to tell the students he was going to be President one day, and rather than being kidded, they believed him!". I learned that this young man (in his 20's at the time) had done so much early on….started a music jam in Rogersville when he was 15, getting a group together at the local Senior Center, to play and sing, that still goes on to this day. He also was an alderman, member of the Webster County Historical Society, greeter at Walmart, and wore many other hats. He began pastoring a church in Elkland, Missouri, which he still pastors today. "Reverend" Inman somewhere in those early years interned in Washington DC, and brought back home to Marshfield a desire to bring home those cherry blossom trees he remembered in D.C..
Nicholas's vision kicked in in 2003, although the first official cherry blossom planting did not occur until 2004. Then, and in partnership with Marshfield's Tree City Advisory Committee, it was decided that Missouri's First Lady would be asked to plant a cherry blossom tree, as the Nations' First Ladies did in Washington D.C. President's Taft's wife, Helen, planted the first cherry blossom tree there. I wonder how it is doing today?
So, in 2004 Missouri First Lady Lori Houser Holden was asked, and gratefully accepted, planting the FIRST cherry blossom tree outside the Historical Society. In the years that followed, other First Ladies (i.e. Jean Carnahan, Pat Wilson, Betty Hearnes)and dignitaries have participated in planting trees including Jerry Jones (Dallas Cowboys owner), John and Hilda Lane (Marsfieldian Edwin P. Hubble nephew), Lesley Kays (Webster County Sesquicentennial Queen), Kami Cotler (The Waltons – you remember little Elizabeth?) and many others. Last year, First Lady Teresa Parsons planted her cherry blossom tree outside a church.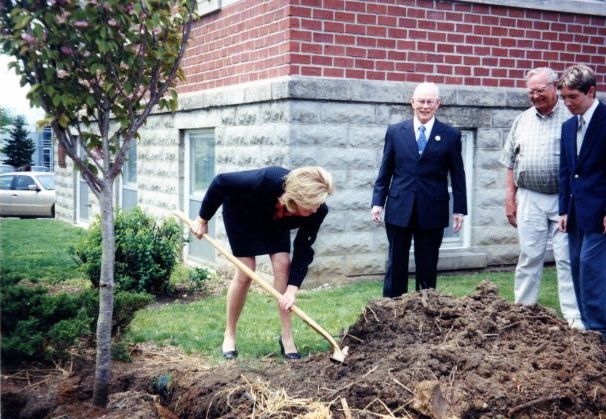 Lori Houser Holden ceremoniously plants the first official cherry blossom tree in Marshfield in front of the Webster County Museum. Holden was Missouri First Lady at the time of the planting. Pictured with Holden are Dr. Tommy Macdonnell, Rev. Charles Embree and Nicholas W. Inman.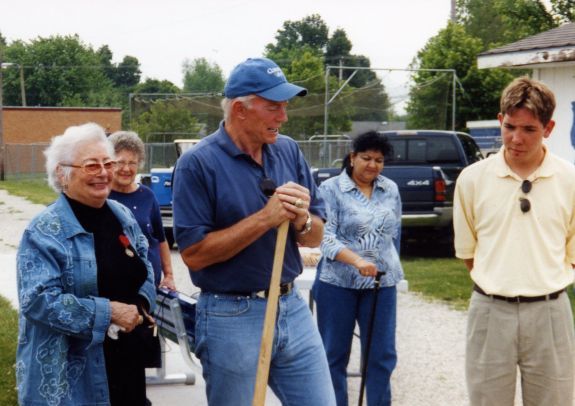 The late Arminta Jones (neighbor) joins her son, Jerry Jones (Dallas Cowboy owner) in planting a Kwanzan cherry blossom tree at the R.A. Barr Football stadium at Marshfield Junior High.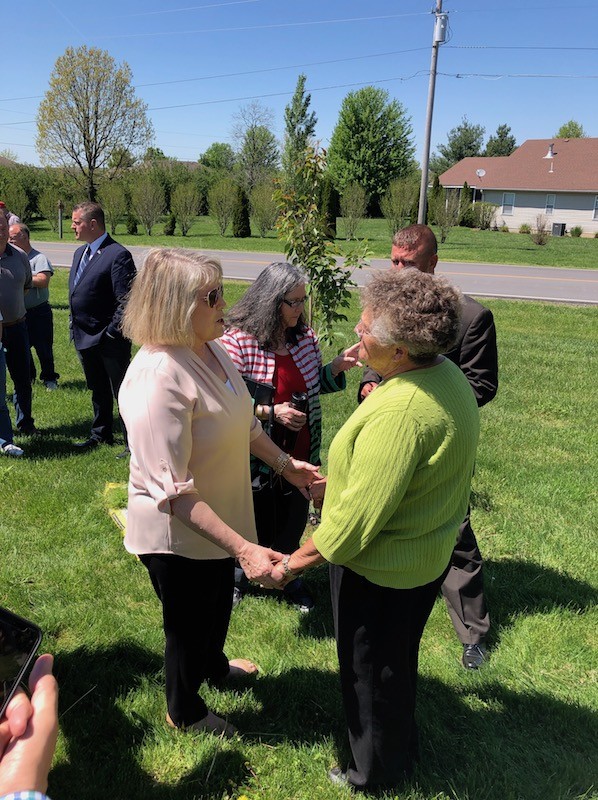 In 2019, Missouri First Lady Teresa Parsons (left) planted her Cherry Blossom tree outside the one of the event venues (Marshfield Assembly of God Church). Have to say witnessing it, she knew how to garden and plant!!!
He would also expand planting cherry blossom trees into a full fledged festival honoring Presidential first families, and expand it to both a historical and cultural mix of guests that crosses many facets of "the good life". Hard to describe, but when CBS's Mo Rocca visited and reported in 2016, think he best described it…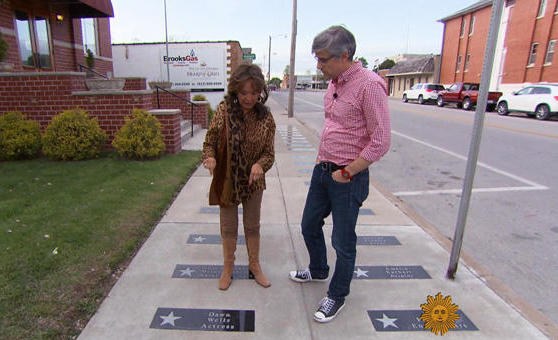 Mo Rooca and Dawn Wells – Click HERE to see CBS Sunday Morning video on Festival
PLANTING CHERRY BLOSSOM TREES AT BLACKBERRY CREEK RETREAT B&B….
Not sure where the idea got "planted", but in 2013, we purchased a Yoshino Cherry Blossom tree, and in OUR FIRST planting, had guest dignitaries Reagan Inman (Nicholas's daughter) and Lauren Dawson (our grand-daughter) spade the dirt and "plant" the first BCR Cherry Blossom Tree. Here is that ceremony and tree today….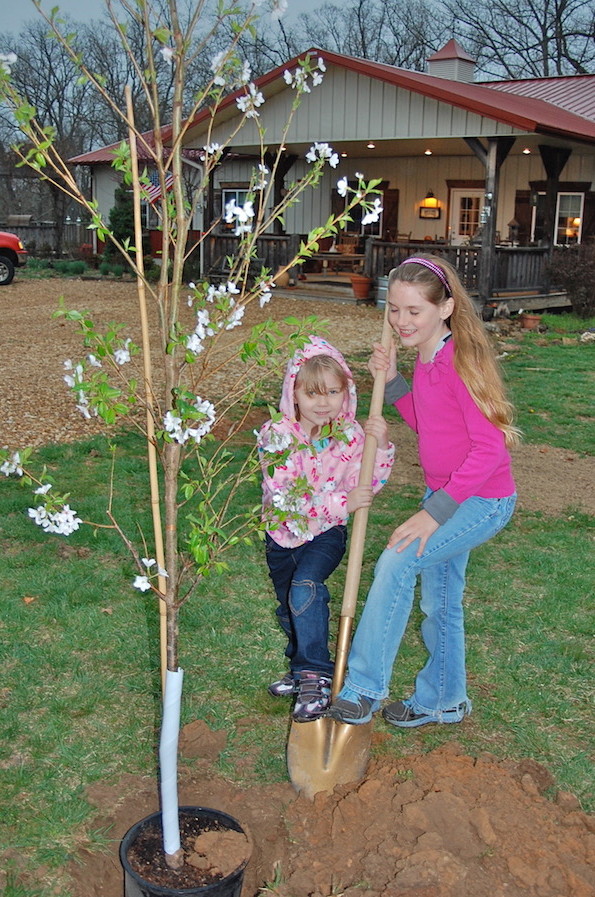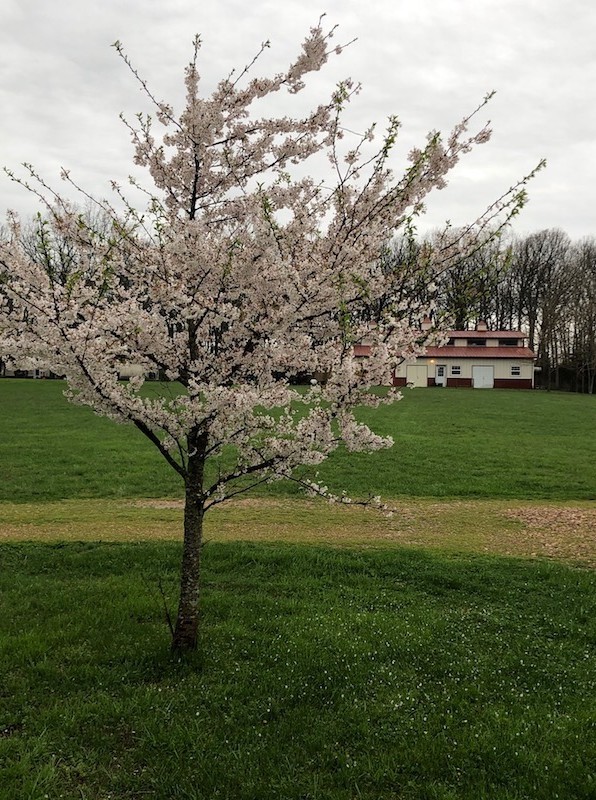 At Blackberry Creek Retreat B&B, we began planting our cherry blossom trees in 2013. Here, Reagan Inman and Lauren Dawson plant the first Yoshino (white blossom) Cherry Tree (left) and today, seven years later, this is how that same tree looks (right) – BEAUTIFUL.
We then asked Cherry Blossom Festival guests to participate in planting more trees at our Bed & Breakfast where they stayed with us. So many wonderful guests, they gladly accepted. These included President children Lynda Johnson Robb, and Barbara and Jenna Bush, Presidential grandchildren George Cleveland, Mary Eisenhower, Clifton Truman Daniel, David Roosevelt, Jonathan Sandys (Winston Churchill's Great Grandson), Roland Messnier (White House Pastry Chef for FIVE Administrations), Paul Burrell (Queen Elizabeth's Footman and Princess Diana's Butler), from the Waltons Kami Cotler, Mary McDonough, and Michael Learned (Elizabeth, Erin and Olivia), and others. Became a nice tradition and addition to the property.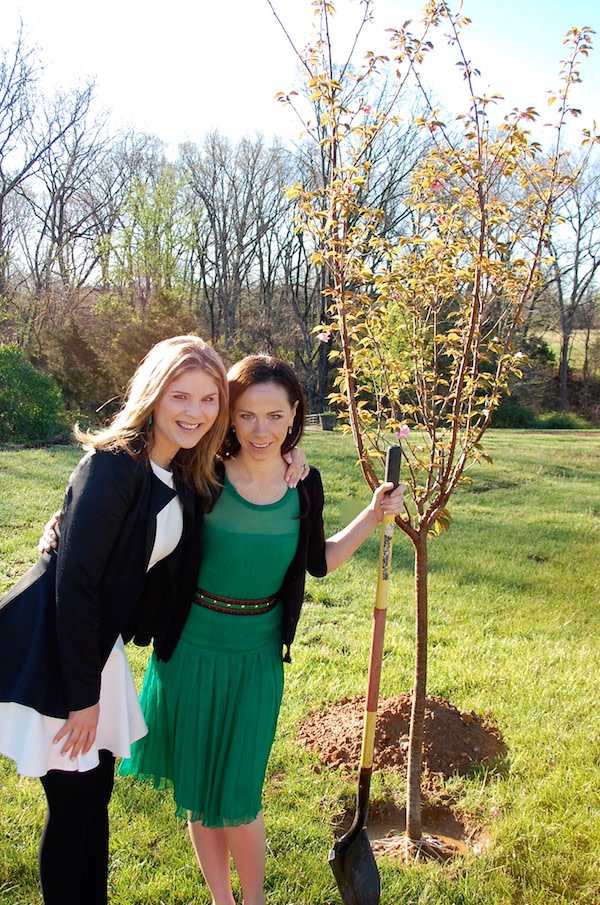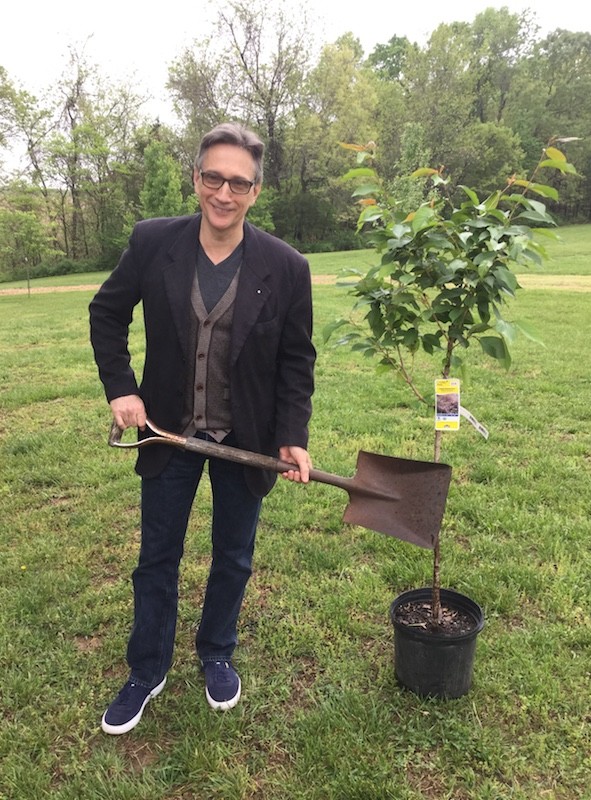 "The Bush Twins" Jenna and Barbara (left – daughters of President George W. Bush and grand-daughters of President George H.W. Bush) and Clifton Truman Daniel (right – President Harry Truman grandson) planting Cherry Blossom trees at Blackberry Creek Retreat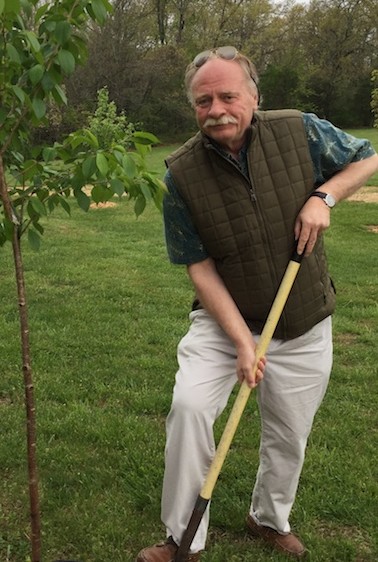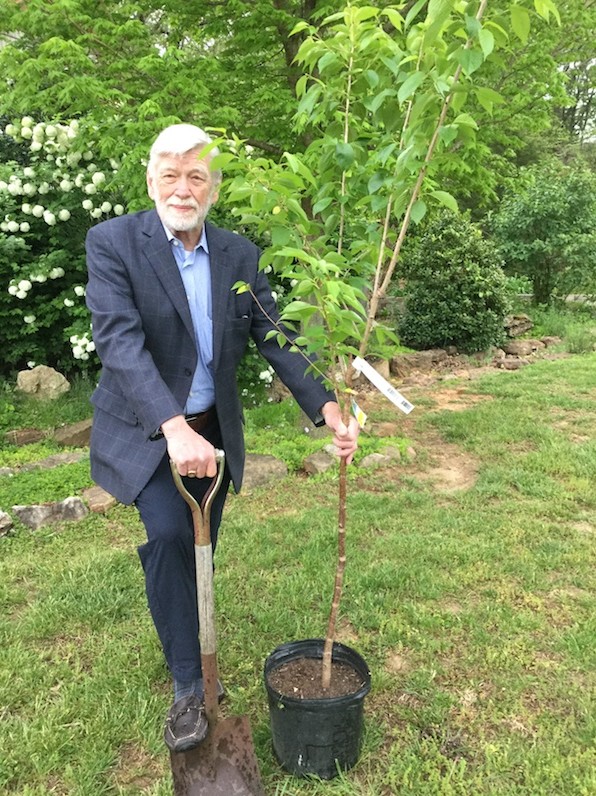 George Cleveland (left – grandson of President Grover Cleveland) and David Roosevelt (right – President Harry Truman grandson) planting Cherry Blossom trees at Blackberry Creek Retreat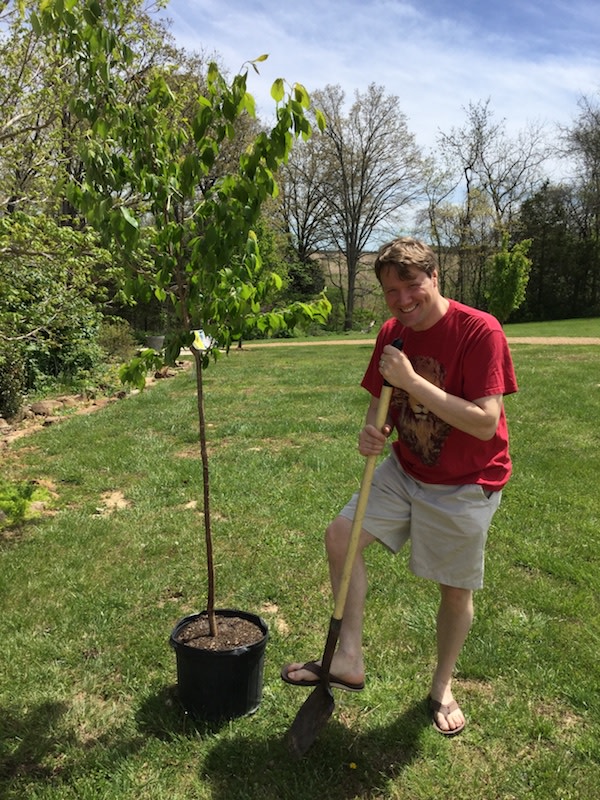 Jonathan Sandys (left – great grandson of Winston Churchill) and Lynda Johnson Robb (right – President Lyndon Johnson daughter) planting Cherry Blossom trees at Blackberry Creek Retreat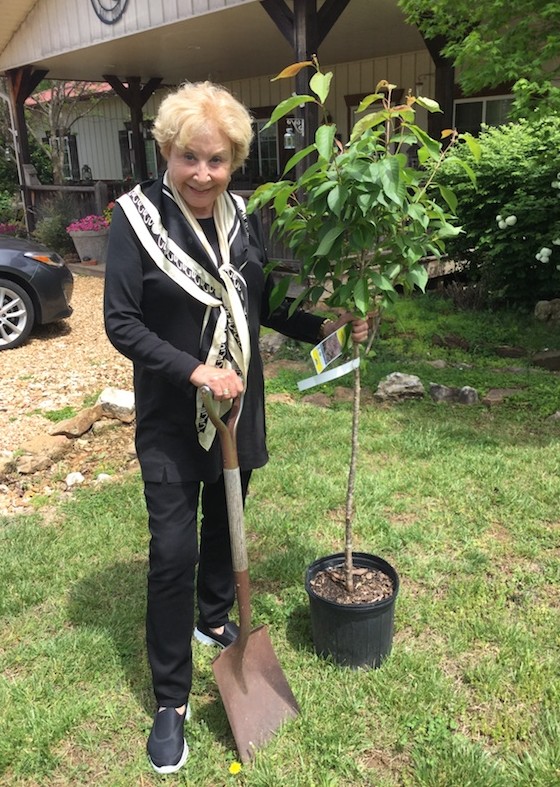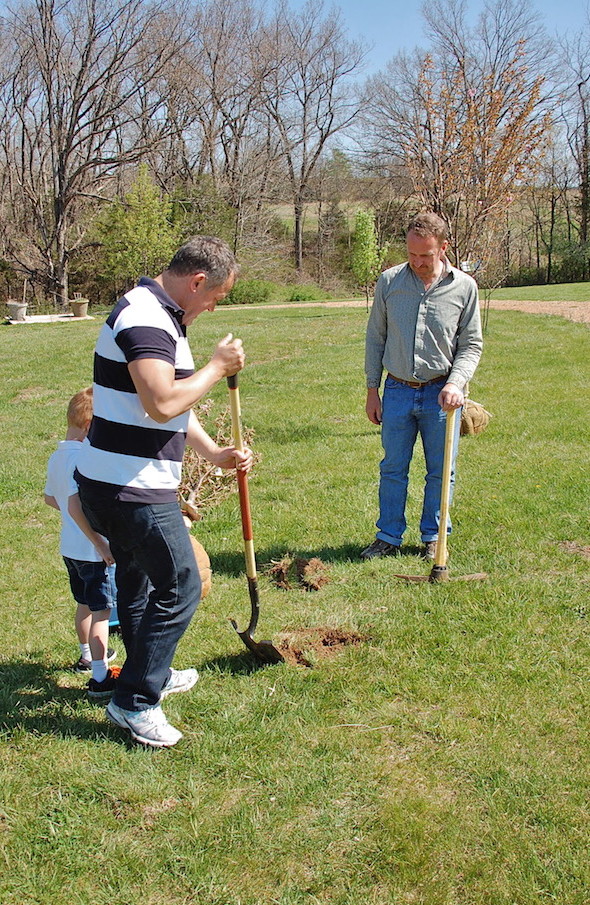 Michael Learned (left – The Waltons – played mother Olivia Walton is series) and Paul Burrell (right – Queen's footman and Princess Diana's Butler) planting Cherry Blossom trees at Blackberry Creek Retreat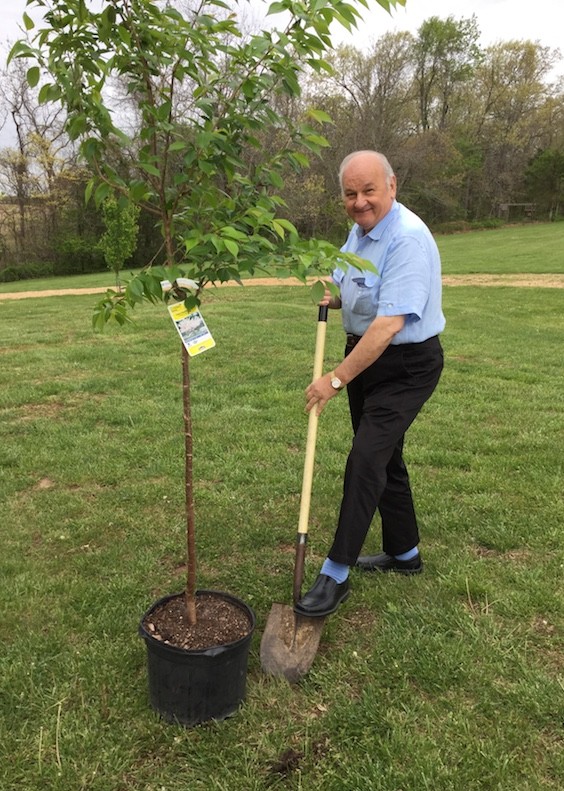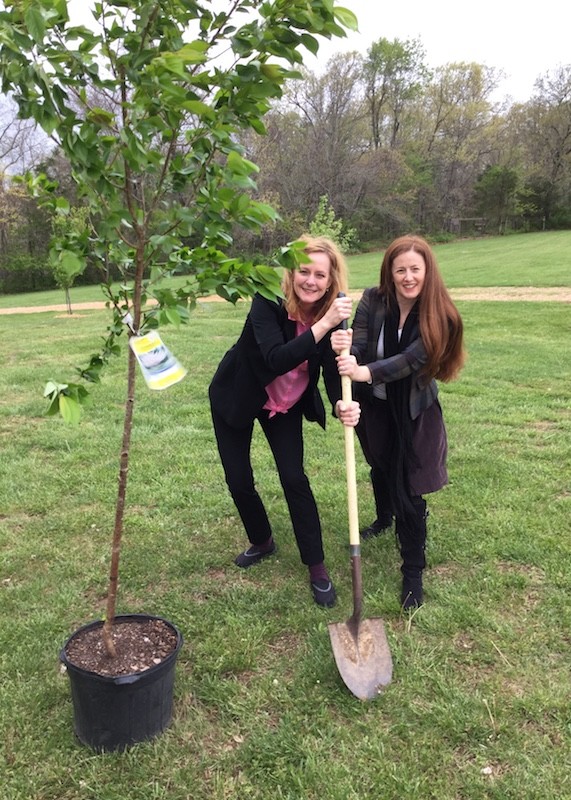 Roland Messnier (left – White House Pastry Chef for 5 Administrations) and Mary McDonough & Kami Cotler (right – The Waltons – played Erin and Elizabeth Walton is series) planting Cherry Blossom trees at Blackberry Creek Retreat
So this year, we enjoy their labors and the beauty of the blooming trees, yet are sad that we sit in self-quarantine as this year's Festival is cancelled until 2021. We would encourage you to visit the Missouri Cherry Blossom Festival and meet with so many interesting people, and partake in the many events.