March 1, 2019 by: Mark R Dawson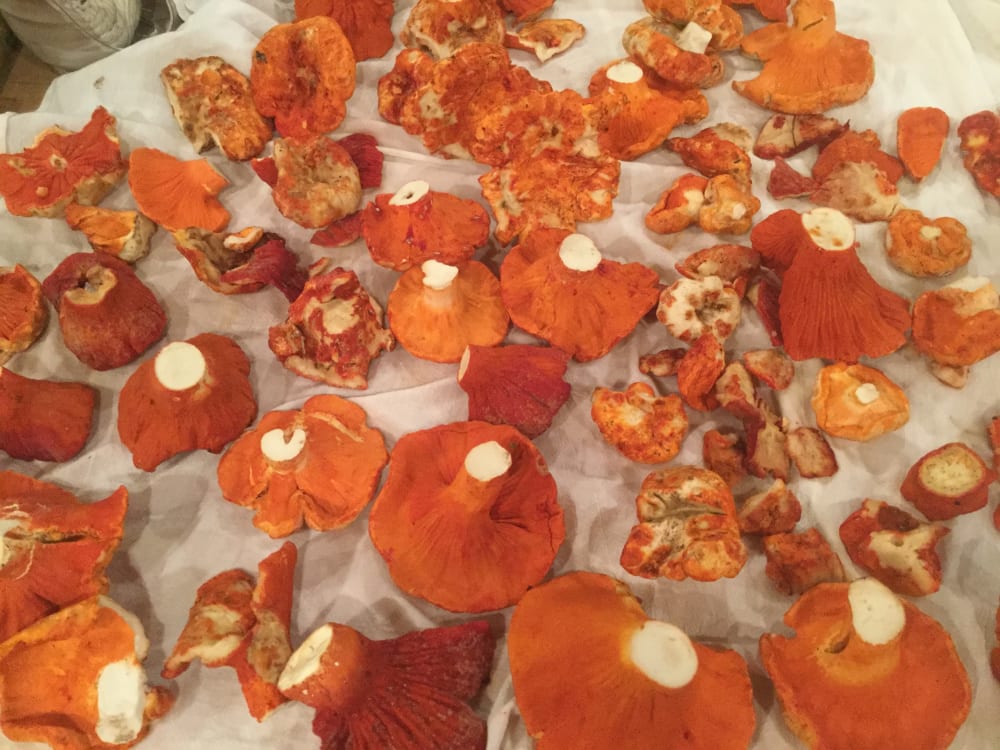 Love Those Shrooms
A few weeks ago, one of our guests/Quilt Retreats presented us with a gift bag of dehydrated Lobster Mushrooms (Hypomyces Lactifluorum). As many of our guests know, we use these wild Ozarks mushrooms in dishes prepared here, and they raise eyebrows and interests, so we thought we'd provide a bit of insight to these delicacies.
First, it started when I saw a FaceBook post from one of our quilter friends, Janet reflecting their gathering of these orange wonders off their land in Booger County. OK, for those not from these parts, and maybe the younger crowd, Douglas County to our southeast has been commonly called Booger County by old-timers and more recently for to make one smile at it's mention. Anyway, I made a comment and inquiry into Janet's post, to which she replied "you need to come down and get you some!"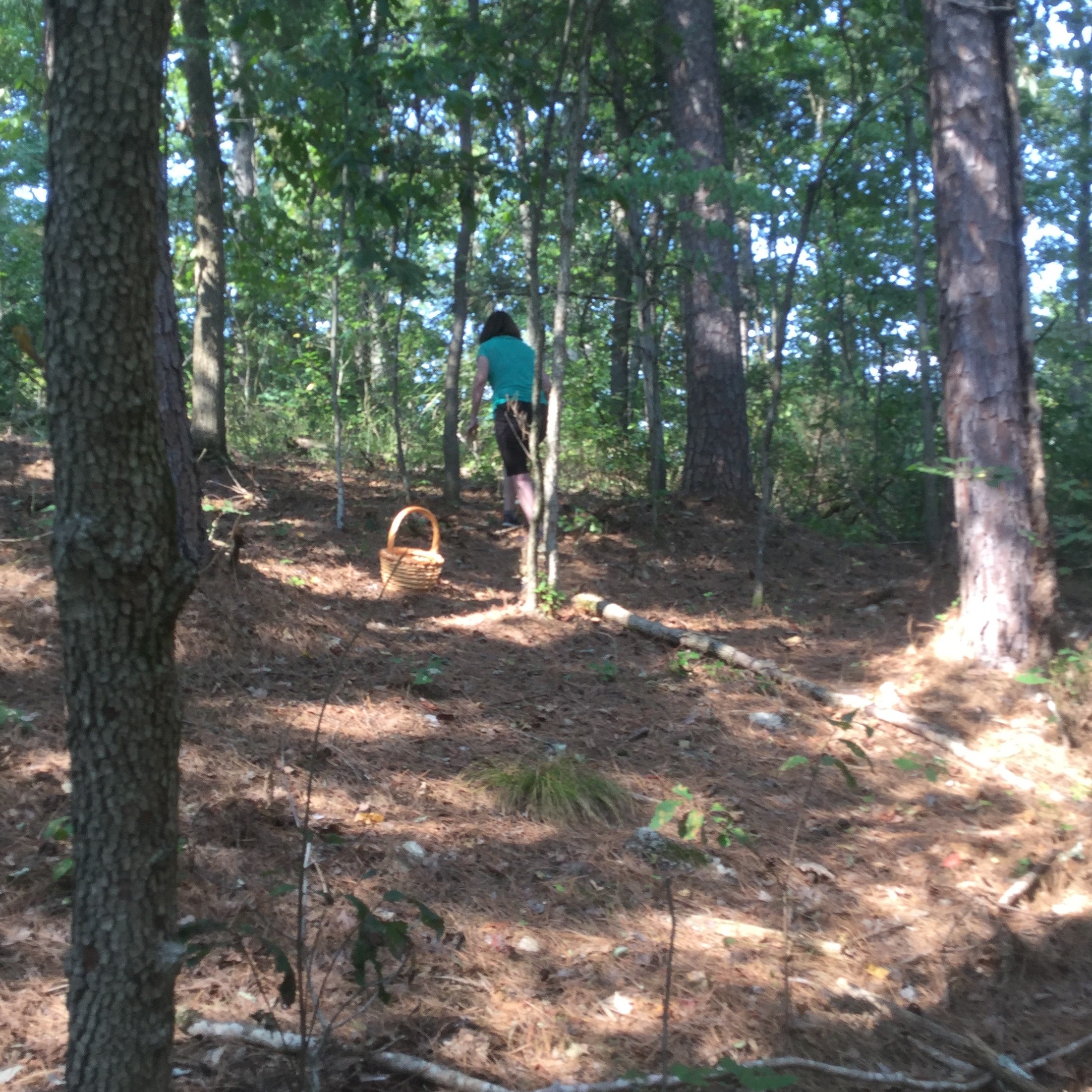 Hunting for Lobster Mushrooms in Douglas County, Missouri (Piney Woods)
A time was chosen and we made the trip down as much out of interest as visiting with Janet and Joe (her husband) on their own turf. Needless to say, THEY should be running a Bed & Breakfast! They're hospitable, caring, humble and just plain good ol' folks. Anyway, we were told we'd need a small knife to cut them loose, a basket to collect them in, and bug spray naturally.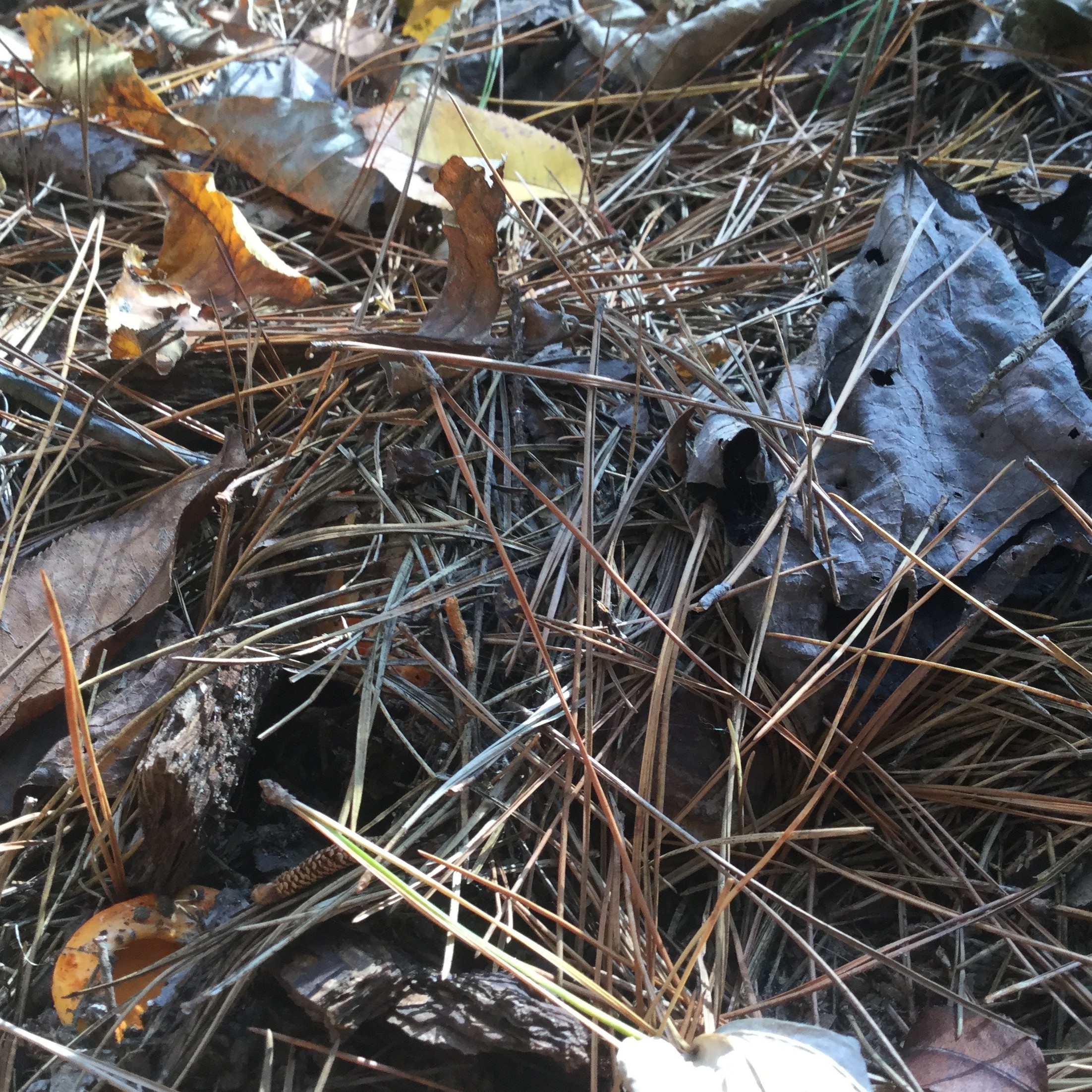 When hunting, the secret is usually found inside a bump in the pine needles, where the lobster mushroom is rising up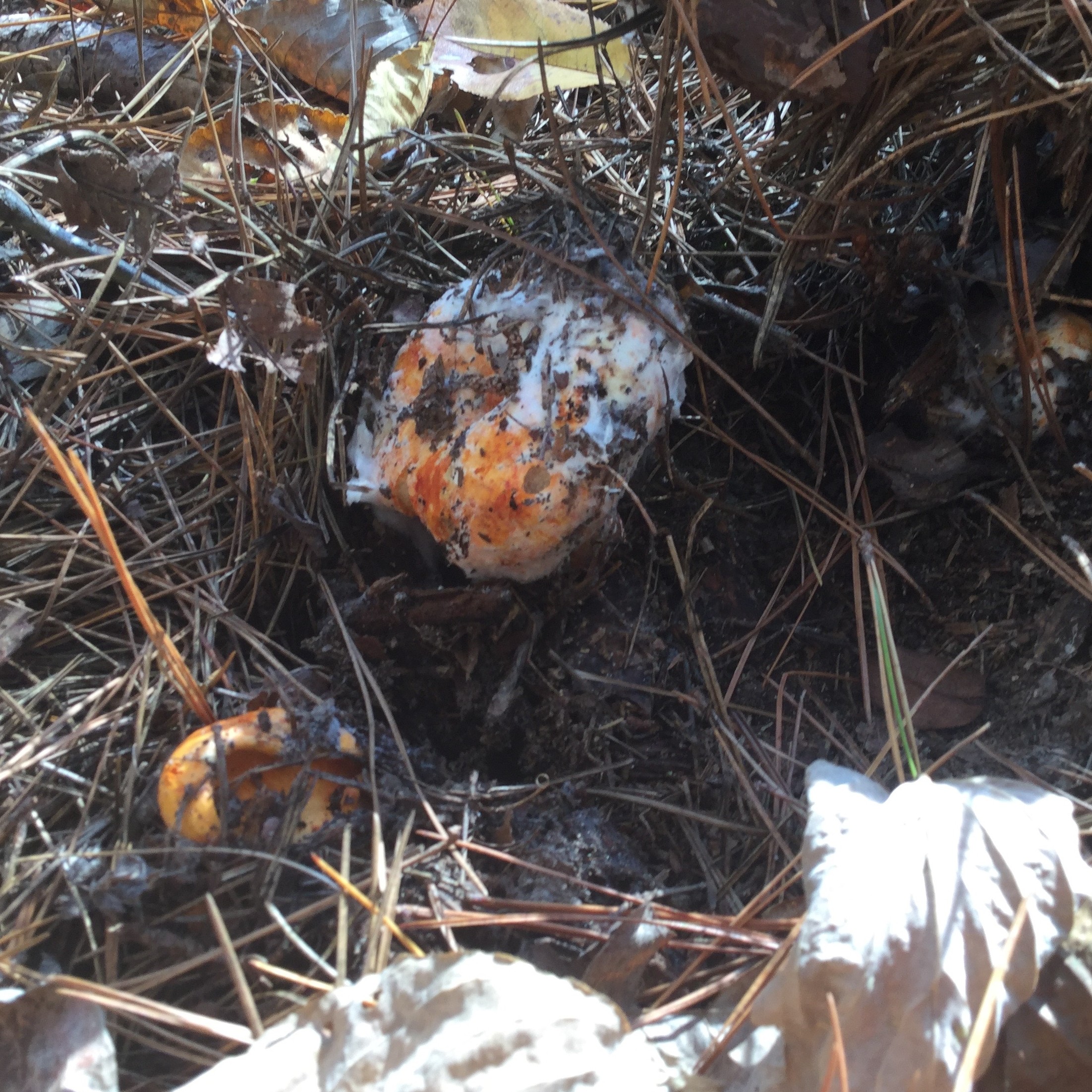 Using your walking stick, when you gently push back the bumped needles, you might be lucky and find the lobster mushrooms underneath.
Now, I have tried my luck a hunting morels, which require much time and patience, and been surprised to find Chanterelles on the edge of our woods while mowing, but both of those have SHORT picking seasons. The Lobsters come on late summer, July or August and run through the first freeze (say October to early November sometimes. Also, for those cautious of picking and eating the right mushrooms, Lobsters in Missouri have no look alike poisonous mushroom. Interesting is that Lobsters are actually the result of a fungus attacking a host mushroom, propagating it, leaving that host with the bright orange color (like a lobster that is cooked) and transforming it into these wonderful culinary delight.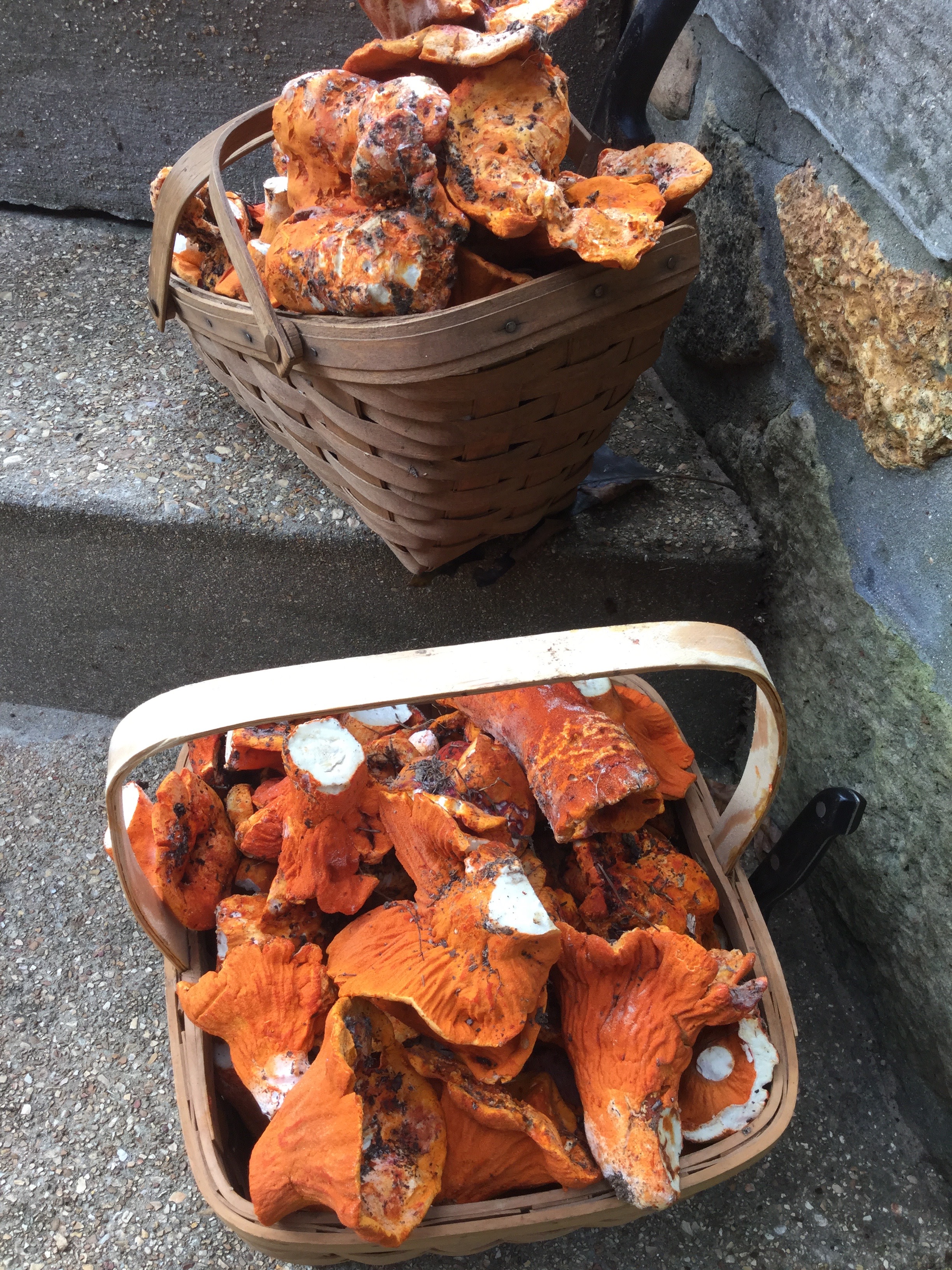 Our first harvest of Lobster Mushrooms - maybe 30 minutes hunting.....
Joe and Janet had jars of various dried mushrooms (Morels, Chanterelles, Hen of the Woods, and Lobsters) in their kitchen, so yes, they are avid foragers of their woods and land. Spending the day with them was very educational, rewarding, and fun. First, Rangers Joe and Janet had us spray down, and collect our knife, basket and walking stick. We walked a short distance from their house to piney woods which seems to be the secret for these particular mushroom. Joe explained what to look for – on the floor of the pine needles, look for a "bump" in the needles, and take your stick and gently push back the needles and possibly, the orange shroom will be found. The bump is the result of the mushroom pushing up and growing. Usually, if the shroom has broken through and spent time exposed, it may dry out depending on weather.
I must say, once you get on one, there are generally MANY of them in that same area. On our first expedition, we filled our baskets in less than 30 minutes!!! WOW. Wrapping up our visit, and before we returned home, Janet prepared a wonderful pizza using our mushrooms. Delicious.
Prepping Your Harvest
The first time we collected, we followed their advise and cleaned, then sautéed and froze them in smaller bags. The following year, Janet and Joe suggested dehydrating, which we were able to do with a new dehydrator our boys gave that Christmas. The beauty of dehydrating is they last a long time, and you just grab the amount needed and rehydrate in water a few minutes before using.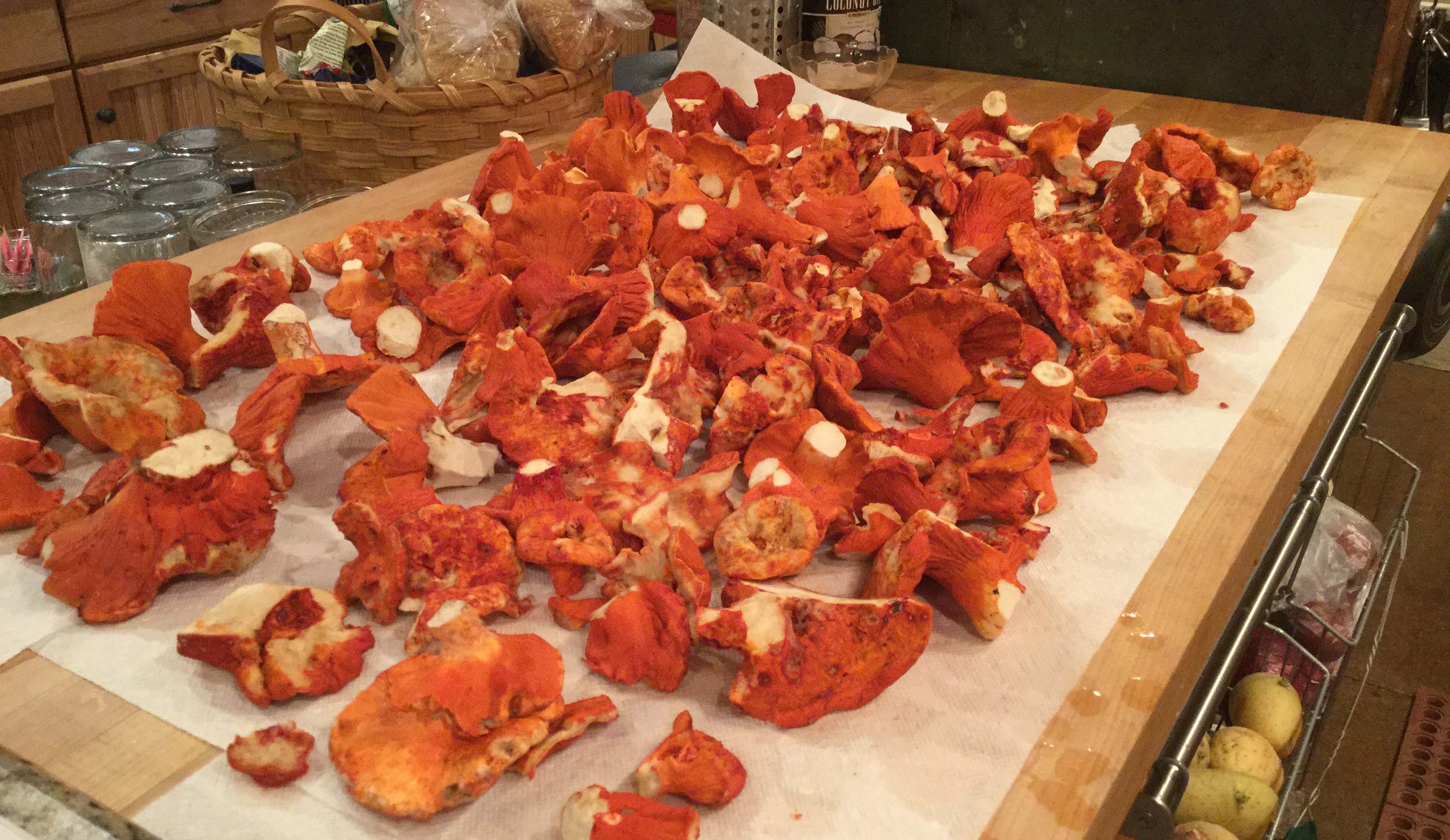 After the harvest,we take the shrooms, and with cold water, light brushing, and trimming unwanted parts (you'll know what they are), clean the lobsters, remove the pinchers (KIDDING), and allow to dry. Aren't they beautiful?
These Lobsters have a unique flavor and you can tell something is different if sautéing them – a seafood (lobster) type aroma, and bright orange color.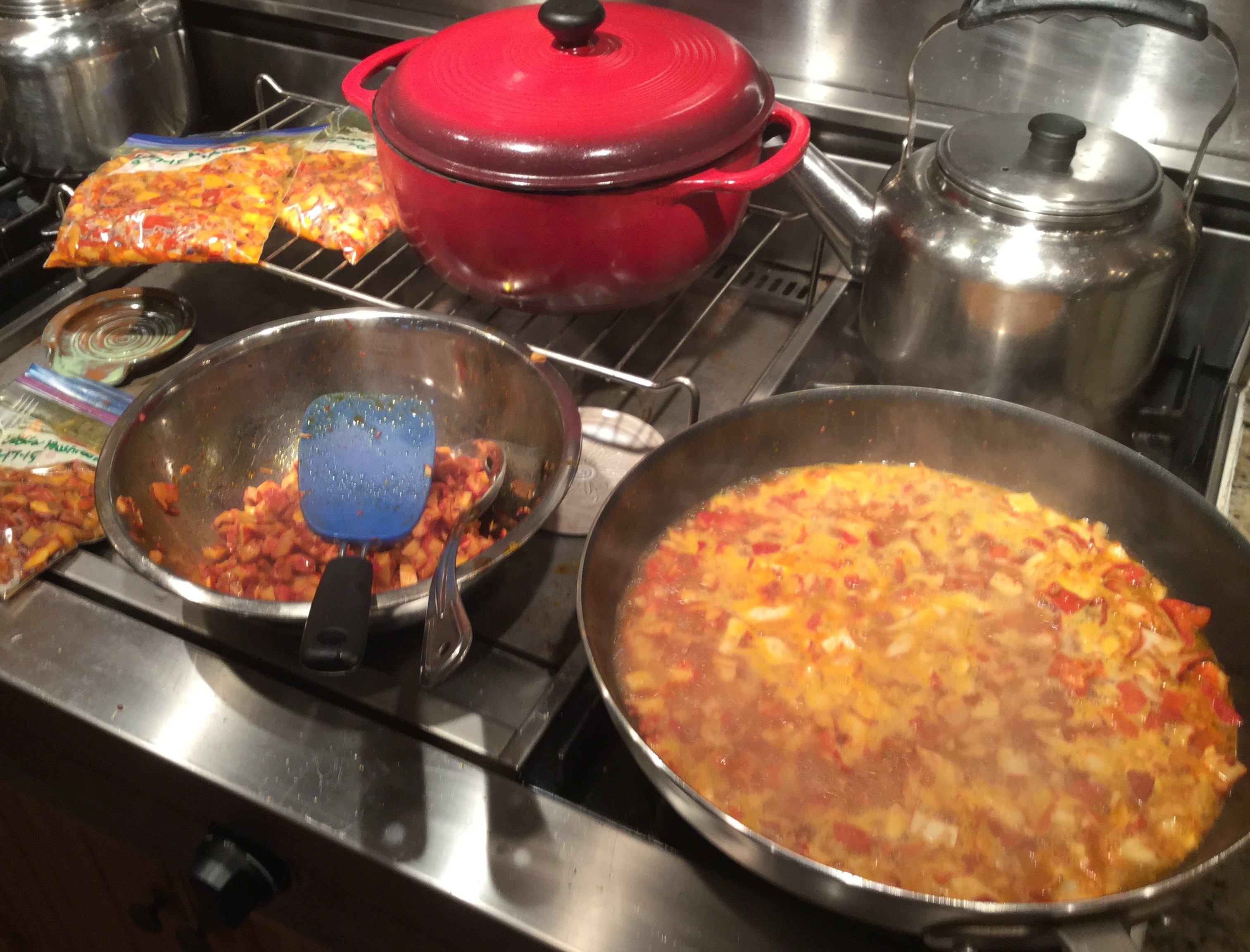 One method of preserving for later use is to saute them and break out into small usable plastic bags, and freeze. These have been chopped a bit.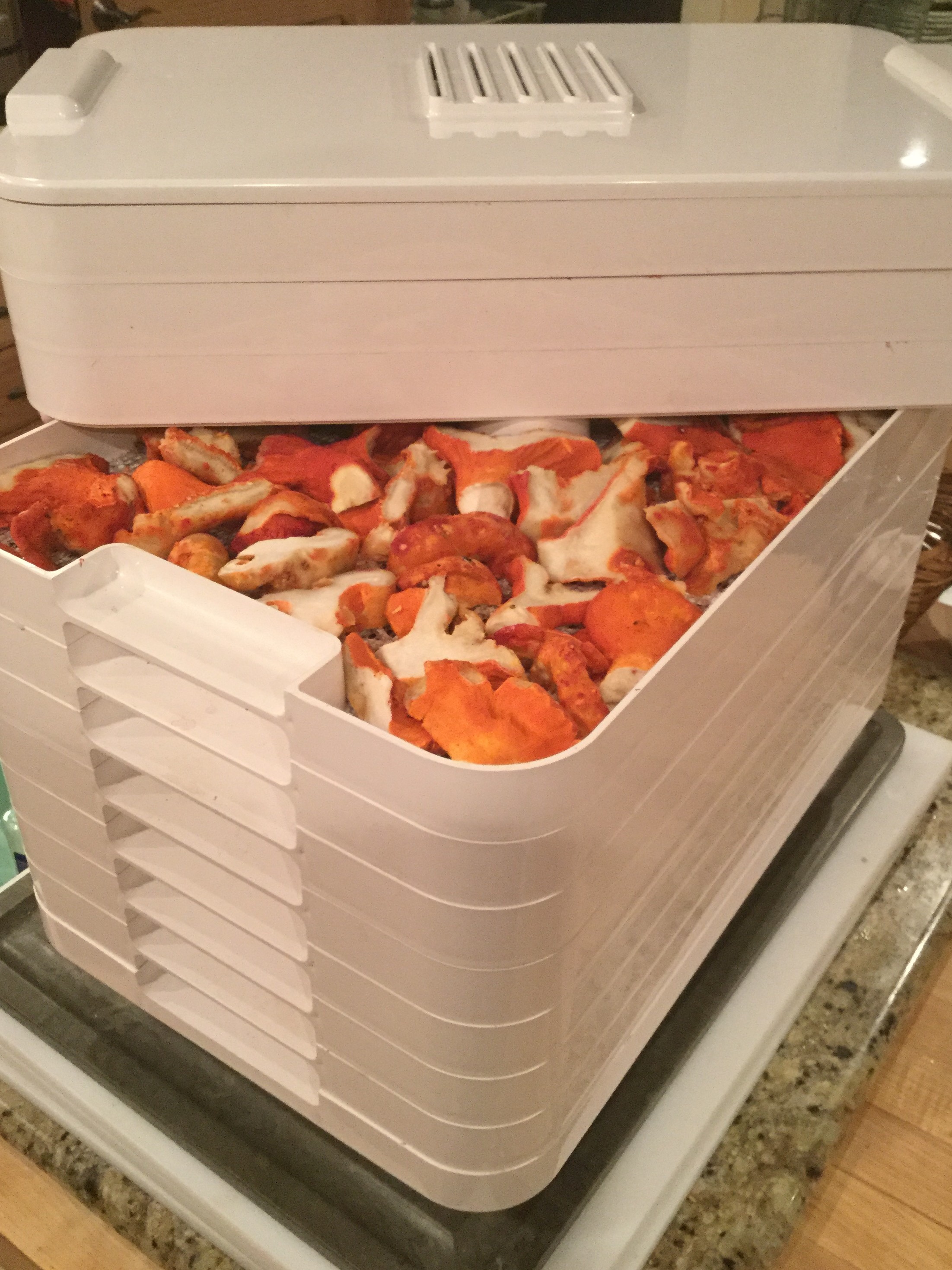 Today, we prefer to dehydrate and store for later use.
So, last year, after three years of gathering, we were unable to break away and collect some of these, so what a treat to receive a bag of them from our friends. THANK YOU Janet and Joe. While we have guests that alert us to the fact that they don't do mushrooms. To them, we might suggest "it's Try-It Day".