It is rare that we have taken time to get away, really get away and take a little vacation time like we once did. Our calendar fills up, and opportunities to get away seem to be only allowed for a quick trip to see grand-kids, or a doctor run out of town. Well, the first of May we DID make time (THANKS to a few groups that "nudged" THEIR schedules to open OUR schedule We ventured to the Florida panhandle to join our son and family (you might have heard of Da Twins) for some beach time. It also turned out to be a very nice time to travel.
However, THIS post is not to discuss the time our family had together, rather to highlight some interesting things and places in our travels took us to and from Florida. You see, as Innkeepers, we were able to stay at one historical "Bed and Breakfast", visit two other historical B&B's, as well as a stay at one of those "find us a room before it gets too late" type accommodations. We wanted to share our observations.
We have often told our guests, especially those that indicate it was their first stay at a Bed & Breakfast, "all B&B's are different, as are the Innkeepers". Many are older historical homes, others extensions of their home as they empty the nest, and like ours, new construction. I usually add that in hindsight, I wished I had stayed at more B&B's during my traveling salesman days, rather than the sterile, same environment, same footprint hotels for frequent stay points, as I did for the many years I peddled my goods.
Final point – In the 14 years we have been in this business, we have seen the industry change so much. From our first days of conferences that featured folding napkins, your website is important, and how to make a muffin, thru all the new social media impacts (don't be a Twitter Quitter we were told), to all the OTAs (On-Line Travel Agencies) and "putting heads in beds, to today's Airbnb impacts, we have seen many, many changes to this business…..
Enough of an intro, let's hit the road with your Innkeepers……
VICKSBURG, MS
Having just finished the Missouri Cherry Blossom Festival, we elected to drive a different way to our beach gathering, and travel through Arkansas toward Vicksburg, MS. We were invited by some friends who lived there to drop in for a night (or two). No they don't own a B&B, but they could have taking us to TWO nights, attended a brunch, and took part of a tour they provide. You see, Bertram and Carol Hayes-Davis live in a historical home(s) themselves, and operate Vicksburg Old Town Tours. We should mention that Bertram is the Great-Great Grandson of Jefferson Davis, the President of the Confederate States. River Cruises stop in Vicksburg and they have become busy touring the old part of town not destroyed in the Civil War siege.


Bertram and Carol only have to walk to the back part of their property, through the fence, and onto Anchuca property, a beautiful Antebellum home and B&B. We visited this Greek Revival structure, circa 1840, which is listed on the National Register of Historical Places (as is Bertram and Carol's home). Ironically, Anchuca was sold by the original owner to Joseph Emory Davis, brother of Jefferson Davis, who lived here until his death in 1870. Legend has it that when Jefferson Davis visited his brother some years after the Civil War, he spoke to the people of Vicksburg from Anchuca's balcony, Davis's last address to the public. We had a wonderful brunch (I could not refuse the Shrimp & Grits), but did not tour the home (you can pay for a tour). The WebSite gives you an idea of the rooms and history of the house.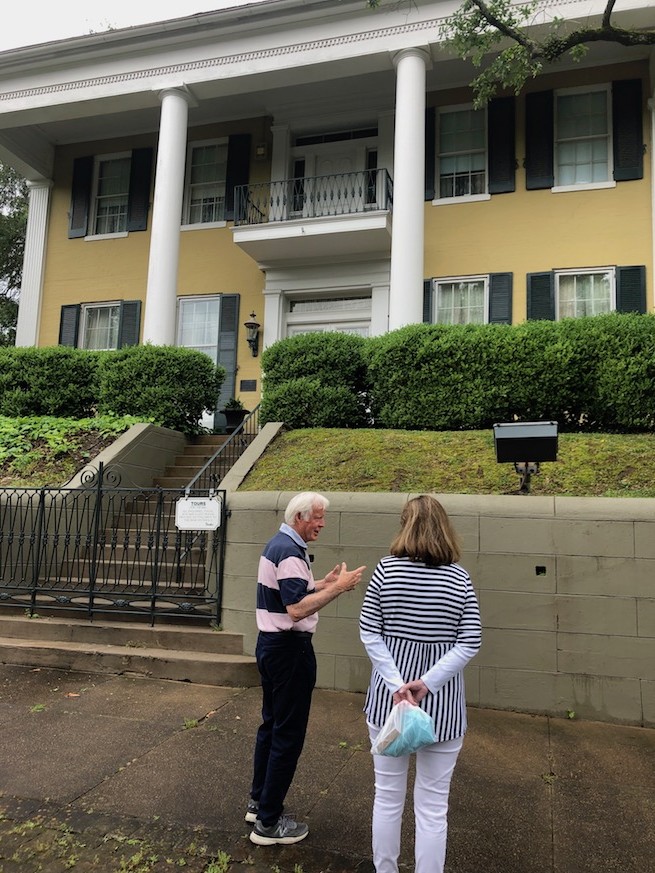 Our host and tour guide Bertram Hayes-Davis explains to Dixie the Anchuca balcony his great-great grandfather Jefferson Davis was rumored to have addressed the citizens of Vicksburg from.
Room rates are listed from $145 to $215. We purchased a Christmas ornament and T-Shirt.

We were able to visit and hear the owner describe the main living areas on our Vicksburg Walking Tour. Rooms were booked and not available to tour. This mansion was constructed by a local cotton merchant in 1856. Duff Green was credited with saving the home and area from bombardment during the Siege of Vicksburg by converting the home into a hospital that treated soldiers from both sides.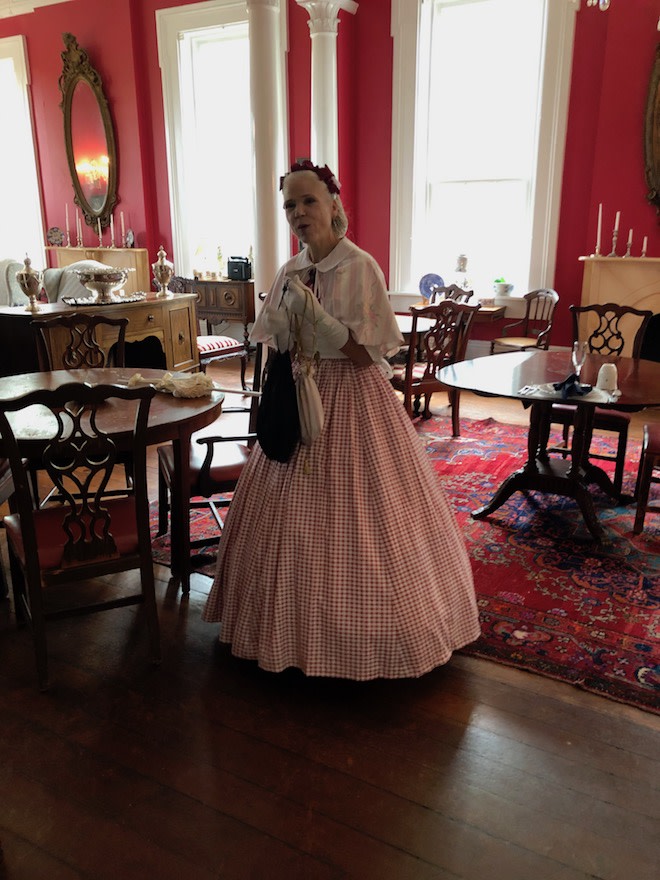 Duff Green Mansion Welcome and another welcome inside, this lady a little more overdressed than our folks were
Duff Green Mansion has a lot of history and is on the National Register of Historical Places. Duff Green Mansion claimed to have hosted Jefferson Davis and Ulysses S. Grant in the ballroom for a dance. The current owner presented a talk about how a period dinner would be hosted, served, the use of the adjacent Gentlemen's Parlor, as well as the Ladies Parlor, possible courtships of those attending, and ballroom dances. Very interesting.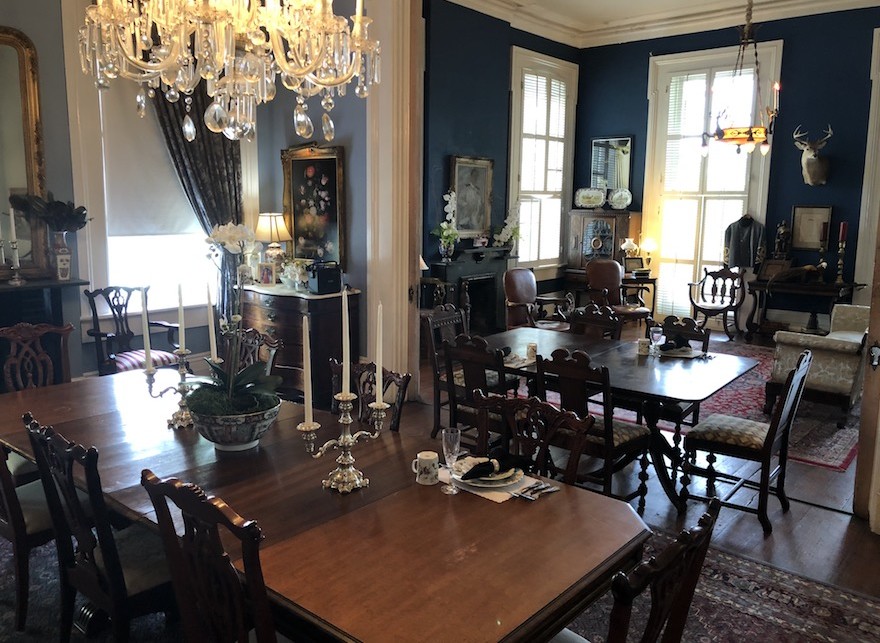 Dining Room (foreground) and Gentlemen's Parlor (back) at Duff Green Mansion
The grounds were beautiful, and they appeared to host many functions. Did not see any retail items. Room rates from $130 to $155 and they do have a "Dixie Room" while we have a "Dixie's Garden Room"!
THE JOURNEY CONTINUES…..MOBILE, AL

After seeing much more of this historic town, we departed and drove through Jackson, MS where we had lunch with our new friends from Cherry Blossom and learned about their lives and business, before reaching our overnight Bed and Breakfast stay in Mobile, AL. Dixie's brother and family live in Mobile, but we thought they were RV'ing, so we booked a room at the Fort Conde Inn B&B, claimed to be the 2nd oldest home in Mobile. What a surprise. While "our room" was not in the main house, we were directed across the cobblestone street to another house where we were the only guests in this 3- guest room home. In fact, our "King Suite" had the whole top floor!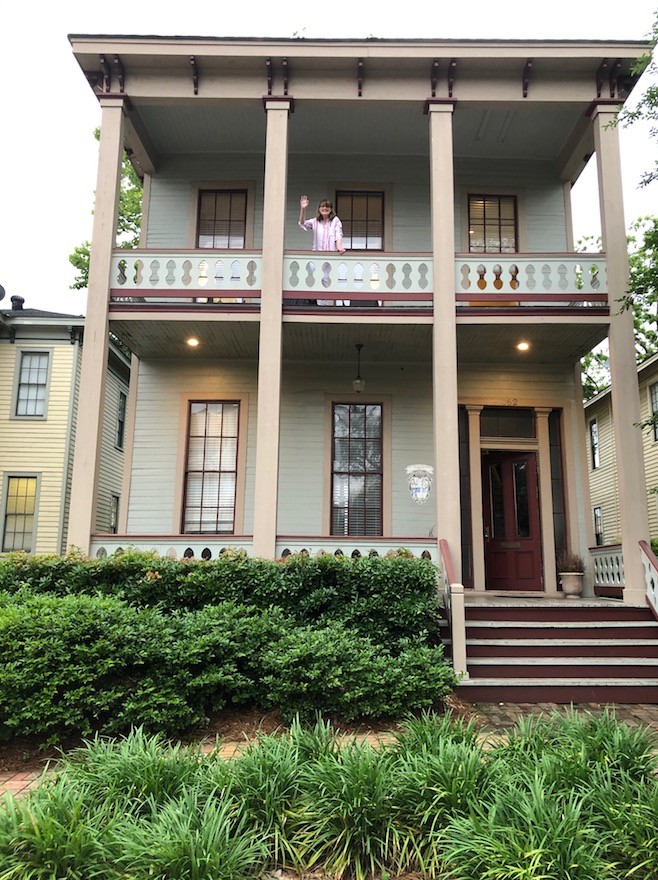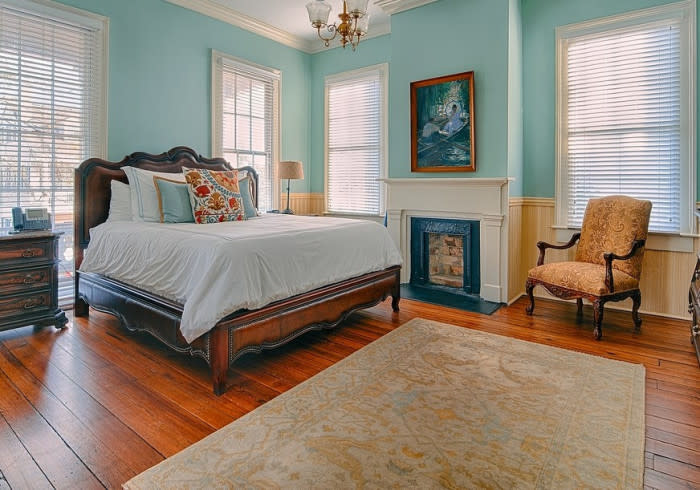 Fort Conde Inn – Dixie on balcony of our room, our house (left) and our "part" of our suite (right)
Apparently, two New York developers bought up this area (photo seen at top of page from WebSite) two decades ago, which was in disrepair, and turned it into a restored neighborhood showplace. The Main House became a 10-room Bed & Breakfast. Later, nine buildings were restored and hosted a total of 31 rooms and suites. The north street in this block divides the property with the historical Colonial Fort Conde (originally build by the French in 1723). The original fort is long gone, but when the remains were discovered during the 1960's building of the Wallace Tunnel, restoration of a scaled version was build and provides a glimpse into that era of history.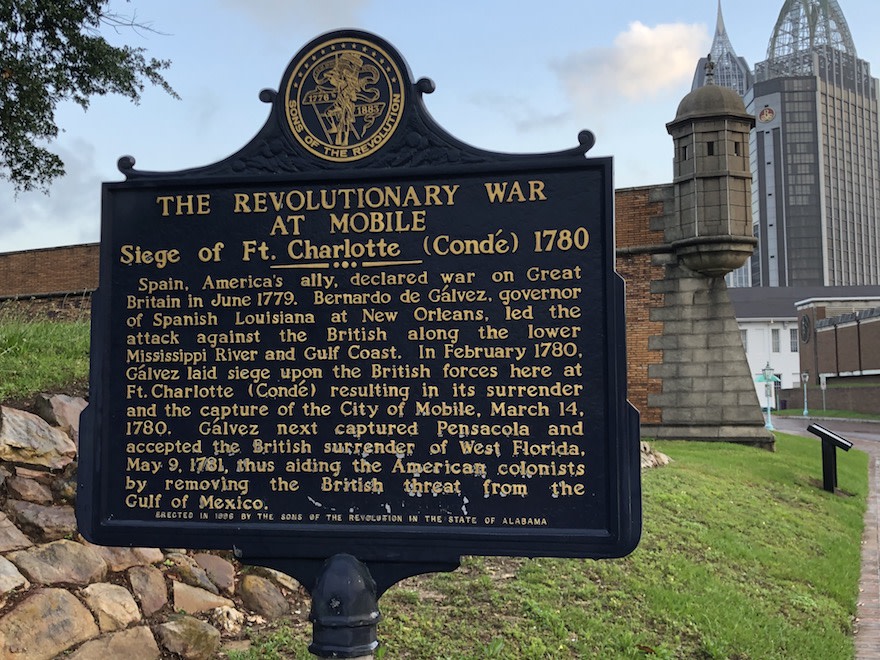 Historic Colonial Fort Conde in Downtown Mobile, AL
Like the fort, the inn and neighborhood provide a restored exhibition of some beautiful buildings and furnishings. Naturally, Dixie and I were observing and noting everything about our suite, comparing to our business the amenities and services. Funny how we do that, right? We can never compare the structure and history of such an establishment, but the provisions and service, we attempt to. Does that make sense, what about that color, cost vs. value, did you like how they did this, look at these sheets, etc.
Maybe it was timing, but for the 31 rooms they had, we witnessed staff, a unique breakfast offering, amenities, etc., we saw maybe only 3 couples besides us, and thought "how do they do this"? For example, I went down for breakfast (at the Main House), with Dixie sleeping in and saying "bring me something". Unlike most B&B's, they had a menu!!! Not an ordinary menu, but top flight offering. I chose the "a la Joe Cain – "a grilled English muffin is the throne for Conecuh sausage and poached egg, crowned with a creamy crawfish sauce" and a fruit cup. Juices and coffees (Kuerig) were help yourself. Amazing, but I am thinking how do they do this with few rooms occupied, and a complete menu?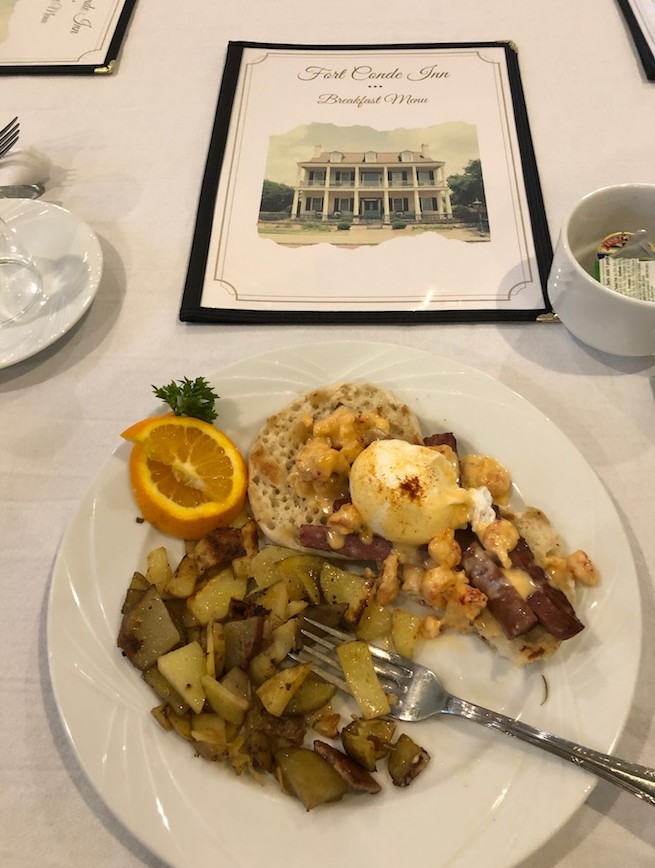 Breakfast a la Joe Cain at Fort Conde Inn with Menu
I asked later and was told they were going to change this, offer breakfast plan or not, plus they were soon opening a bistro across the street to one of their buildings, to the public called The Bistro St. Emanuel. That made more sense, gives them more room for guests, allows catering, etc. I was also told they were trying to migrate more from the Bed & Breakfast they opened a decade ago, to more of a ":destination" i.e. weddings, family reunions, etc. We know something about that, just not on this scale and investment.
A huge investment no doubt in this location. It was certainly an experience, beautiful accommodations, and a very restful stay on our trip. Rate for our King Suite was same as one of our Kings, but their various taxes pushed that up quite a bit as opposed to our county tax. I found it interesting that booking direct on their site (or via Google Hotels Ad, Vacation Rental) is less than using say Expedia or Booking.com.
THE RETURN TRIP….JUST A ROADSIDE ACCOMMODATION….
As most of us find ourselves returning from a trip, in a hurry, tired and wanting to get home, no plans, just get there. So we estimated our "we can only make it to" target, called ahead and booked a room at the Comfort inn & Suites in Arkansas. I don't feel I need to compare the differences in a Bed & Breakfast and typical motel/hotel stay. I have stayed in many, maybe you have. Will leave it at that. Had breakfast on a paper plate, did the job, a bed, and spacious room with Wi-Fi, staff that had a job, more active clientele, lots of them, roadside noise. Rate with taxes a "little less" than places we stayed. Won't leave a lasting memory, just a place to stay.
Our stay in Florida was a Vacation Rental, a whole condo, 3 or 4 bedrooms, kitchen, laundry, a 6 person electric golf cart, lots of space, gated area, etc. It was perfect for our group. It had wear and tear on the furniture. Our kids booked it on Vrbo. They have booked before on Airbnb, even a sailboat one time. We talked a lot about this option vs. a Bed & Breakfast such as we run. We discussed hidden costs i.e. cleanup charges added to the nightly stay – now that's an idea! I saw where management services group several of these properties and provide the cleanup and flip of properties – same sheets, towels, etc. Not as unique, not as personal, but certainly served us well.
I guess that is where we, as Bed and Breakfasts, and Innkeepers, try to set ourselves apart.
This trip was an eye opener for us as Innkeepers, as we ventured from our rural acreage and about, testing other B&B's, a vacation rental, friends home, and standard hotel in a week. Each was a unique experience. Some were a convenience, some spoiled, and others made you feel at home. I think there is room for each of these, and in our case, repeating what we have said many times "each are unique, and the innkeepers are unique", but I'll expand that to not just Bed and Breakfasts, but each of these overnight accommodations.
We would love to hear your thoughts and experiences. Safe travels…