June 10, 2018 by: Mark R Dawson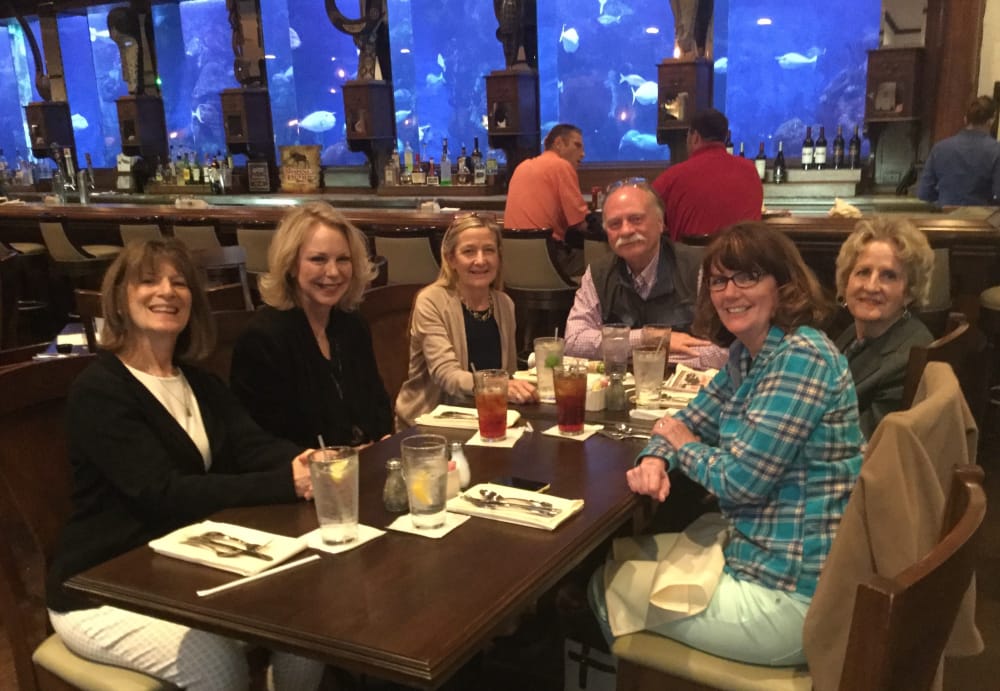 Guest Connections
Like one of those insurance ads on television, "we have seen just about everything" in the Bed & Breakfast business, and we like to report" them. The most amazing stories are those "connections" that occur when guests reveal people we know, places we shared, and coincidences that stun us. Here's an example.
It's no secret these days that the Missouri Cherry Blossom Festival held in our county seat of Marshfield, Missouri each year blesses us with wonderful guests, from Presidential descendants, White House staff, movie and television personalities, etc. LAST year (2017) was typical, and guests need to find places to eat, if their schedule allow. So one night, a group of us went to Bass Pro Shop's Hemingway's Restaurant. Our thinking was these out of town guests might want to see Bass Pro's "Mothership" since IT IS their hometown shop (on steroids). Amazed by the size, layout and offerings, we made our way to the restaurant. We had hoped to make a quick run through the NRA Sporting Arms Museum inside that store. Unfortunately, it was closed (7 pm for future reference). Dinner was enjoyable (see photo above) and we visited with friends and our guests including the grandchildren of President Grover Cleveland and Dwight D. Eisenhower, as well as the great-granddaughter of President Rutherford B. Hayes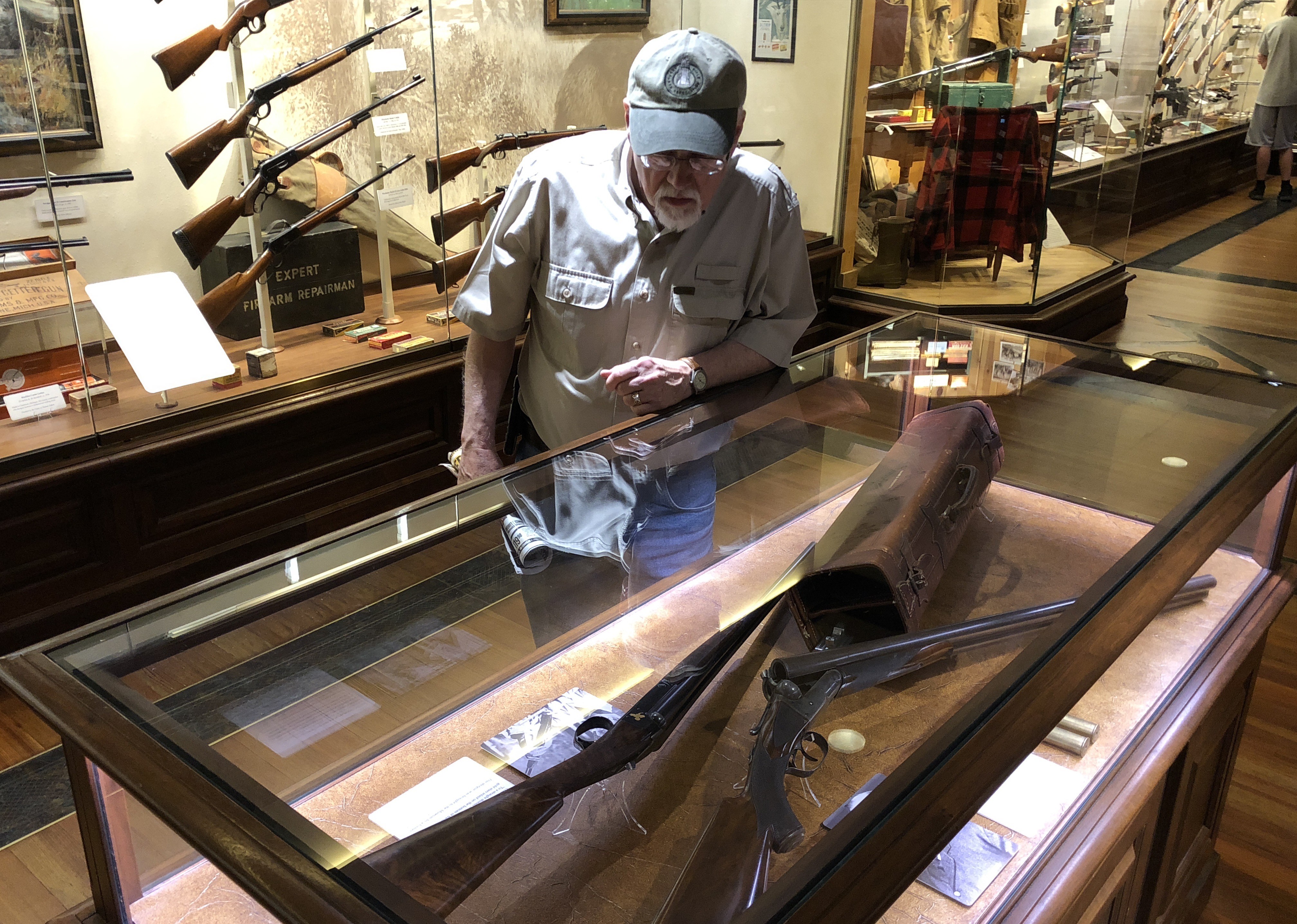 Guest and Friend from Texas, Rex views two shotguns in one case, belonging to President's Eisenhower & Cleveland.
Fast forward over a year. Guest and Texas friends Rex and Ginger (from Dension, Texas, (Birthplace of Dwight D. Eisenhower) are passing through and stay with us a couple nights, We too visited Bass Pro and Hemingways after some shopping, but we also wanted Rex, a historic gun enthusiast, to see the NRA Sporting Arms Museum. So we are taking in the NRA Sporting Arms Museum, and not far into our tour, a center case holds two shotguns - one belonged to President Dwight D. Eisenhower, the other Grover Cleveland!!!!! Now that may seem like not a big deal, but as I looked at them both, I thought back to over a year ago we sat not far from these guns, having dinner with the grandchildren of these two Presidents!!!!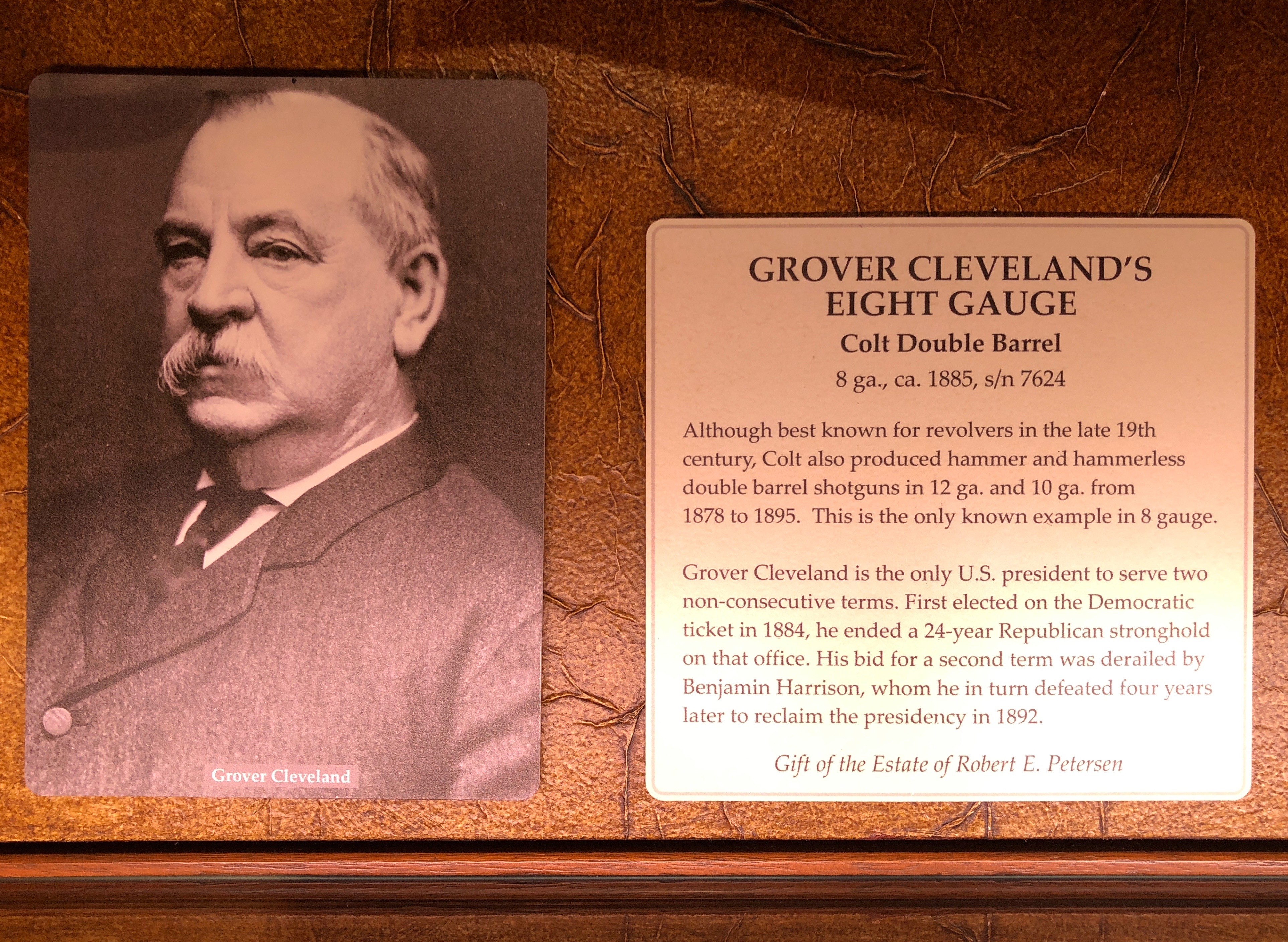 Inside the case, this plaque highlights a bit about President Cleveland's Colt Double Barrel 8 ga. shotgun, the only 8 ga. in that model produced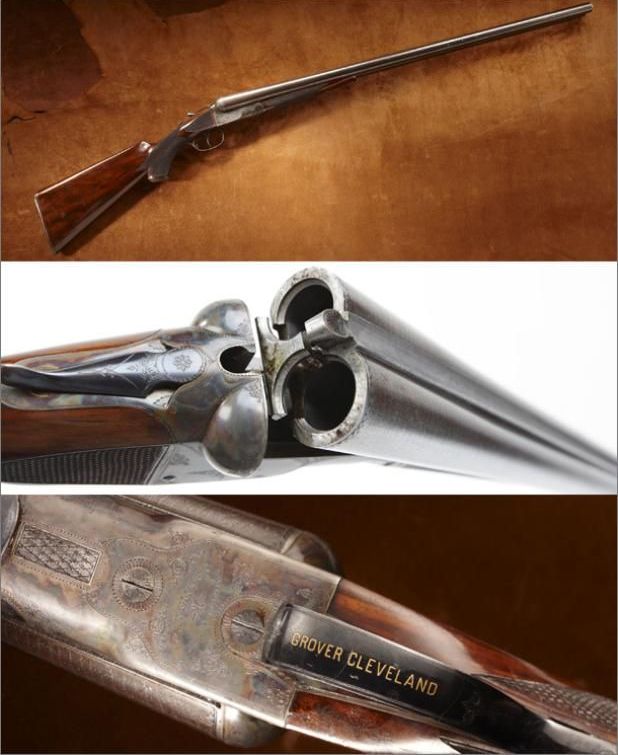 President Grover Cleveland's Shotgun Pictures.
President Dwight D. Eisenhower's Shotgun Pictures (in same case as Cleveland's)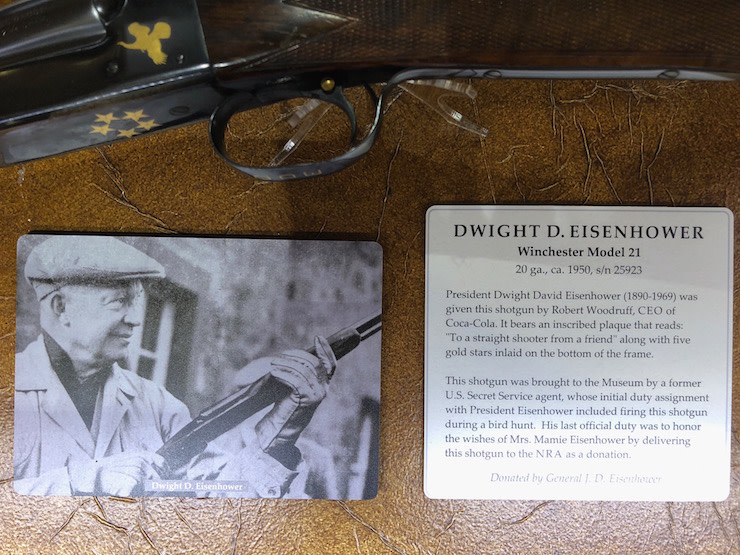 Plaque reflecting on the history of President Eisenhower's Winchester Model 21 shotgun, a gift from friend and CEO of Coca-Cola.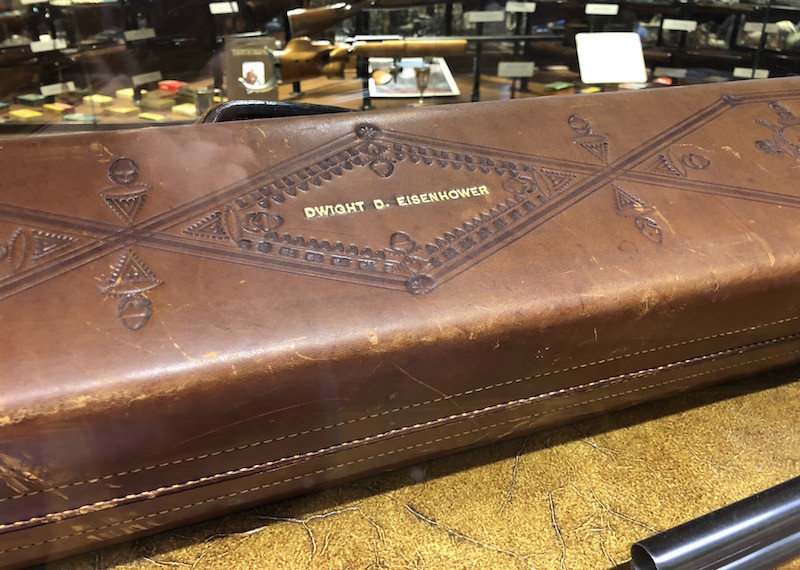 Eisenhower's Model 21 Shotgun Leather Case.
I grabbed pictures and at dinner sent a text with pictures to both Mary Eisenhower and George Cleveland with the find. Both got right back at their amazement, but also concurring both Presidents would rather be hunting and fishing, than most the things "work" found them doing. There are many, many other great exhibits and stories to be found inside this museum, and the adjacent Archery Hall of Fame and Museum, but free of charge to walk through. .