For most the years we have been opened, one of the most frequently asked questions by guests and retreaters is "?" I think I have addressed this in replying that if I DID a cookbook, it would be one that had recipes special to us, not a boiler plate one, and the recipes would tell a story. Well, that project never materialized, but we hope that publishing a recipe under our blog, and in our newsletters, the same effect can be pieced together for all to enjoy.
"Grandma's Shrimp Salad" is one such recipe. It has been a family favorite, reserved mainly for Thanksgiving and Christmas, as long as I can remember. We enjoyed it as kids, and equally as adults. Simple to make, some crunch, lots of flavor, and now has been passed on to other family members that have become part of ours. When we asked Grandma Haley (my Mother's mother) where it came from, she replied "The Army". You see, my grandfather, John Frank Haley was career Army, enlisting in 1918 and discharged after serving in the E.T.O. during WWII.
Grandma and Grandpa Haley outside their Springfield, MO home
In later years, I was able to collect several of Grandpa's service things and records, and in those, I discovered a Christmas 1934, Company D Menu for his company's Christmas Dinner while stationed at Jefferson Barracks in St. Louis, MO. Mother and my uncle were both born and raised there, as Grandpa Haley served here from 1926 through 1941, before moving to Fort Knox. I heard many stories about Jefferson Barracks, and it certainly has a storied history (check this link).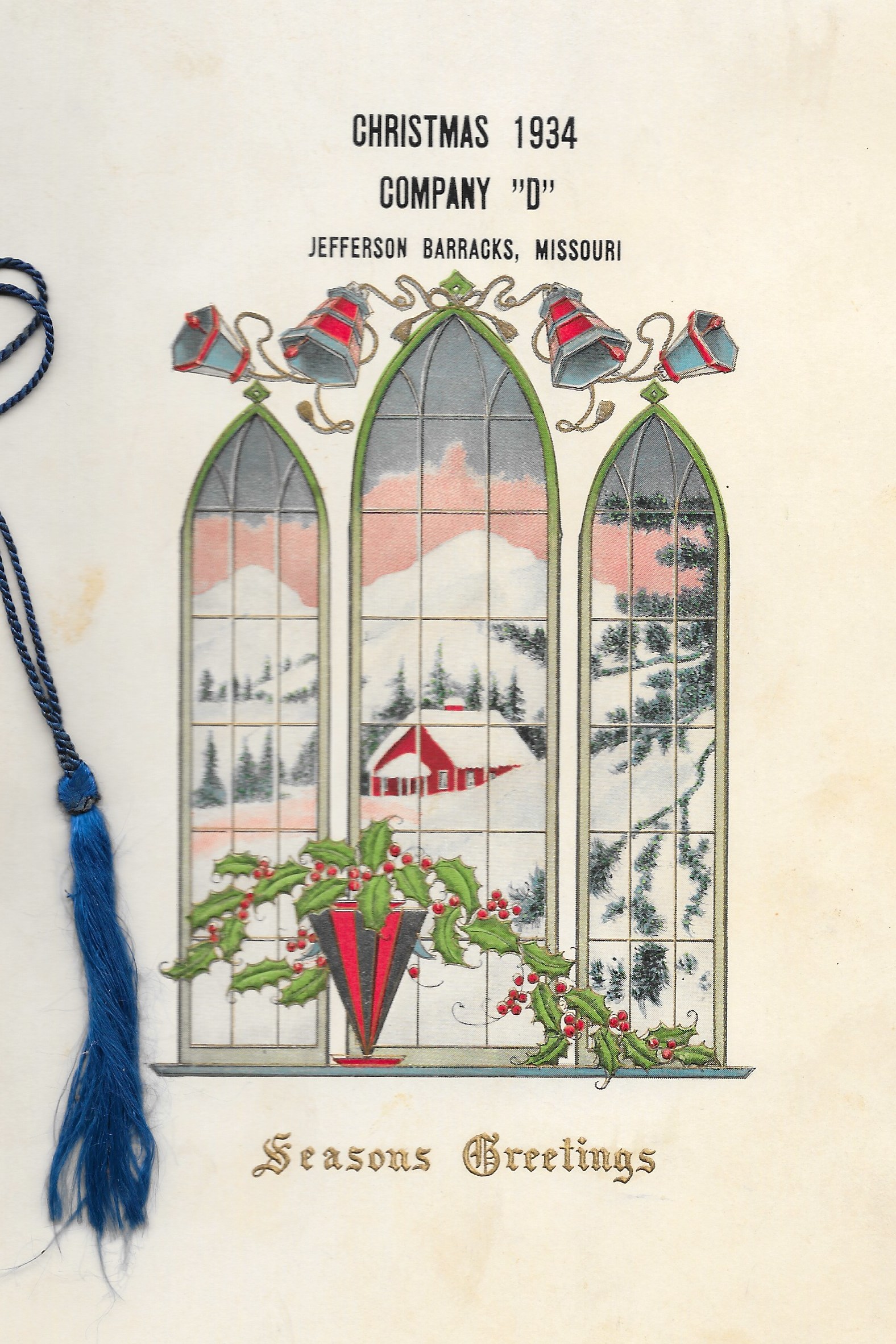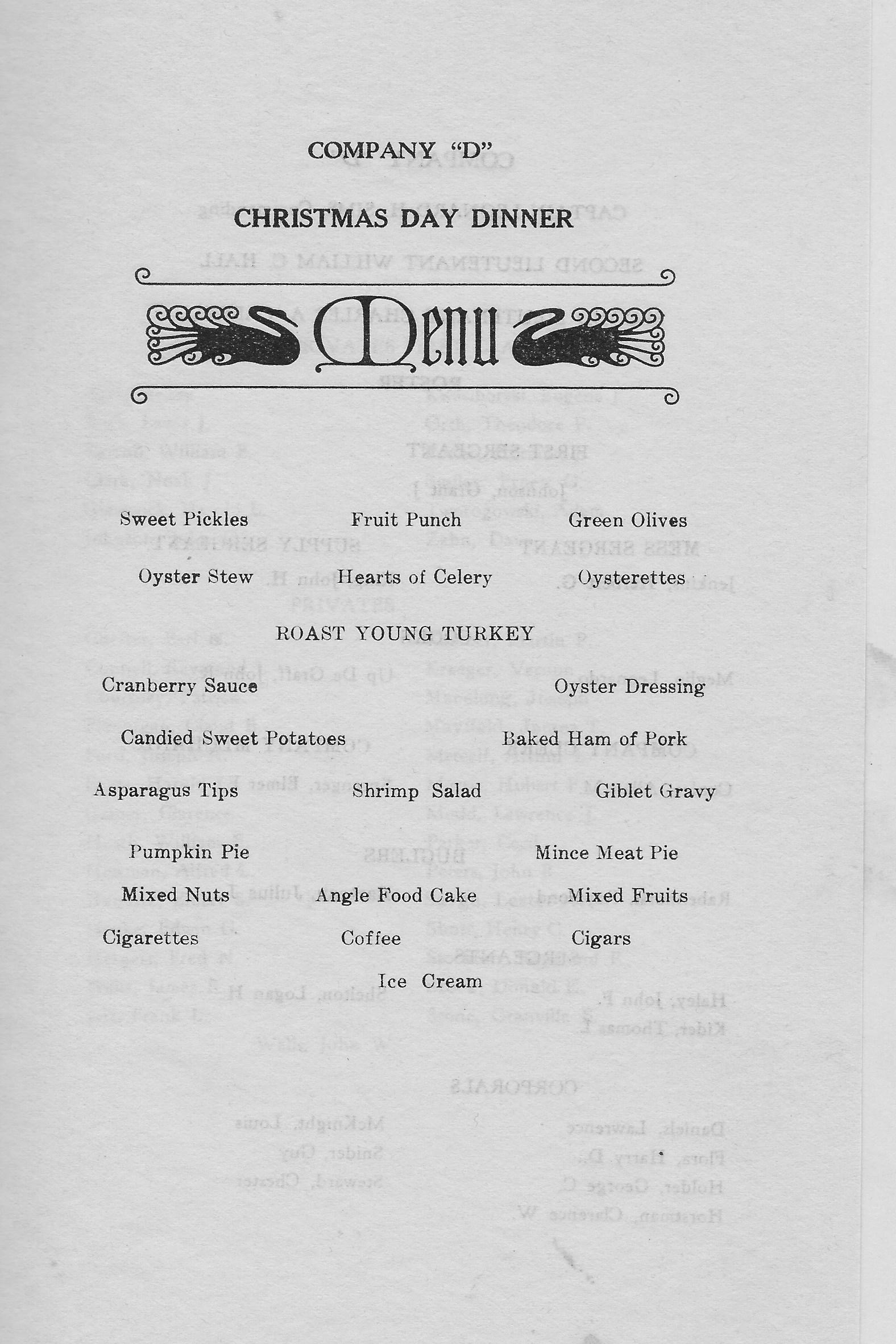 1934 Christmas Dinner Program and Menu, Jefferson Barracks, MO for Company "D"
Inside that program, I saw it – Shrimp Salad! How Grandma got the recipe is unknown, but sure one of her connections made it available, and today, more than 80 years later, we still make it. Like most families that enjoyed leftovers (my favorite was turkey sandwich), this salad was a great side, lasting for a couple days in fridge. By the way, it does have a holiday color theme to it, the greens and red…..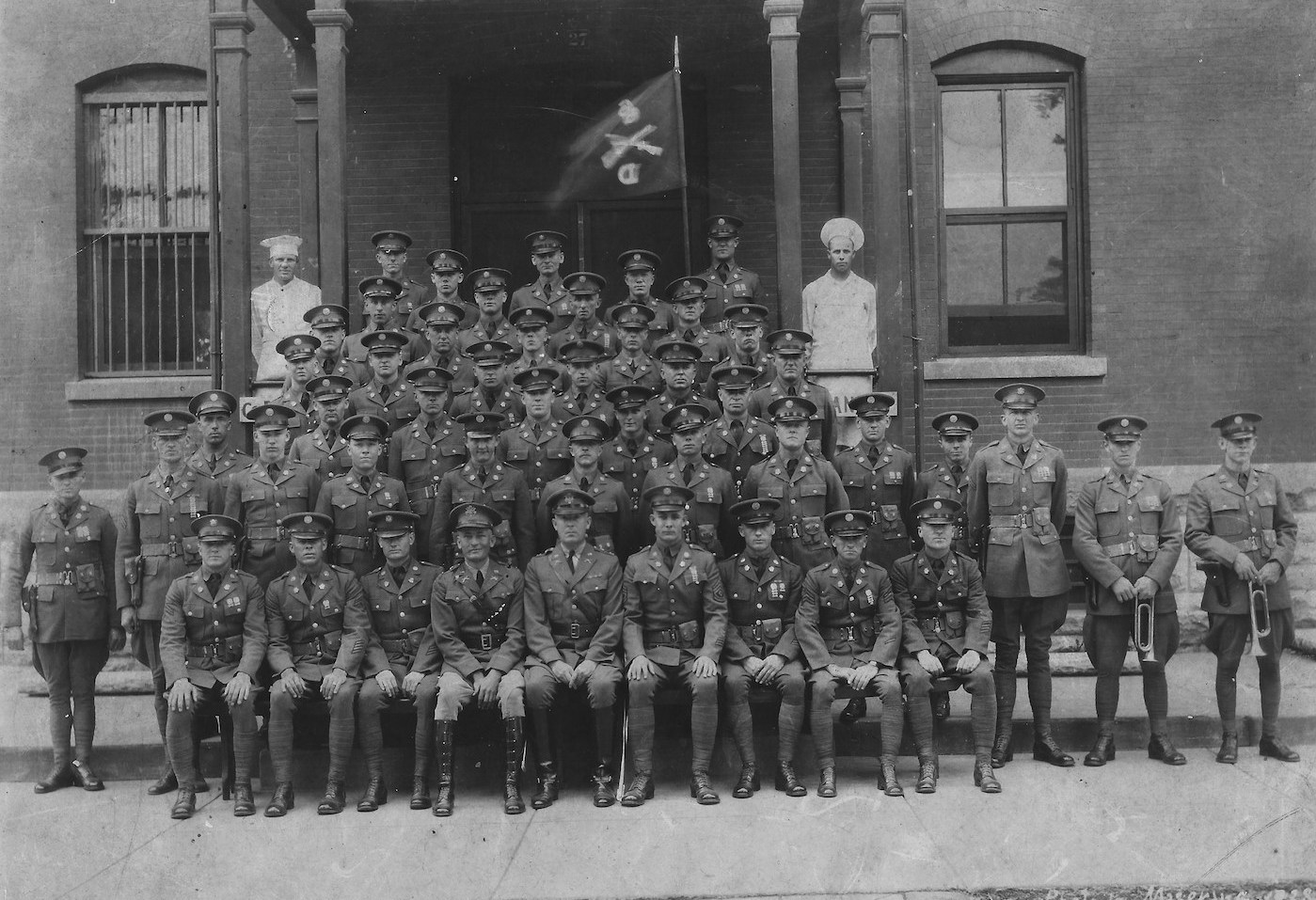 Company D, 6th Infantry – Jefferson Barracks, MO – Maybe Grandma got the recipe from one of those white hat guys in back there???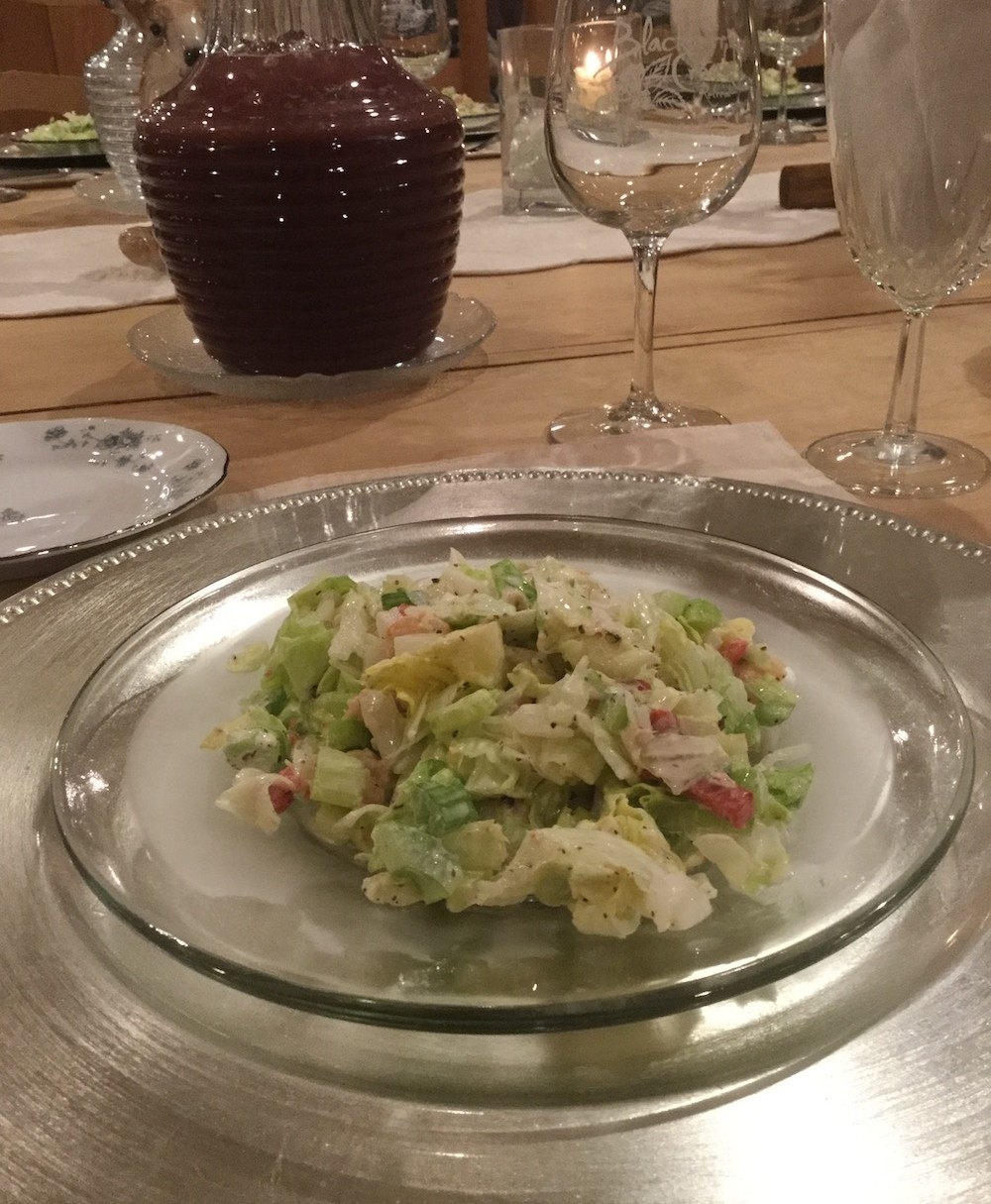 We even made this as a Starter Salad for one retreat group.
If you check out the Recipe Card, you'll see typical quantities are guesstimated. It is a feel and taste sort of thing, and will try to define a bit better…..Naturally, for larger group, you can double. You'll do fine…..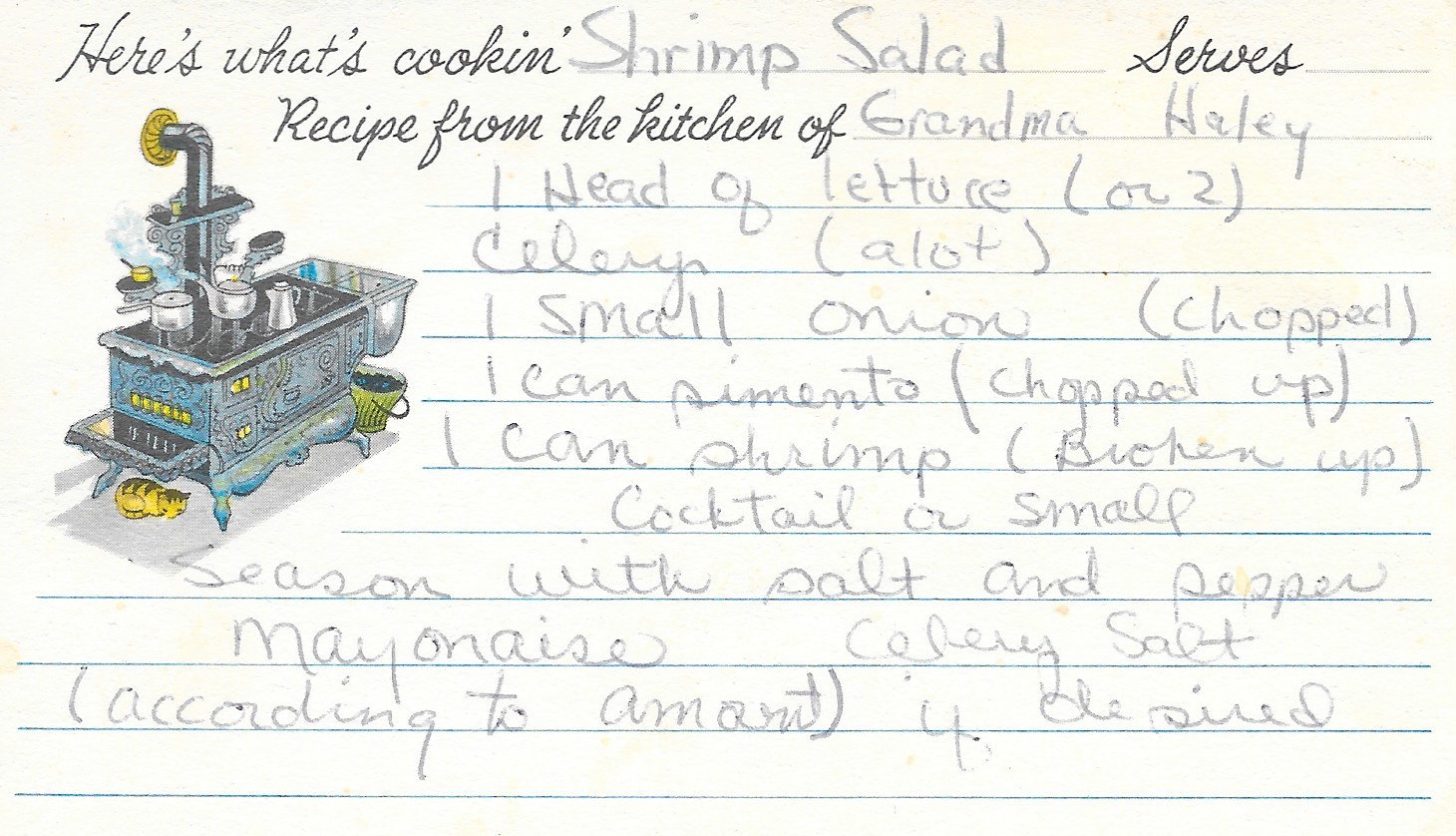 Our family recipe card for Shrimp Salad…..
GRANDMA'S SHRIMP SALAD
INGREDIENTS
– (1) Head of Lettuce (small shreds to chopped, dry)
– (1) Bunch of Celery (chopped, dry)
– (1) Small to Medium Onion (chopped, dry)
– (2) Cans of Tiny Shrimp (drain and crumble with fingers after rinsing)
– (1) Small jar of chopped Pimentos (drained)
– (1) Cup of Mayonnaise
– Salt, Pepper, and Celery Salt
PREPARATION
– In a large bowl, combine first three ingredients. Toss.
– Add shrimp and pimentos, and mix
– Fold in mayonnaise under mixed. The amount can vary but a light to medium coating is desired.
– Add salt, pepper and celery salt to taste.
Serves 6-8
Photo Credit – Header Photo – Brother Paul Dawson's holiday spread, with, yes, Shrimp Salad….