June 17, 2019 by: Mark R Dawson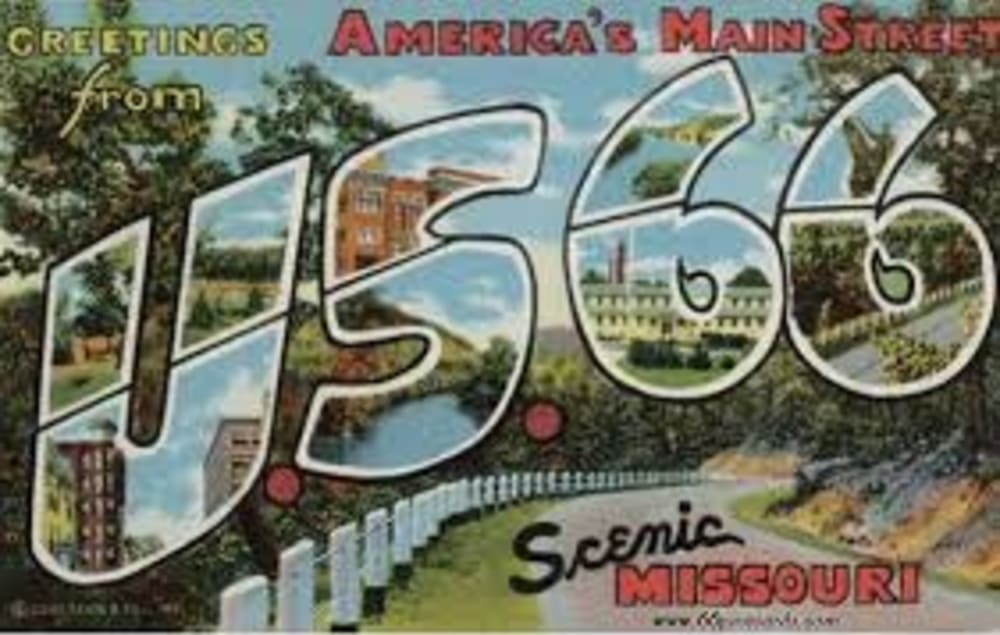 Double Dose of Missouri Route 66 Fun
This weekend, I had the opportunity to take in not one, but two Festivals nearby celebrating the Route 66. Missouri (Springfield specifically) has the distinction of being called "The Birthplace of Route 66", the first highway, designated in 1926, to offer a way West from Chicago to Santa Monica (Los Angeles County), just under 2500 miles. If became know as The Main Street of America, and The Mother Road. You would have crossed the old highway coming to us from the north as it passes through Marshfield and Northview to our north, and parallels much of I-44.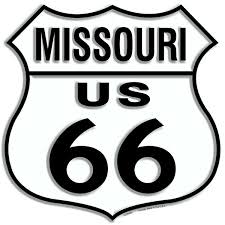 However, it never ceases to amaze me how little our younger generation know about this great highway, and it's history. We had a young Japanese visitor surprised when she saw the Route 66 sign blurt out "The Mother Road" when seeing it. In fact, we have heard the Europeans and Asians know much about the road, often traveling here to journey on it. Naturally, the movie CARS has brought The Mother Road to the attention of this great highway. The highway started and businesses along started to decline in the Mid-50's with the construction of the Interstate Highway System.

As members of the Missouri Route 66 Association, we have become aware over the past year of the challenges of preserving old vintages of the Route, with many being destroyed in the name of progress. I find it interesting when new construction (say baseball field, hotels, etc.) take on a look of yesteryear as some markets seek it, and their visitors seek a return to "the good ol' days". Along the Route, several smaller organizations have grown to honor and preserve the memories of Route 66 in their communities, such as the Lebanon-Laclede County Route 66 Society, and the newer Webster County Route 66 Intitiative. Both of these groups scheduled their annual events the same weekend, not overlapping, so several of us visitors made both events.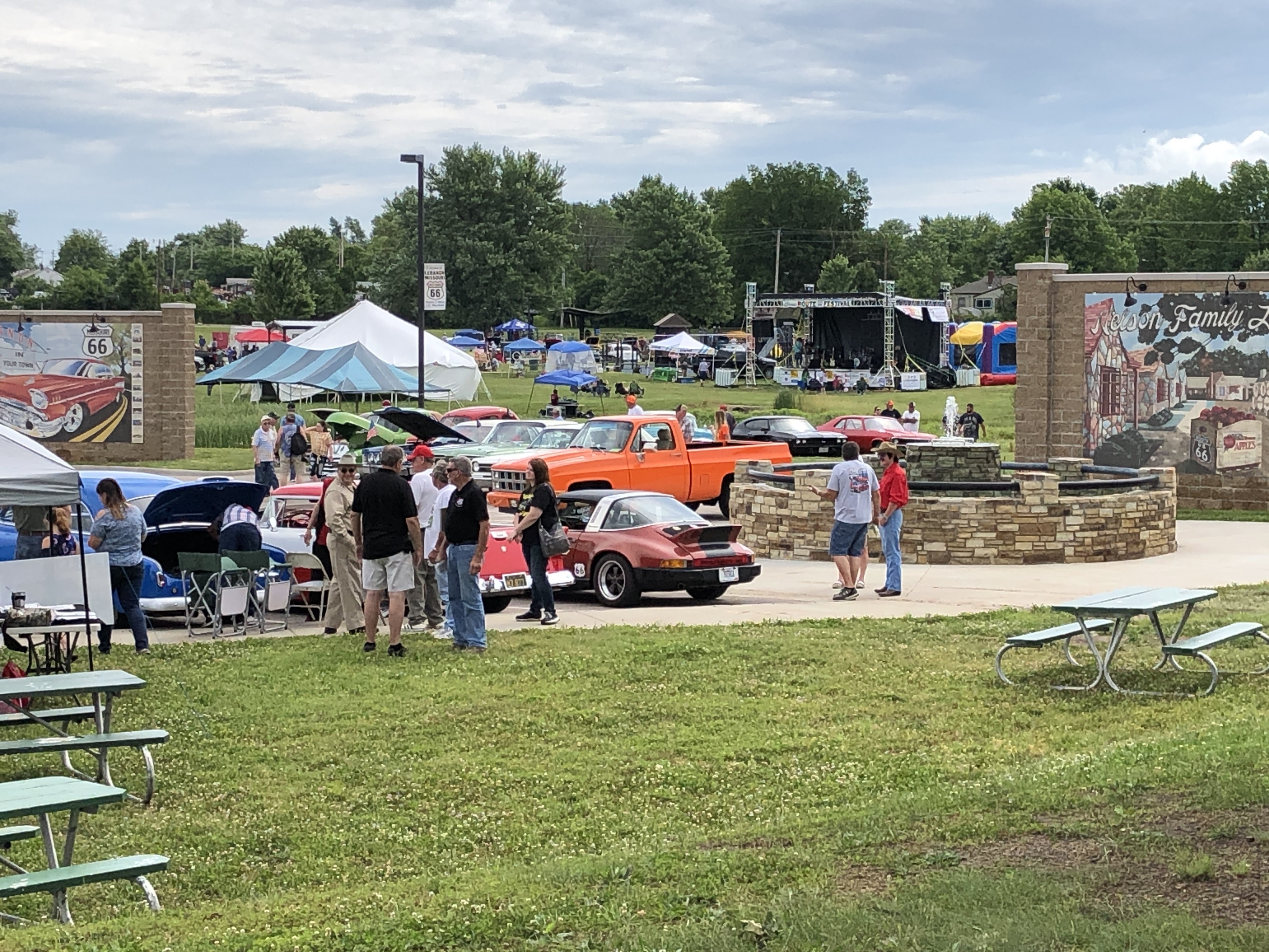 Boswell Park comes alive after the Cruise In - Live Music playing from the stage, vendors busy selling good, lots of visiting and making new friends, food and drink sales......Clouds moved out shortly after for a sun filled day.
This was the 12th year (first for this writer, shamed to say) for this Festival. Lebanon, about 45 minutes from our B&B, 30 minutes from Marshfield, has a very active group, and has left their mark on the preservation of Route 66 through their community. Several historical businesses remain today i.e the Munger Moss Motel and Wrinks Market. Boswell Park was Saturday's place to be, with murals and lots of space, plus a NEW addition - the restored Camp Joy Cabin (Click HERE to see an emotional story on that cabin. KY3 did their Ozarks Town Visit broadcast from the Munger Moss Motel on Friday night where several activities were planned. The next day, early morning rain pushed through and the skies cleared, as the event kicked off, and the "Cruise In began, including cars and personalities Smokey and the Bandit joining in. What a hoot. Live Music, vendors, fund raising activities, the Camp Joy Cabin Ribbon Cutting dedication. Great fun.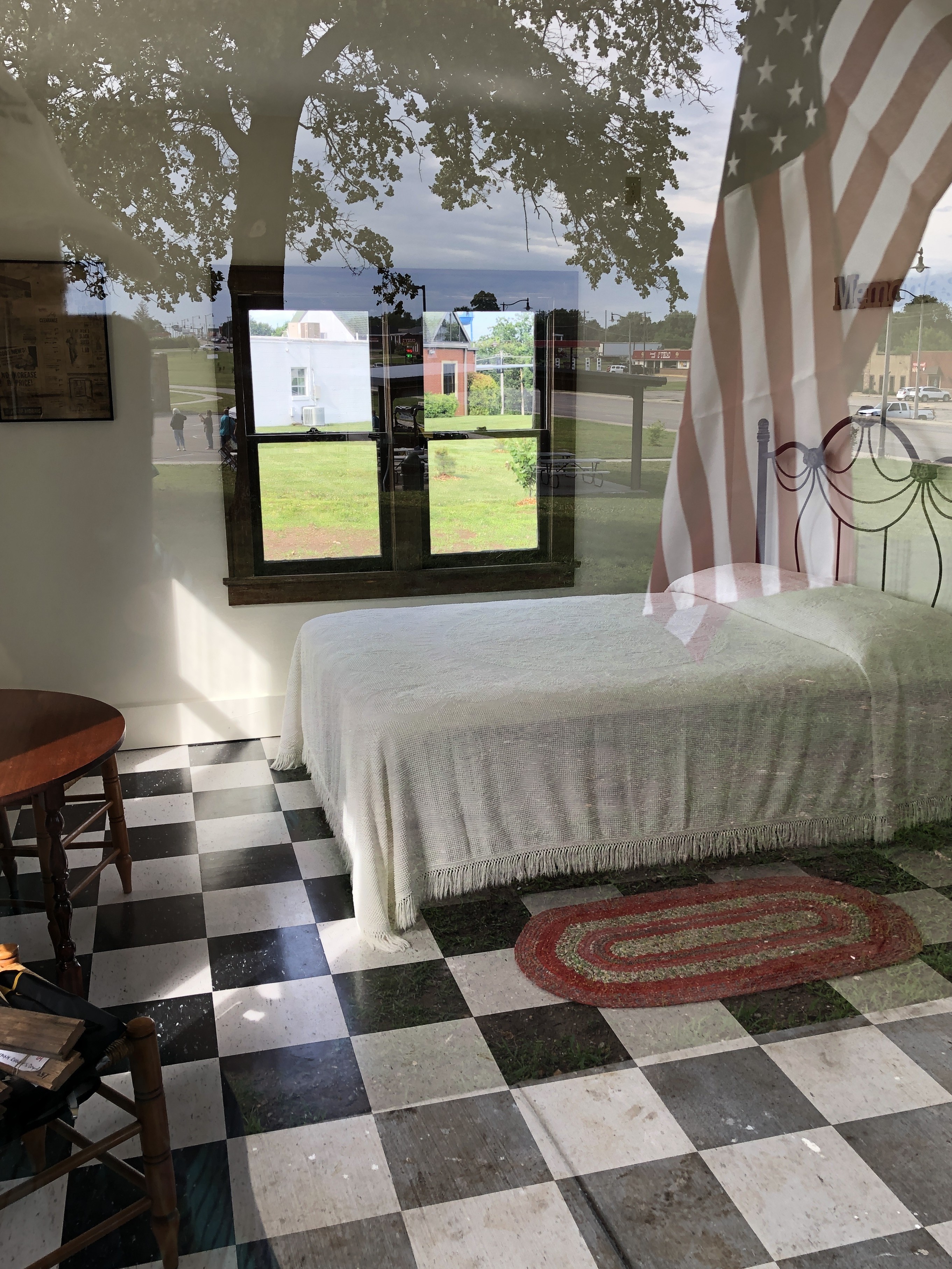 Peek inside the Joy Camp Cabin after restoration and move to Boswell Park.
If you are a Route 66 Fan, Lebanon is a must stop if passing through. We have joined interested guests in a visit there, as they have a superb Route 66 Museum in their Library, and stops at Munger Moss, Wrinks Market, and Boswell Park encouraged...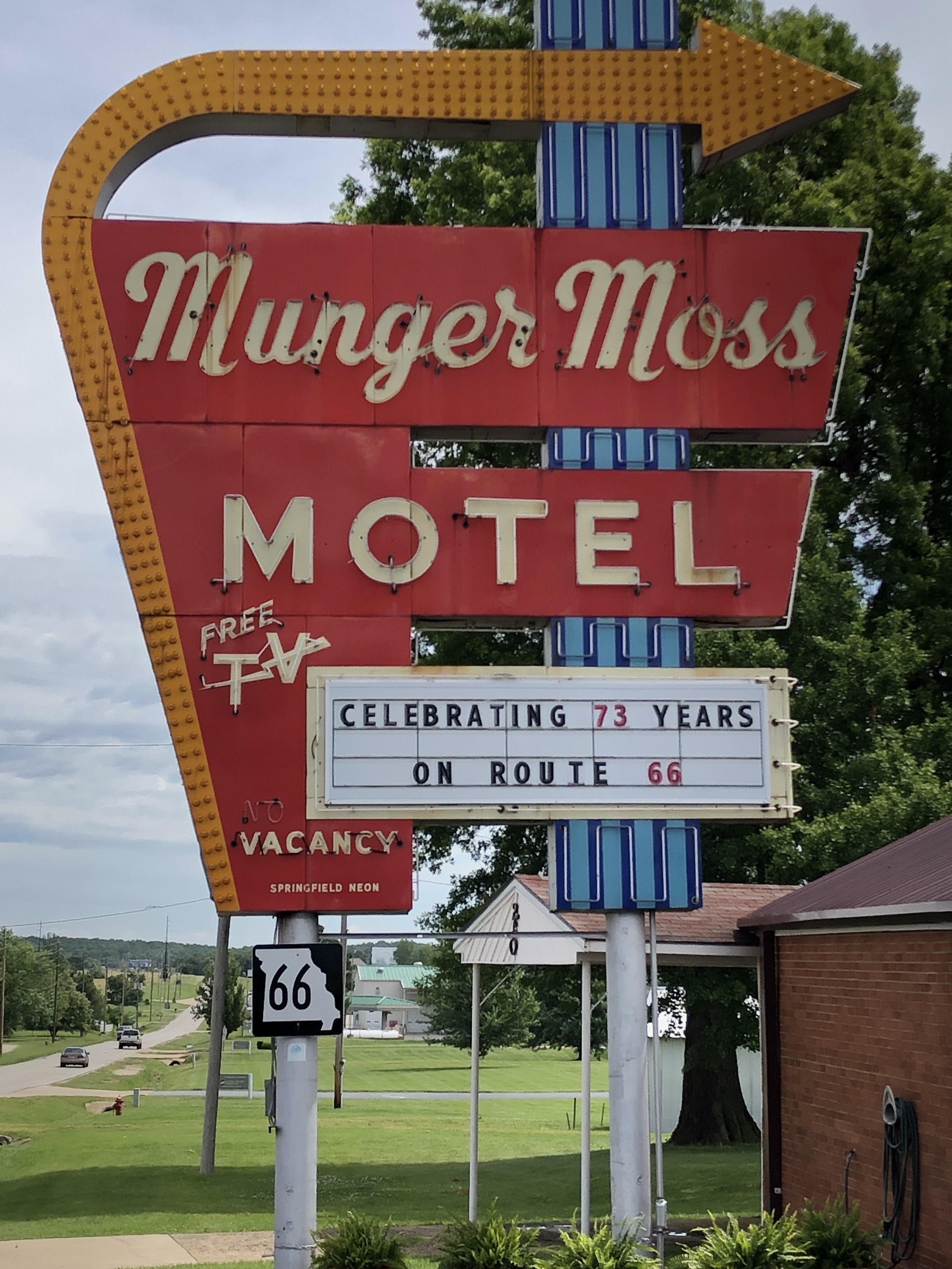 This neon sign at the Munger Moss Motel (Lebanon, MO on the Route 66) was refurbished under a grant program in 2010, and it's neon glows at night just as it did in the Md-1950's. Across the Route are a Bowling Alley and Wrinks Market.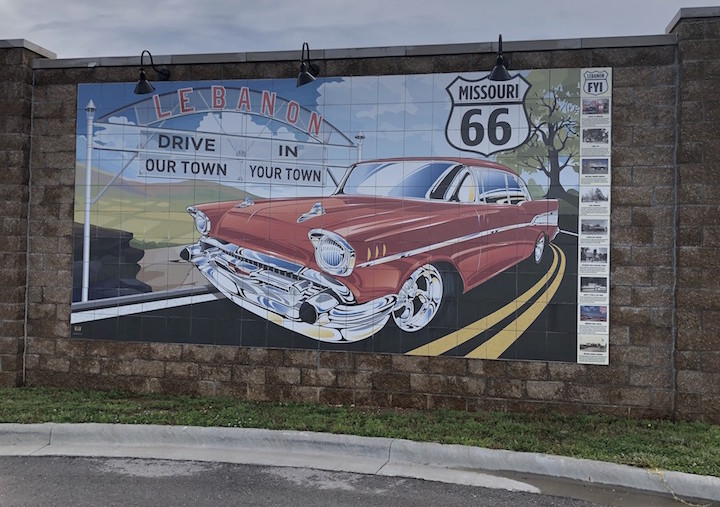 One of three BEAUTIFUL Murals located on the Route 66 at Boswell Park, site of the Lebanon-Laclede County Route 66 Festival. The newly dedicated and refurbished Camp Joy Cabin is a short walk to the right....
This event wrapped up mid-afternoon Saturday, in time for cars and fans to run down I-44 (or the Route 66) to Marshfield where their Carnivor Festival (Meat US on 66) was kicking off.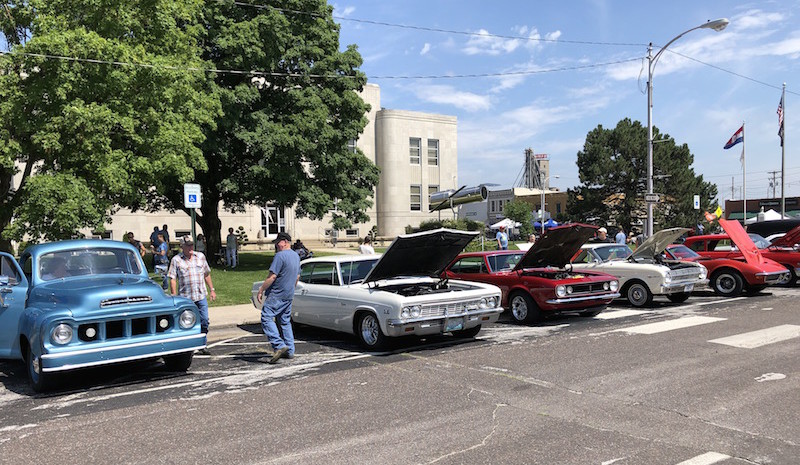 Cruise In of classic cars lined up on the west side of the Webster County Courthouse, seen with the Hubble Telescope scaled down replica in background. Marshfield was the birthplace of Edwin Hubble.
This was the first year for THIS event, having a couple smaller kick-off events in the past. I have to admit, I was very surprised at the organization (Webster County Route 66 Initiative), focus, and goals of this newer organization. The theme was "MEAT US on 66" and meat was evident. A sanctioned Steak Grilling Contest was just a part of this festival. A cruise in filled the West side of the square, live music throughout the evening, and other vendors serving up "meat" and other good eats and drinks. Many sponsors offered up food, drink, volunteers, etc. as this Initiative is trying to bring a Route 66 Awareness to this County Seat (Webster County), with the first step being Route 66 signage which, yes, has to be purchased and installed, then a park on the route including an original piece of pavement from the Route.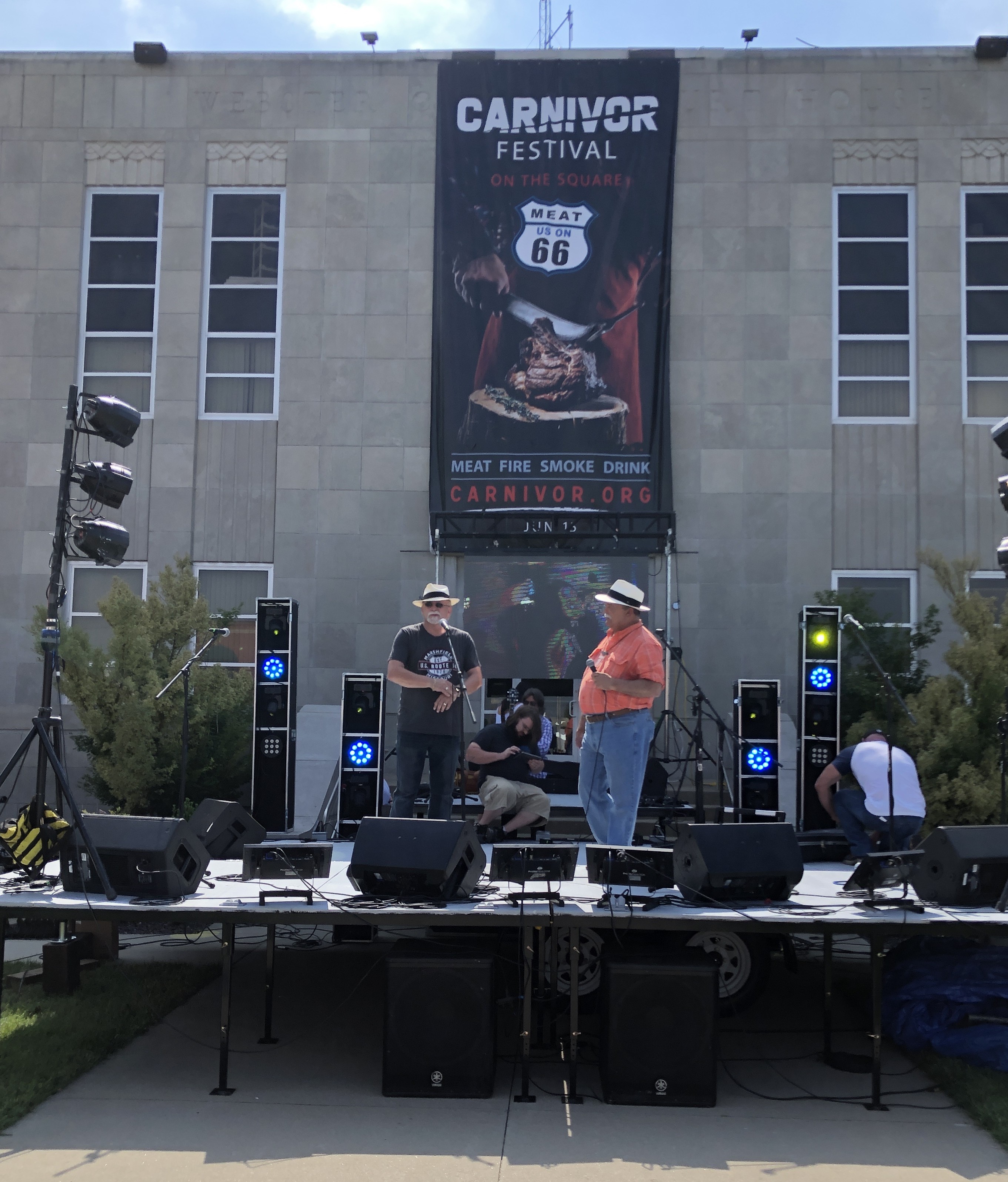 KOLR's Tom Trtan (right) Emcee'd the festivities at Carnivor from the stage on the east side of the Courthouse.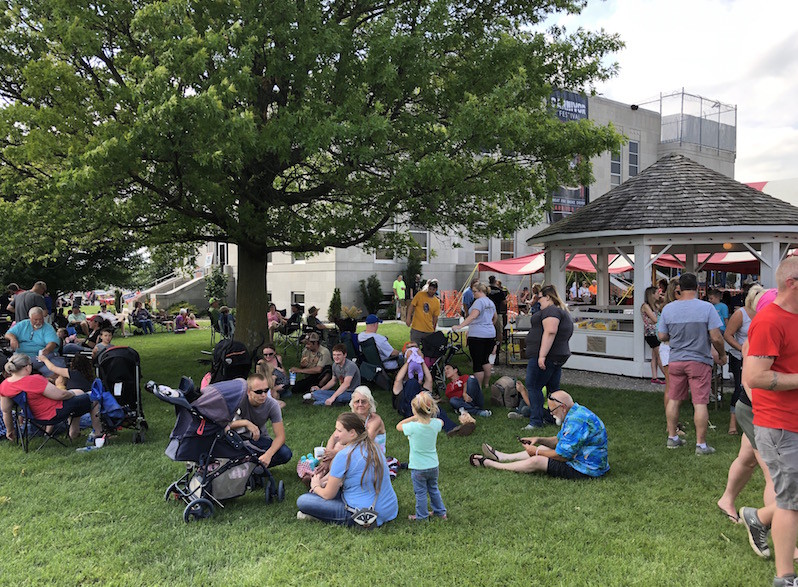 A good crowd showed up for Carnivor, many finding shade here just off the Gazebo, VIP Tent, and Stage.
Another great turnout, and we hope that it was successful and puts them on a path to meet their goals.
Overall, it was a great day,. Enjoyed seeing families out and enjoying a local, small town Festival. Like the Route 66, we have lost a lot of pieces to our past, and yet their are many people and communities striving to retain those good times and feelings.....if not for a weekend. I look forward to next year's event.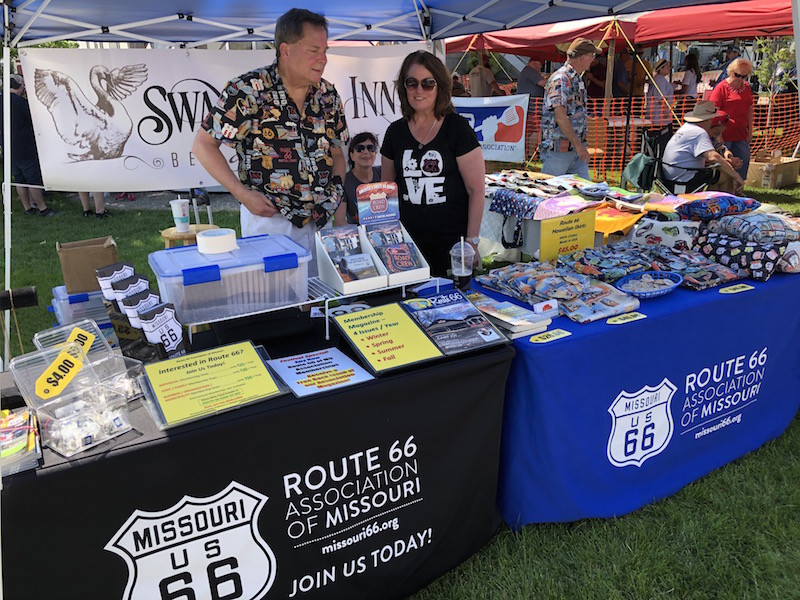 Our friends from the Route 66 Association of Missouri manned a booth at both Festivals, here in Marshfield to round out the day. Love the shirt Bob. Purchased one similar to....
Springfield will have a grander and overwhelming version of these two festivals when it hosts The Birthplace of Route 66 Festival in August. I have been to a couple of these, and it is BIG. However, the small town feel and intimacy is not as evident as the two events above. They are reviving the Route 66 awareness however....