November 28, 2017 by: Mark R Dawson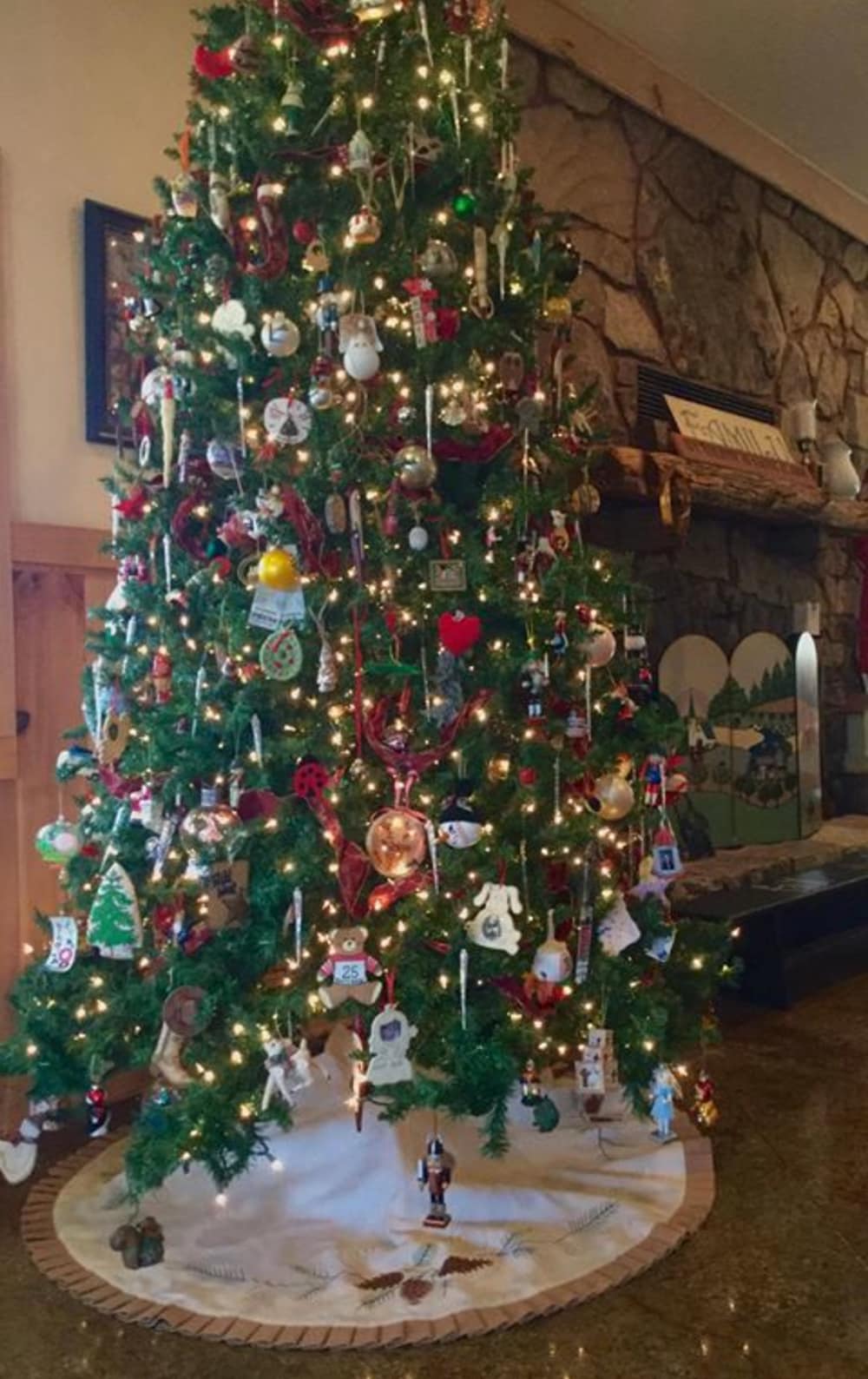 Does Your Christmas Tree Hold a Story?
As we host our Annual Country Christmas Open House and Craft Bazaar this coming weekend, many attendees and guests will get caught up in the frenzy of shopping with our crafters, listening to the music of the Finley River Boys, visiting with Santa, grabbing a treat to munch on. How many will give a quick glance at our Christmas Tree, and move on. I do too, here and at places where the tree is given a place of honor.
I recall one of our Amish friends, a teen girl gazing up close at the tree prior to our event, a couple years ago, mesmerized. I asked "what do you think?" She replied, "I have never seen a real one, up close".
Thanksgiving weekend, son Peter helped me set the tree, and he placed the lights, the part I dislike the most. Lights have always been my problem. Tree came pre-lit, but after a couple seasons, those started failing, and you know what they say, "when one light goes out, the rest remain lit". Yeah, right. So, each year, I buy several sets, throw the old ones away, and start new. Have to be those little small lights, white. Tried those new LED ones thinking more years out of them, but when we put them on the tree one year, they appeared blue, and were rejected by the Light Committee.
Usually, the tree decorating was farmed out to the kids, later grandkids. They enjoy finding those special ornaments, maybe one they picked out. This year, however, I found myself alone doing the decorating, as the grandkids are now living out of state, the new grand-twins are much too small, so just me. So our 10' tree stood there, lights placed and awaiting decorating. Without any distractions, quiet, and alone, I began putting the ornaments on, one by one, and we have many ornaments.
It was during this time, I began to realize, OUR TREE has a story, or should say many stories if one looks close. The story the tree, and it's various appendages tell may be interpreted differently, by outsiders, and even our family themselves, but they are there, in the tree, and on the tree.
The tree is not the same. We have had trees both au natural and "fake". Remember son saying one year "Dad, are you going to get the fake tree out of the attic?" We went out and cut a fresh cedar tree that year, and did so for a few years after". The dropped needles and mess brought us back to an "artificial" tree once more, and then, when the B&B was built, we migrated to a taller tree having a higher ceiling. This accommodated our growing ornament collection.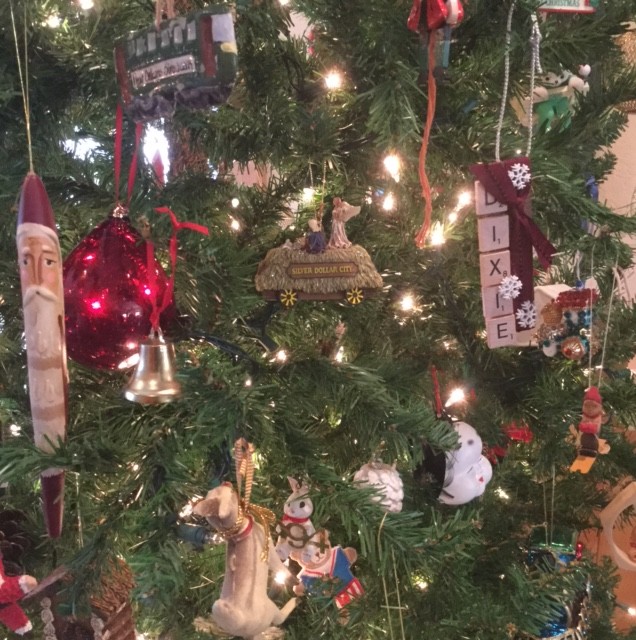 The tree tells a history of our family's 40 plus years of family, maybe longer if one takes into account a couple ornaments brought in from a generation past and gone. Yes, I hung a couple ornaments Dixie use to hang on her family's tree as a kid. There are ornaments our two sons might have made in school, or at church, or maybe their teacher made for each of his/her students. Our boys are now grown, married, and have children of their own, yet, we have and still hang ornaments for those school years. So, there are a host of grandchildren ornaments, and grand-pets, even. Those made by the kids and were presented to us with much pride in their craft and ability. We have them all.
Our tree also tells stories of travels we have made, places we have been. We picked up an ornament in a faraway place, most likely writing on it the place and year, sometimes not. I saw this, hanging them, but the absence of the writing did not take away the story, the time we went to a place, the things we did.
There are ornaments from friends, again, stories of good times and people at various seasons of our lives. Some still living, others not. Hanging these, I wondered "where are they today, how can I find them". Two such ornaments from a co-worker in Mexico, his mother handmade, and gave us. We cherish them, but have lost touch with him.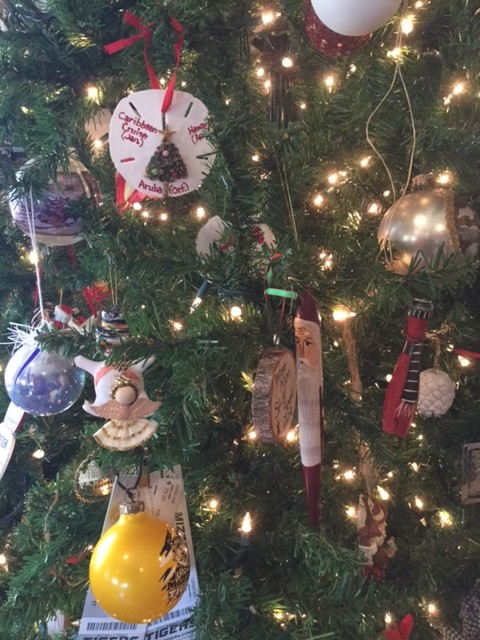 More recently, since it is both our family, and Bed & Breakfast tree, handcrafted ornaments made by artisans (vendors) at our Christmas Craft Bazaar (most signed and dated) are added each year.
Then there are the "normal store bought" ornaments, a few that add to the tree, but by no means tell a personal story. They might have been purchased for a theme that interests us, add to the Holiday spirit, or just found for a very good deal. They are few compared to the story tellers. Would that make them "Fake Ornaments" I wondered?
I was blessed this year to not farm out the decorating, for the time and solitude to this year decorate the tree solo, and reflect on the history and stories of THIS TREE, OUR TREE. I wondered how many families outside ours do the same thing. I think I became more conscience of this tree, and hope I can take the time to explore and interpret other trees more closely when the opportunity presents itself. We hope as you pass our tree this year, if you do, you'll take a few moments and explore our stories.
Merry Christmas from The Dawsons & Blackberry Creek Retreat Bed and Breakfast