During this unprecedented time in our history, many of you have self-quarantined, some working behind the scenes in stores or essential providers, while important others are fighting the fight in our front line hospitals and care facilities. The COVID-19 has certainly turned lives and businesses upside down.
While Stay-At-Home orders are in place, we all find ways to entertain ourselves and keep up on the news. There is a lot of news, isn't there? One story caught my eye. It featured William Ford Jr., Chairman of the Ford Motor Company, discussing their plans to begin manufacturing to se much needed ventilators requested by states and hospitals as this COVID-19 invades their populations. Other news heads are asking "why isn't Trump using the Defense Protection Act and forcing these companies to make the things needed?"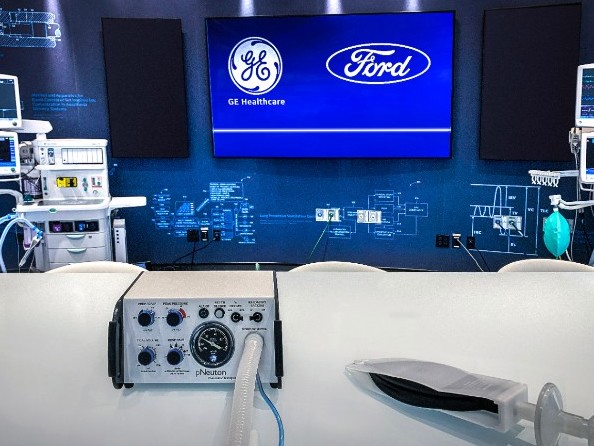 Ford has announced they will make up to 50,000 Ventilators to fight COVID-19
This news captured my attention and conjured up memories and events from the past. You see, in a life before building and running a Bed & Breakfast, our family got drawn into an interesting group of characters and Veterans, when our youngest son took an interest in history, and specifically military history. At ten, we got him the History Channel. At 13, he was driving his own military vehicle in parades, a Vietnam Jeep we found in storage unused. About that time, his school's Junior history teacher would ask him to class to present the World War II times to her class, saying "I'm not ashamed to ask him to teach, he knows so much more than I do."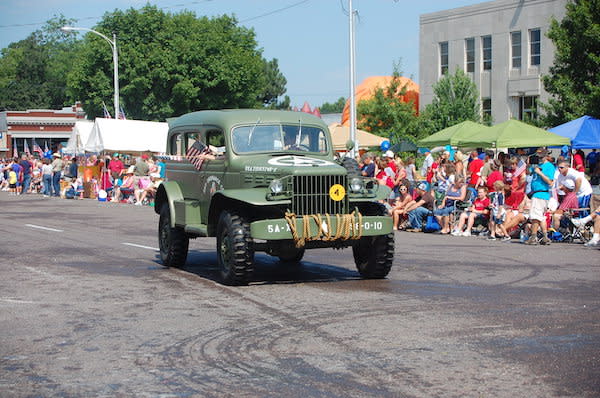 Our 1942 Dodge Carryall in a past Marshfield 4th of July Parade. Found it in Colorado in pretty bad shape, and friend in Florida took it and restored to this.
A friend from church turned up his interest and excitement, when he drove his Korean War Jeep to church one Sunday for our son to see. He then invited him to come to a monthly meeting (this was in Dallas, Texas) of folks that either had vintage military vehicles, or a love for history and our military veterans. Our son couldn't drive, so like parents that take their kids to soccer or dance, we took him to these meetings. We were caught by the veterans that came to speak. Their stories!!! The group (the characters I spoke of) took this 13-year-old under their wings, and got him involved in parades, reenactments, and displays, where we met other local groups, joined and attended their events, in Sherman and Fort Worth, Texas. In the next few years, as a family, but supporting our son's passion, we participated in the Pacific Wing opening (parade and reenactments) of the D-Day Museum (New Orleans), 60th Anniversary of Iwo Jima (Parade and Reenactment) in Fredericksburg, Texas (home of Admiral Nimitz), the 60th Anniversary of D-Day in Normandy, France, and many, many more local and area events.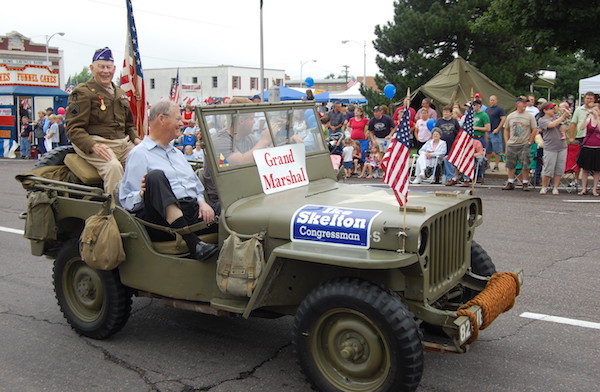 In another Marshfield 4th of July Parade, son carrying Parade Marshall and WWII Veteran Dr. Tommy MacDonnell, (Big Red One – 1st Division) and friend and Missouri Representative the late Ike Skelton in our 1942 Ford Jeep.
Where is this going and what's it got to do with COVID-19. The virus itself, not much, but the war on it, similarities. You see, that Jeep in the photo opening this article was made by Ford in 1942, supporting another war. The Vietnam Jeep he drove in a parade years ago was made by Ford. I should mention, Ford shared Jeep production in WWII with, both producing about 660,000 WWII Jeeps!!! When I heard Ford was going to make ventilators for this "war", flashbacks to those Jeeps began. We also have a 1942 Dodge Carryall, some call it the world's first SUV.
I had to check the Defense Production Act to see how it was used during WWII, only to find IT was a 1950 Act put into place by President Harry Truman to support the Korean War. In WWII, President Franklin Roosevelt initiated the War Powers Act of 1941 basically giving the Executive Branch greater power in supporting the war effort, and expanded a short time later with the Second War Powers Act in early 1942. Roosevelt did halt all automobile production allowing for those factories (and many, many others) to support the war effort, and assigned the task of overseeing this effort to General Motors head – William Knudsen.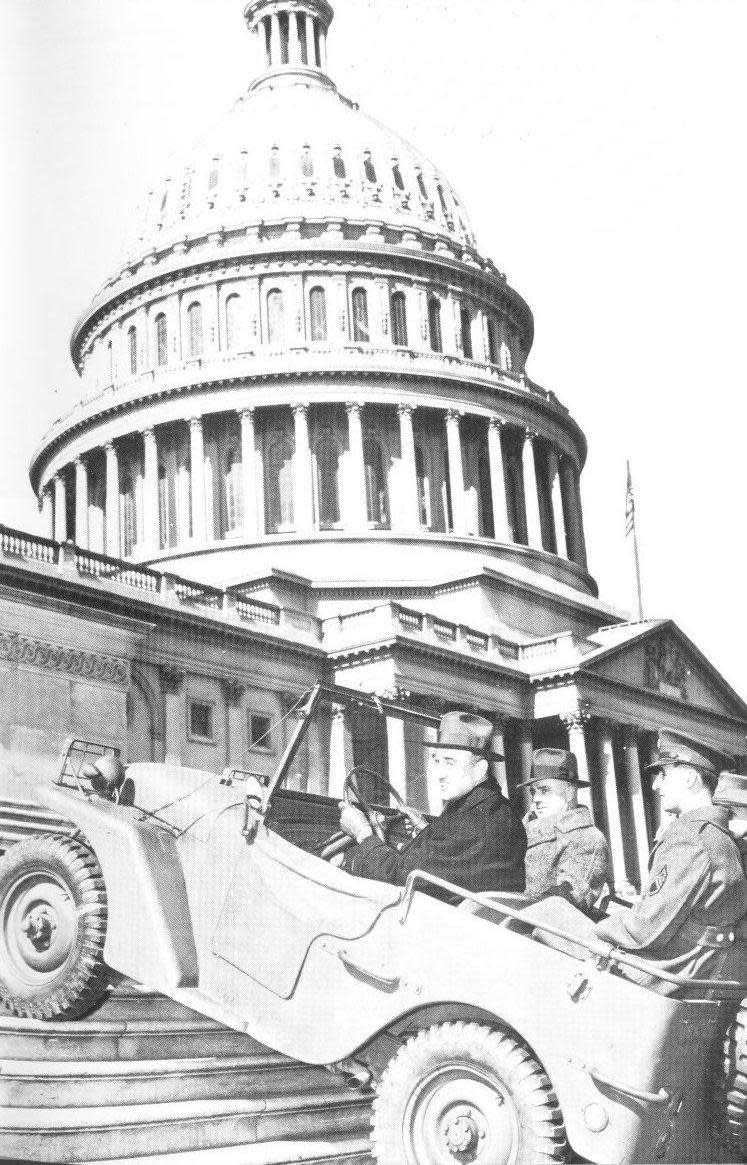 US Senators Meade and Thomas riding a Willy Quad as it climbed steps in front of the US Congress building, Washington, DC, United States, seen on 20 Feb 1941 issue of newspaper Washington Daily News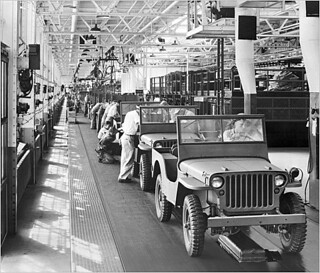 Ford Motor Plant in Dallas, Texas producing Jeeps during WWII One of our very good church friend's father worked here and test drove the Jeeps upon completion. This factory was on the edge of Fair Park, and not the only factory Ford build Jeeps out of. They also built B24 Liberator Bombers in one factory.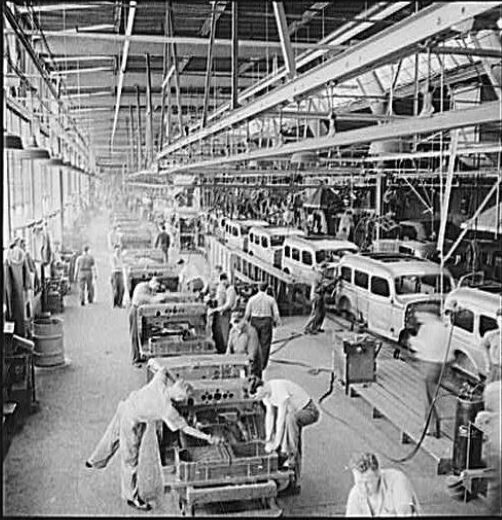 Dodge built many trucks, ambulances, weapons carriers and vehicles. Here the Dodge Carryall, called the World's first SUV, are being build. That same chassis was used for other 3/4 ton vehicles – ambulances, weapons carriers, and trucks….
THAT WWII domestic production conversion and the numbers these companies and factories produced, were incredible. The United States citizens at home, and on the war fronts, were incredible. The outcome, well, I suspect like this one being experienced today, will be victorious and we will witness a return to life of recovery and rewards.
Anyway, just wanted to share those thoughts, a flashback to a time in these Innkeeper's past you might not be aware of, and connections to another period in US history in which this country went through "similarities" of a war then, compared to a war today. Scales are different, the battle is different, but if WE step up and do our part, rest assure our soldiers on the front lines, the planners and leaders are working hard to insure we win this one.
Have I been cooped up too long???? Be safe, stay healthy, and see you soon…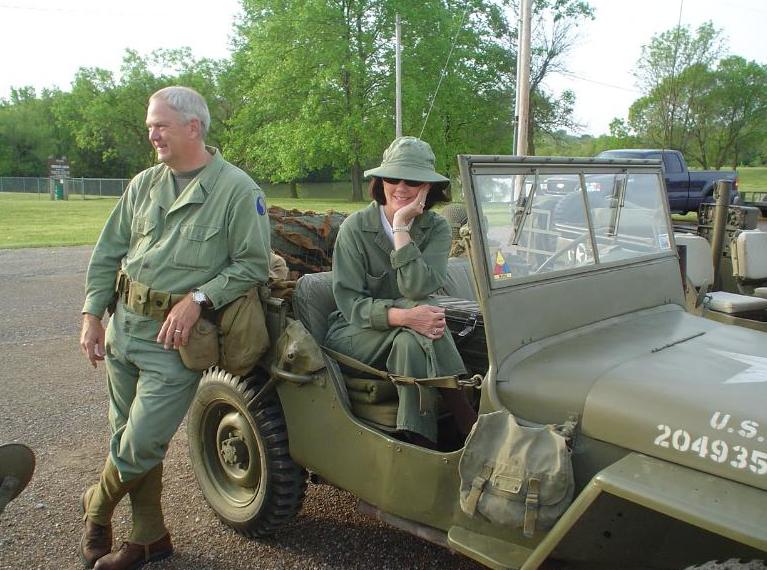 Your Innkeepers take a little time out from a 100-mile WWII Convoy through Missouri's Wine Country (Columbia, north, and about) in their 1942 Ford Jeep. Mrs. Innkeeper sure looks like she is having fun….Those seats offered little cushion, and 100 miles….well…..(circa 2003 – we lived in Texas and towed Jeep up for this ride)