OZARK COUNTY GRIST MILLS TOUR
It wasn't until we returned to Missouri, that we discovered and visited a few of Missouri's Grist Mills, a short day trip from us. In fact, we enjoyed them so much, we returned several times with friends and guests. It is said there were a dozen such mills operating at one time in the Ozark County. Today, five mills, three open to the public, are located in the county, about an hour away. Two offer restaurants, which make a nice pause on driving to enjoy a lunch (or dinner). Let's take the trip as we would to four of our favorites – Hammond Mill is now a private residence and not open to the public. Zanoni can be seen off the road but is also private to public.
After a delicious breakfast at Blackberry Creek Retreat B&B, you'll have plenty of time to make this into a trip getting you back before dark, and catching a meal before returning. We recommend dining at Rockbridge. So you may want to catch it on your way back. While Dawt Mill has a restaurant, hours and service have caught us off guard many times, so maybe a drink at their facility if you catch it open. We have seen that they now do a Chef's Dinner Table (reservations) and that may put you too late driving back. We'll start you at Dawt Mill and work our way back to Rockbridge for a meal.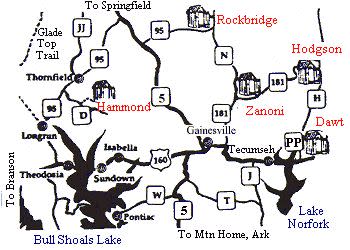 From our Bed & Breakfast, we jump on US-60 at Fordland heading east. At Mansfield, we'll take the first exit, Highway 5 South. Mansfield is home to The Laura Ingalls Wilder Home and Museum, but we recommend that another time if interested, It can take an equal amount of time seeing the museum and touring two homes. So, south on Highway 5, you'll also pass through Ava, the County Seat of Douglas County, known to the old timers as "Booger County".
Down Highway 5, to Gainesville where Highway 160 intersects. You might see a sign saying "Gainesville – Home of "Hootin' & Hollerin'", and it is the County Seat of Ozark County. You are DEEP in the Ozarks now….Ha. If using a GPS, you may enter Dawt Mill at this point to better assist. The map above may help as well (old technology).
You'll take a left (east) on 160, through Tecumseh to Highway PP (not same as entering Fordland). Watch for Dawt Mill signs and follow.
DAWT MILL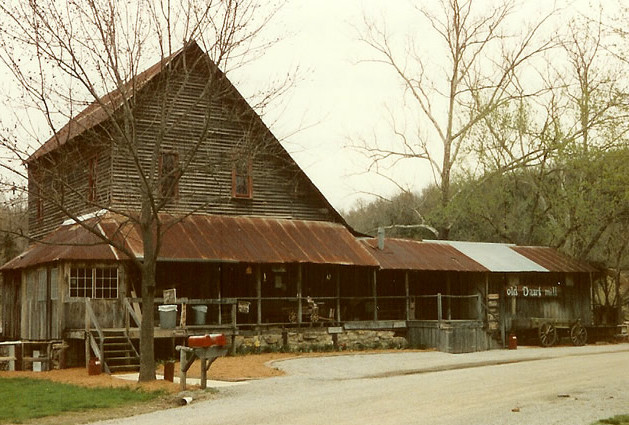 As you drive into the area, one notices this is more than an isolated mill, it is a plethora of activities (in season). Dawt Mill Resort offers float trips on the adjacent North Fork River, camping, cabins, an inn, event center, and our focus, Dawt Mill. Our last visit a dam extended the river at this point, but has since been removed. This mill is a wonderful exhibit inside as much of the interior components remain.
A restaurant and bar was added since our first trip, and has gone through several changes, so TODAY, not sure exactly what is open and seasonal from experience. The WebSite shows the restaurant offers a "Chef's Table" where their chef prepares an off menu meal. Reservations required. In the past, we'd sop here for a drink and sit watching the river flow. We had dined here (dinner menu) in past but found long waits, so hopefully, the Chef's Table is an improvement.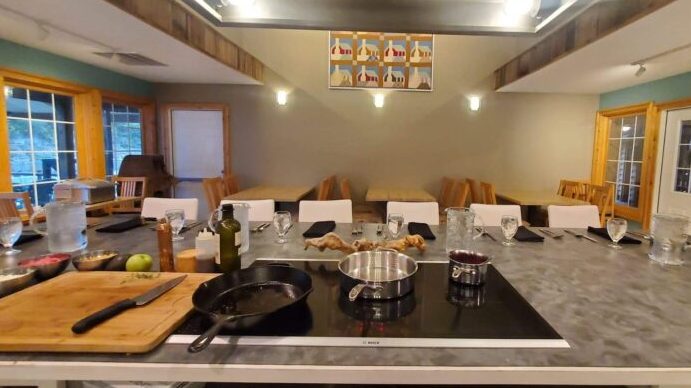 Various references claim the "patent" for the land was conveyed by President Ulysses S. Grant in 1874 to a Rhuhama j. Isom. The origin of the name "Dawt" is unknown. The building looks much like it did when constructed in 1900 by master millwright Alva Hodgson. Yes, Hodgson is the same mliiwright that constructed Hodgson Mill, next on our tour.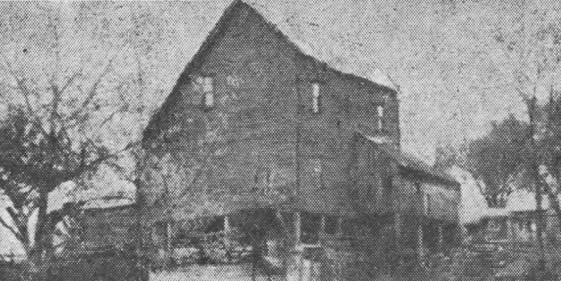 The water wheel seen when driving up was not a part of the old mill, rather added in the 1970's when owner answered visitor questions "where's the water wheel?" Originally, the dam provided a race powering a turbine that ran the grinder mill.
More can be found here –
HODGSON MILL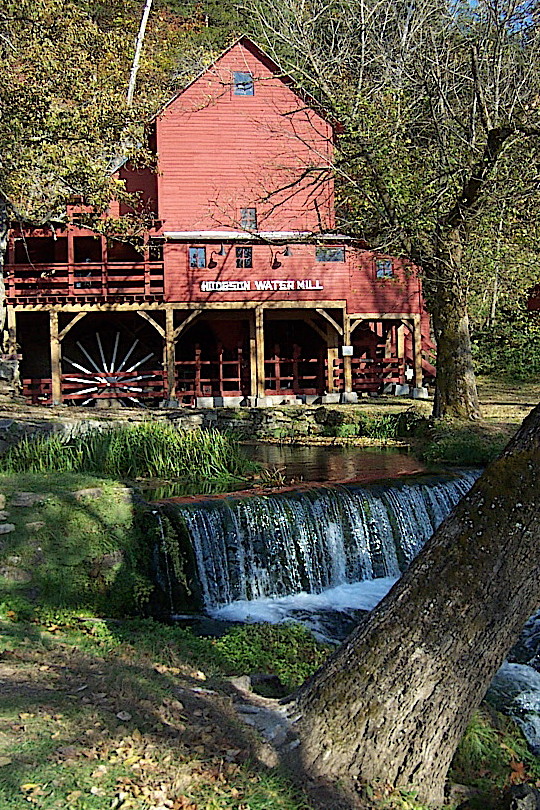 Moving on, our next stop has been called "the most photographed mill in Missouri. If you are in most grocery stores, you might see Hodgson Mill's logo in the flour section. While THAT flour is not milled here, the lineage dates back to this mill, thus the logo. It is now part of a large conglomerate operating out of New York, originating in these hills over 100 years ago.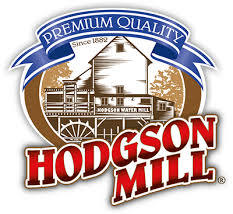 We mentioned the mill was constructed by master millwright Alva Hodgson. Hodgson built a second mill on the site of the original mill (est. 1861) in 1894 after the first mill burned down. The mill is built over a spring that produces the power pushing 28 million gallons a day through the mill, running generators providing power to run a cotton gin, sawmill, and overall factory. Hodgson teamed up with his brother George and operated the mill through the 50's, when it was acquired by Charles Aid, when it became known as Aid-Hodgson Mill, remaining in operation until the 70's. This mill had to be restored after floods in 1982 and 1985 caused severe damage.
It certainly is a beautiful backdrop for a photo.
ZANONI MILL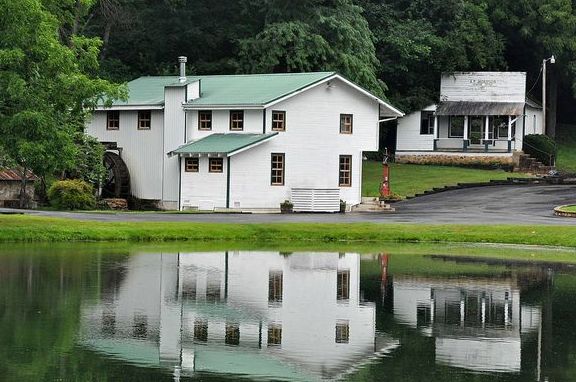 Zanoni can only be seen driving past as it is private property and part of a much larger ranch. At last report, the property was sold and is now a event center site. Established during the Civil War, and like so many other mills of the time, fire destroyed two previous mills, with this one being built and surviving since 1905. The only overshot water wheel system in the county powered a set of 18" burh French made millstones costing $125!!! The hillside spring provided power via 226,000 gallons of water per day, feeding the lake you see I front of the property, before it spills into Pine Creek.. It too offered a sawmill and overall factory during the 1920's.
ROCKBRIDGE MILL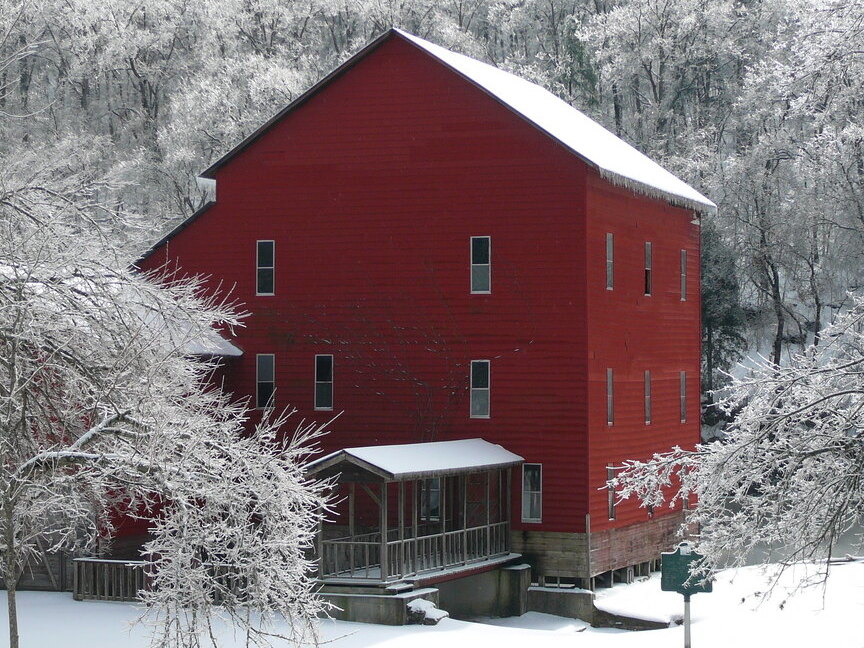 Our last stop (could be the first if reversing your tour) is one of our favorite's – Rockbridge. More than just a mill, you'll find it called Rockbridge Trout and Game Ranch. The mill is just a piece of this complex, which contains lodging, fishing, hunting, a restaurant, old Post Office and General Store. We recommend the restaurant for a nice meal before returning. Naturally, fresh trout is offered several ways. During good weather months, the mill is open and houses a bar.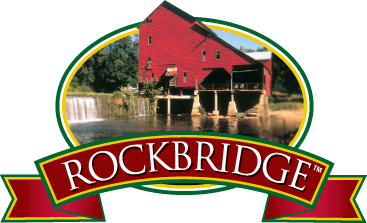 Rockbridge was established in 1841 after Captain Kim Amyx brought a group of Kentucky settlers in wagons to the Ozarks and discovered their new home. They established a town called Rockbridge here, where the Spring and Bryant Creeks meet. Unfortunately, fire destroyed the town and mill during the Civil War.
The mill and town was rebuilt in 1868 including a Post Office, General Store, church, bank, blacksmith shop, homes and more. Like most mills of the area, this too became a magnet for drawing in people by horse and wagon to use the mill, vote, gather mail, gossip, and much more, like large towns and cities do today.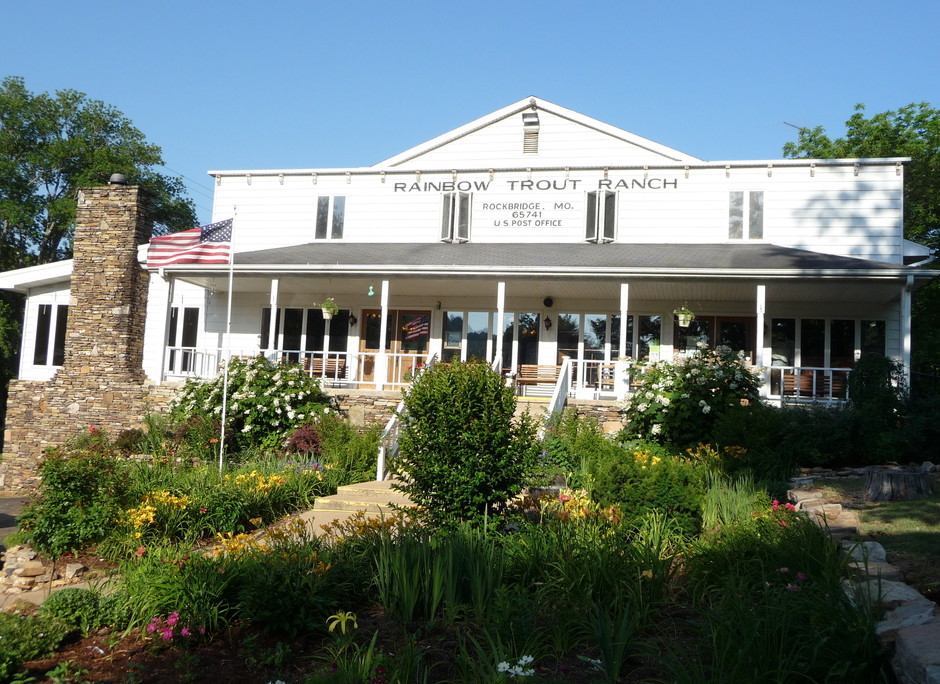 By the end of the 1930's, the need for the mill stared obsolescence, but the Amyx family continued to use the site as a sawmill and in Gainesville, opened an auto dealership. I should say one of the family members spent time with us a few years back scrapbooking with a group, and it was so interesting to see her "heritage scrapbook" she was making for the family, including old pictures of those two places.
OK, so maybe a bit long winded here, but hope you find this tour and information helpful. There are MANY links provided that can add to the history and insight to these mills. We have discovered other mills around the state, a greater distance away, equally interesting and creating a vision for life in days gone by.