This month, we'd like to introduce you to a breakfast treat we like to call "Sort of a Southern Rancho Huevos". As many of our recipes might reflect, we have taken and built on traditional recipes with our own flair and additions.
Let's talk about the GRITS now that you've noticed in the title the word "Grits". This creates an interesting dialog with guests and retreaters here in the Ozarks which is a bit of a surprise to this Innkeeper. The name doesn't instill a thought of breakfast cuisine in these parts, rather the type of sandpaper (say a 180 grit) found in a local shop. We have also heard "I don't eat grits" or "I don't like grits" only to find out they have NEVER had grits. It IS a traditional Southern dish I agree.
I recall our youngest son, getting ready to head out to school prepped for a performance as an attorney in a mock trial. Our good friends from Florida were visiting, and the husband offered some trial experience advise (he wasn't a lawyer himself, just the go to fellow) to our son. He said "Peter, when you are cross examining the defendant on the stand, take your thumbs and run them under those suspenders (I tell you, he went all out on dress) and look em' straight in the eye, and say JUST HOW BIG IS A GRIT? Gets them every time".
OK, enough about grits for now, and hey, if you don't like grits, you can leave them off. This is two recipes stacked to make one dish.
The Egg Tart came to us compliments of Dixie's sister-in-law who made it (a variation of) one morning while visiting them in Louisiana (there is the South mentioned again). Her version is same but added ingredients were Onions and Mushrooms and in a pie dish like a quiche, a crustless quiche. It is so light and flavorful, melts in your mouth. So we'll move forward and break this into the two recipes brought together…..
CRUSTLESS ONION & MUSHROOM TART
INGREDIENTS
– 1/2 pound fresh Mushrooms, sliced
– 1/2 cup chopped Onion
– 2 tablespoons Olive Oil
– 1 package (10 ounces) Frozen Chopped Spinach, thawed and squeezed dry OR I use Fresh Spinach stems removed and chopped
– 1 cup Heavy Cream
– 1 cup Egg Beaters (egg substitute)
– 1/4 teaspoon salt
– 1/4 teaspoon pepper
– 1-1/4 cups Shredded Cheddar Cheese divided
– 1/3 cup Grated Parmesan Cheese
DIRECTIONS
– Preheat oven to 350°F.
– Coat a 9-in. pie plate with cooking spray. Set plate aside.
– In a nonstick skillet, sauté mushrooms and onion in oil for 12-14 minutes or until all of the liquid has evaporated. Remove from the heat; stir in spinach.
– In a bowl, combine the milk, egg substitute, salt and pepper. Stir in the spinach mixture, 1 cup Cheddar cheese blend and Parmesan cheese.
– Pour into prepared pie plate. Bake at 350° for 35-40 minutes or until a knife inserted in the center comes out clean. Sprinkle remaining cheese around edge of tart. Let stand for 5 minutes before slicing.
Innkeepers Notes
– So the above is the original recipe. I have substituted squash and zucchini for the spinach, leave mushrooms in, take out per request, etc. I also have doubled the recipe and baked in a 9" x 13" (photo above) and served as squares.
– More recently, I have made and dipped into pre-greased BCR Soup Crocks and baked. In these, the tart really fluffs up like a soufflé, but will fall if you don't serve and eat quick. Still tasty, but that's a presentation in itself. No, I do not put the crock on the grits!!!
BAKED STONE GROUND CHEESE GRITS
This recipe first involves making the grits which can be served as the traditional breakfast side in the south (creamy grits). However, we took it to a new level finding a Southern Living Recipe (Christmas Cook Book) and using within. So, you'll see two ingredient and prep sections below….
INGREDIENTS (THE GRITS)
– 1 cup Carolina Creole Stone Ground Grits* (this will serve 6 – see note below for doubling)
– 2 1/2 cups Water
– 1 1/2 cups Heavy Cream
– 2 Tbsp Butter
– 1 tsp Salt
DIRECTIONS (THE GRITS)
1. Mix all ingredients in a saucepan
2. Bring to a boil over medium heat. Reduce heat to VERY low, cover and simmer 40 minutes; cook longer for extra creamy grits
3. Stir often
4. Add water to thin if necessary
INGREDIENTS (FOR NEXT LEVEL – BAKED CHEESE GRITS)
– 2 Cups Shredded Cheddar Cheese (can add more for cheesiness)
– 1/2 cup butter
– 6 large eggs
– 1/4 cup milk
– 1/2 teaspoon salt
– Smoked Paprika
DIRECTIONS (FINAL LEVEL – BAKED CHEESE GRITS)
1. Prepare 1 cup grits as above; remove from heat, and stir in cheese and butter until blended.
2. Whisk together eggs, milk, and salt. Gradually whisk about one-fourth of hot grits mixture into egg mixture; add to the remaining hot grits mixture, whisking constantly. Spoon mixture evenly into a lightly greased 13- x 9-inch baking dish.
3. Bake at 350° for 40 to 50 minutes or until set. I sprinkle with additional cheese to top, and sprinkle smoked paprika on top, baking 5 minutes longer.
INNKEEPERS NOTES:
– The grits I make per package instruction. Part 2, the original called for 16 oz. Velveeta, but we deviated and opted for grated cheddar. Never used the Velveeta for this. Save it for football game snacks.
– Paprika and cheese topper is Innkeepers addition.
– I usually double this recipe in same 9 x 13 to serve up to 10-14 or have leftovers.
– More recently, I have made and dipped into pre-greased BCR Soup Crocks and baked. In these, the tart really fluffs up like a soufflé, but will fall if you don't serve and eat quick. Still tasty, but that's a presentation in itself. No, I do not put the crock on the grits!!!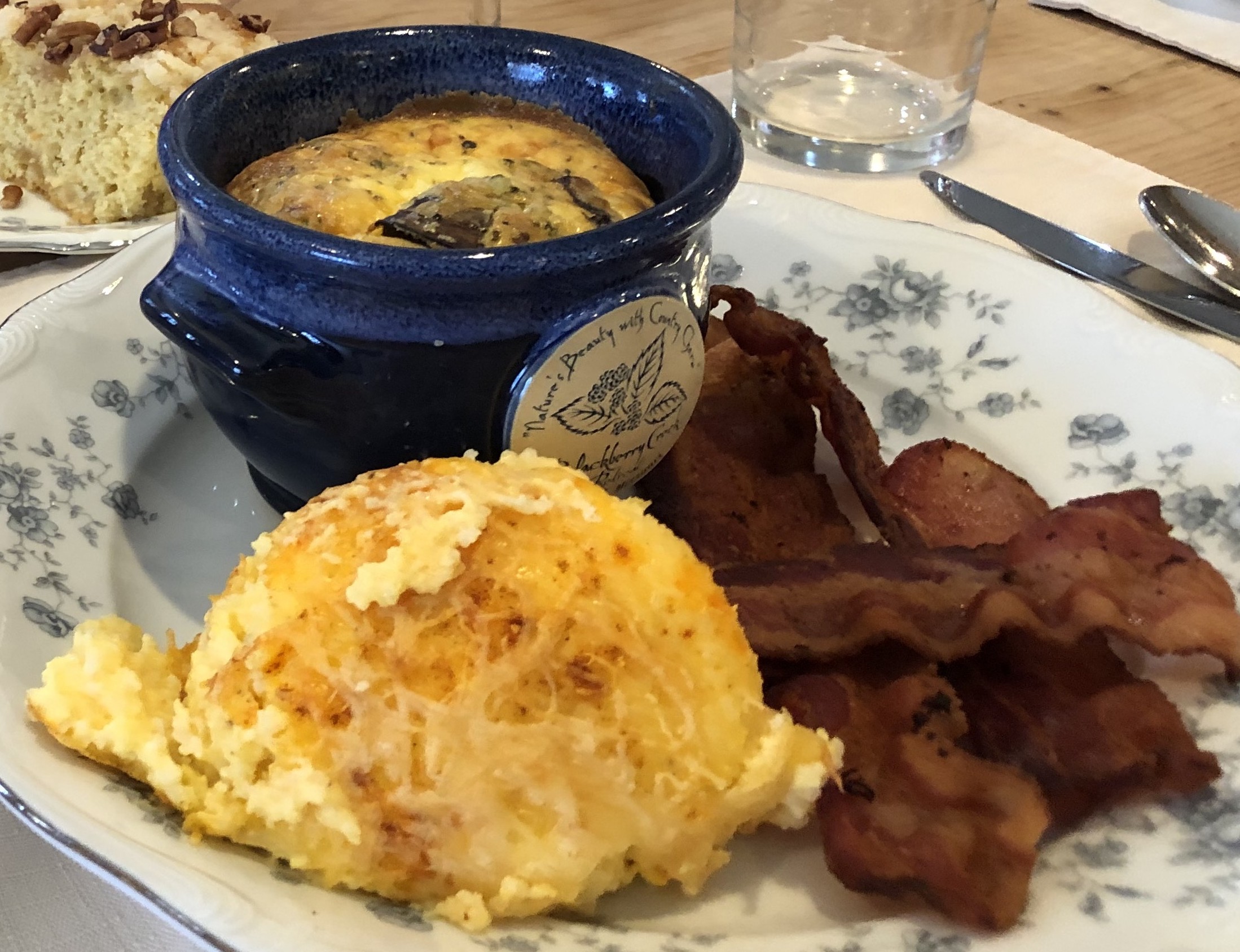 Here the Egg Tart was prepared and baked in one of our Soup Crocks, with Baked Cheese Grits on the side (and naturally bacon).
BRINGING IT TOGETHER – PLATING
If you combine like photo, I first scoop some Baked Cheese Grits on plate as a landing zone for the Tart. Next, cut a square or slice of the Tart and lay on top of the Grits. I top this with a drizzle of our Carolina Creole Simmer Sauce* and add a sprig of parsley. Wha lah!! Enjoy
* The Stone Ground Grits and Simmer Sauces are available in our STORE. We discovered these two products during a Bed & Breakfast Conference in Charleston, SC a few years ago. Looking for a breakfast substitute for potatoes, we sampled the grits and loved them. We found them very smooth and not gritty like other grits available. They seem to be only sold in the South or on-line, so we became a reseller and use often in our meals.. and not just breakfast. Ever tried Shrimp & Grits? Yum.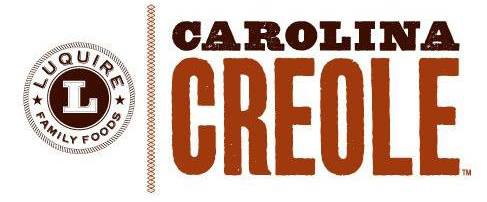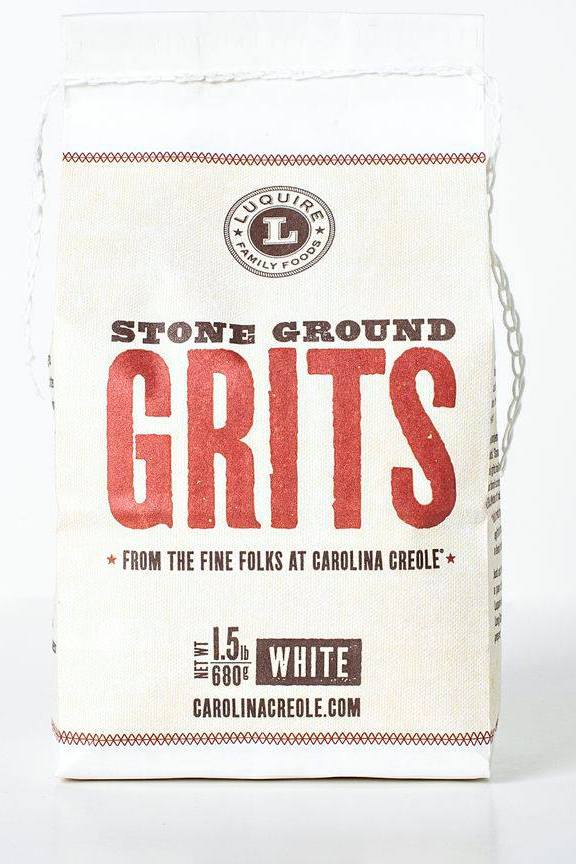 * The Creole Simmer Sauce we found to be a mild nice flavorful addition, not spicy like what you might find in the Cajun style say in New Orleans. Both are made and marketed by the Luquire Family in South Carolina.