I would open this recipe with "who didn't like the movie Babe?" then recalled we first watched it with our kids when it came out in 1995!!! OK, maybe you haven't seen it. Anyway, sometime after, we purchased a cookbook based on the movie called Babe's Country Cookbook – 80 Completely Meat-Free Recipes (Pig Friendly mind you). I pull this cookbook occasionally to make the recipe featured below, which is the only recipe I think I have pulled from it. Before sharing the recipe, and one reason for doing so, is a story attached to it.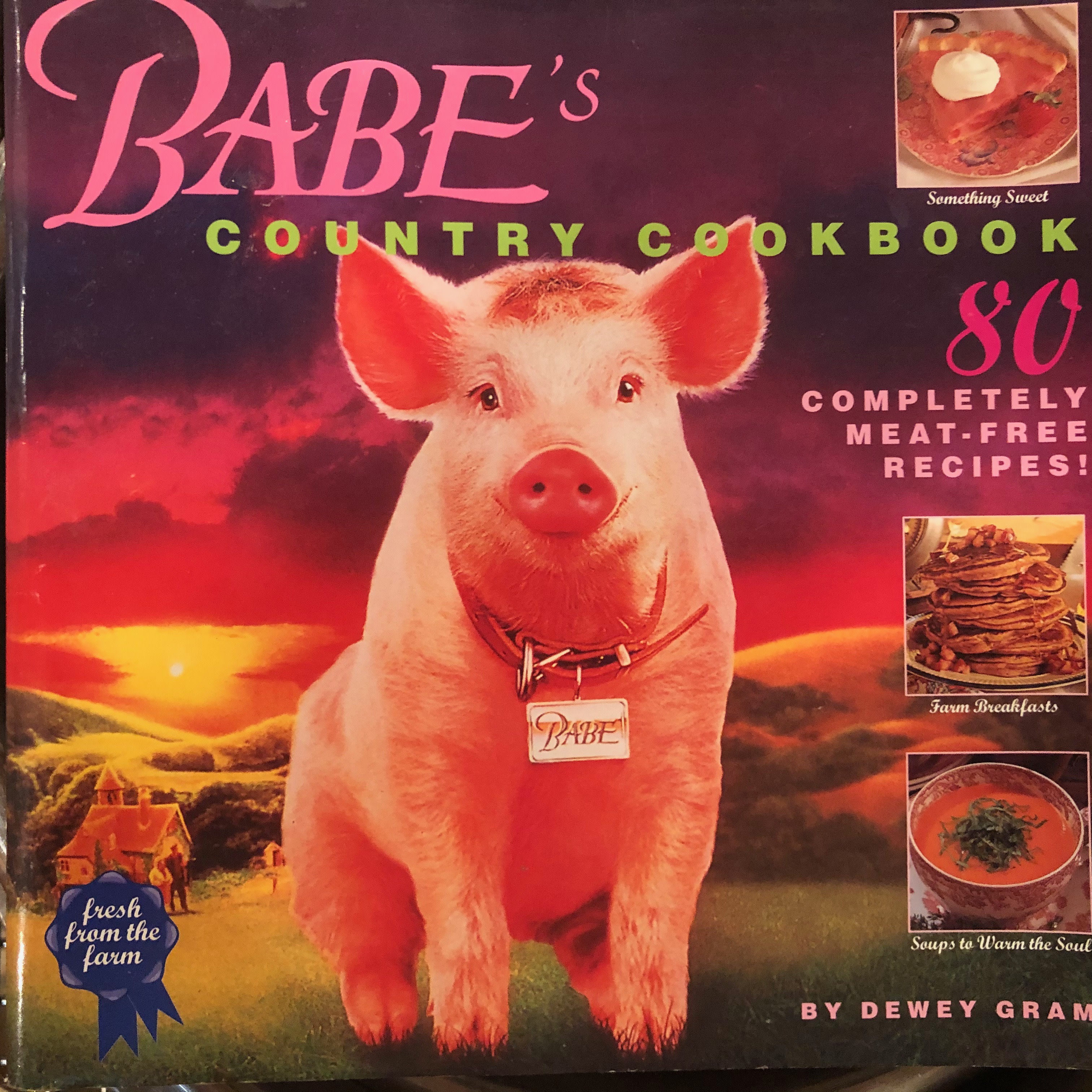 This is a TRUE Story, not one based on a true story, or inspired by a true story – this IS the true story! You see, one morning in 2018 as I was starting to prepare breakfast for the sleeping International Sisterhood of Scrappers and Knitters, I pulled the Babe cookbook to make it's "Blue Ribbon Banana-Nut-Lemon Bread". While there are many Banana Nut breads and muffin recipes out there, this is one of our go-to recipes we think stands out. We don't make it all the time, but on occasion. So while the coffee was brewing, and retreater slumbering, I made this and got it in the oven.
Once in the oven, I like to take a few minutes and walk around the retreat area work tables and see just what the ladies had worked on the evening before, their creations, their messy workstations. When I got to Leah's table, I was surprised to see three paintings, depicting painting of piglets, one looking surprisingly similar to the cookbook cover I had just used. One is seen above (flower in mouth) and a second below. Now, this was her own creation, as she had not seen the cookbook lost in many on shelves in the kitchen. She concurred with this later in the day. I thought "this is weird". Leah gave us the painting below,a nd whenever i see it, I ALWAYS remember that morning and this recipe.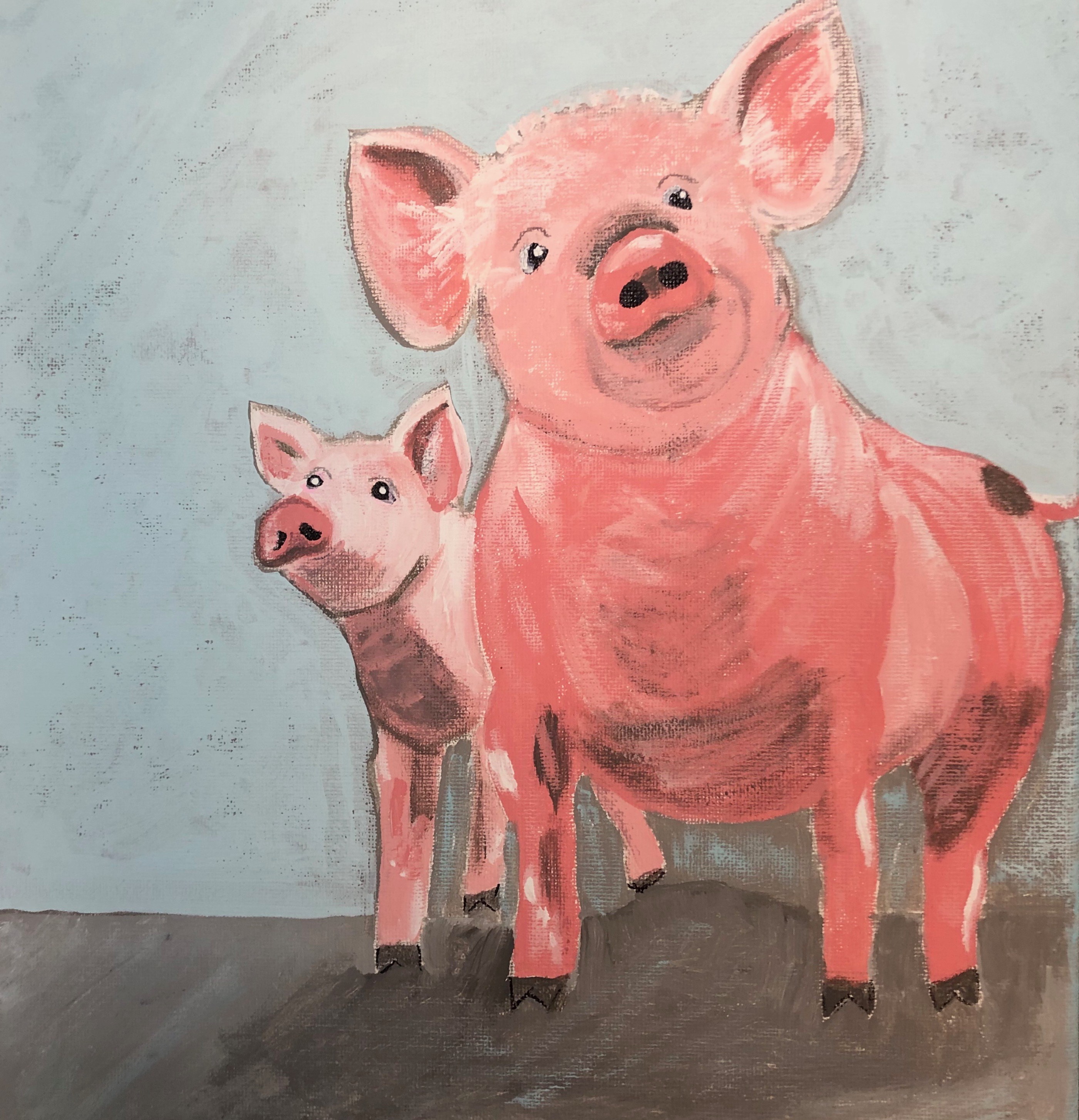 You don't have to remember pigs, paintings and this cookbook, just enjoy the recipe……..
BLUE RIBBON BANANA-NUT-LEMON BREAD
INGREDIENTS
– 2 large eggs
– 1/2 cup vegetable oil
– 3 small or 2 medium very ripe bananas, peeled and cut up
– 1/2 tsp grated lemon zest
– 1 tsp fresh lemon juice
– 2 cups all purpose flour
– 1 cup granulated white sugar
– 1 tsp baking soda
– 1/2 tsp salt
– 3/4 cup chopped nutmeats such as walnuts, almonds, or pecans (I use pecans)
DIRECTIONS
– Preheat oven to 350°
– Place the eggs, vegetable oil, bananas, lemon zest, and lemon juice in a blender and whirl until smooth.
– In a large bowl, stir together the flour, sugar, baking soda and salt. Pour banana mixture along with the nuts into the flour mixture, and stir just until combined, being careful not to over mix. Pour batter into greased 9 x 5 x 3 loaf pan.
– Bake in the 350° oven for about an hour or until top is golden brown and a wooden pick inserted in the center comes out clean.
– Transfer the pan to a wire rack and let set for 10 minutes. Then turn the bread over out onto the rack to cool. Slice with a serrated knife.
– Serve while warm or at room temperature with fresh sweet butter or just plain. When nobody is looking, try it with a smear of peanut butter.
Makes 1 loaf / 8-10 slices.