If you have been a guest, and stayed multiple nights (i.e. our retreat groups), then you know we try to change plating for each meal. Our primary set was a red and white ironstone Memory Lane made in the 1960's by the Royal China Company (we liked the acorn pattern on the edges), There is also the abundant Johann Haviland's Blue Garland chine we use (and was our chine when we got married). We have other less "historic" sets as well.
We like to tell the story regarding a set of plating we use of with local roots, and uniqueness. You see, some years into our innkeeping business, we wanted to find a square plate to use for serving. I recalled Dixie's mom having some square plates, old looking, and we had a few pieces in the barn. They were badly chipped up. However, about the same time, I saw an article in the Christian County newspaper, written by local history freelance writer Paul Johns (writes a column called MOzarks Moments), regarding that same pottery, and it's ties to our area. So I sought out pieces on-line, and procured enough to serve up a small group as we do today. The maker is Blair Pottery, and here's the story…..
In the latter half of the 1940's and first half of the 1950's, Blair Dinnerware took the country by storm. It was "crafted" in Ozark, Missouri by Bill Blair and is still collected today. There were several lines, including the most popular "Gay Plaid" pattern which features swatches of dark green, chartreuse, and cinnamon brown on a white background. In addition, there were a green "Pear" pattern, a stylized "Leaf" pattern, a "Bird" pattern, and a white-washed red "Brick" pattern.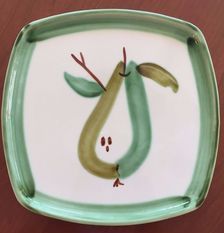 Blair Pottery Pear Pattern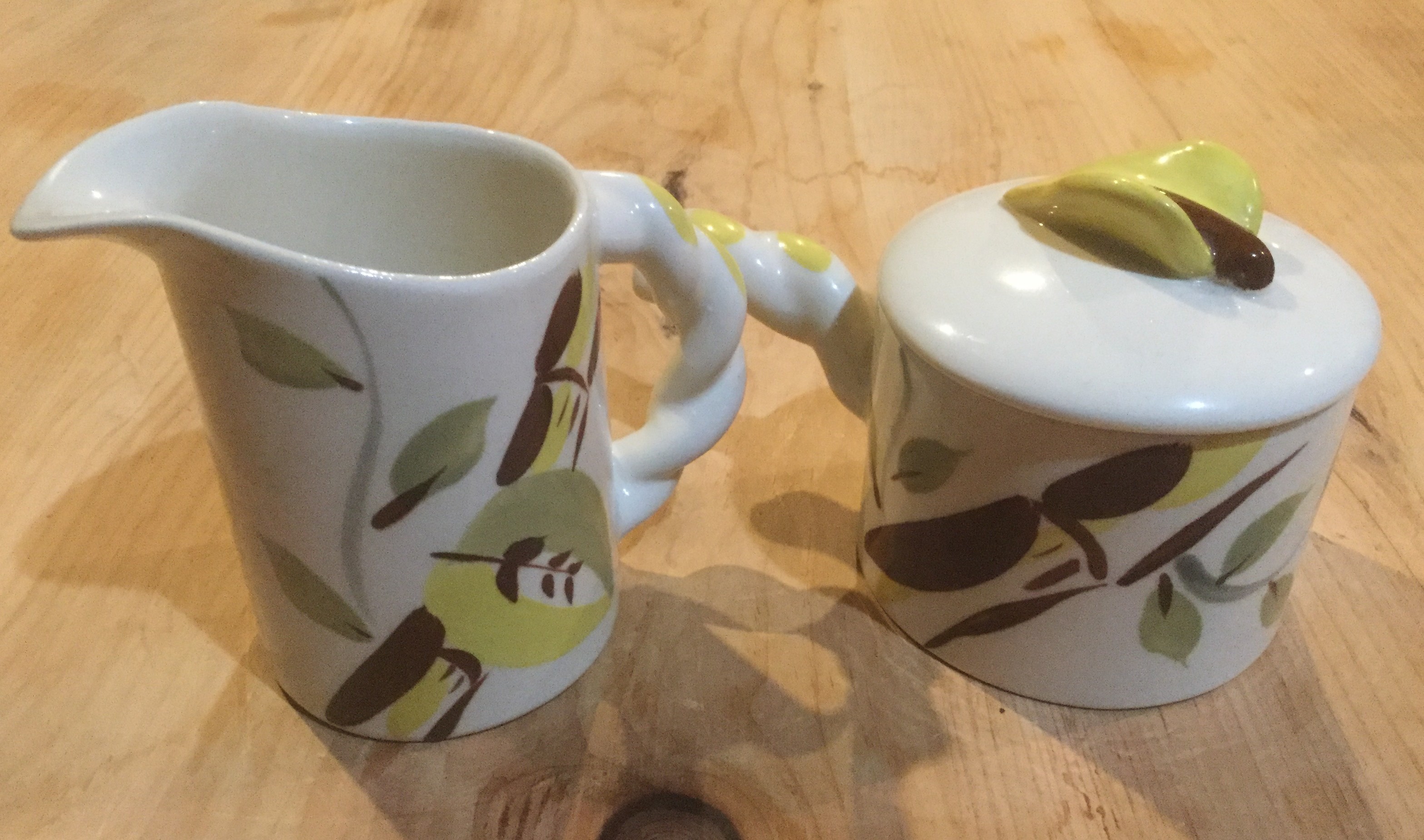 This creamer and sugar bowl we picked up, but not sure the pattern name. We call it the Bamboo Pattern.
The factory probably would not have been located in Ozark except for the fact that Bill's brother Howard, was hired as a football coach at Missouri State Teachers College (now Missouri State in Springfield) in 1938. Howard Blair coached there for seven seasons (in 1941 his team was 10-0) and visited by his brother, Bill, who fell in love with the Ozarks.
William "Bill" Blair was born in Mount Vernon, Ohio in 1909. He had a brother Howard, and two older sisters, one named Dorothy, who later married Bernard Purinton.
William Blair studied at the Cleveland School of Art (established in 1882) and then studied painting in Europe. The European trip was financed by a wealthy aunt, but when money ran out, he returned to Ohio and started painting children's portraits. After a year, he apprenticed in ceramics for one of the potteries in Mount Vernon, Ohio. He was on a path and career that would land him at Purinton Pottery Company, a company started by his brother-in-law Bernard and wife Dorothy (Bill's sister). At the time, there were a number of ceramic and pottery studios in Wellsville, Ohio, and Bernard purchased one and changed it's name to Purinton Pottery Company in 1936.
Bill and five other decorators painted these Wellesville decorations, which at that time had no formal names. Sales were good with distribution in larger department stores across the country. As the war escalated, china and pottery imports dropped dramatically and Bernard P. saw the opportunity for growth. With the encouragement and financial help of the Clarion County, PA Chamber of Commerce, the pottery moved to a newly constructed and larger plant in Shippenville, PA in 1941. A handful of new employees were sent to Wellesville to learn decorating and casting, but only one employee was transferred to the new facility.
William Blair was instrumental in this transition. He designed the Apple pattern, called d-46 at the plant, which was then and is now the most favored pattern. It was produced in quantity for as long as they were in business. He also developed the Intaglio pattern, popular then but ignored by collectors now. Blair created the off-round shapes of the dinnerware lines, one small win for his modernist sensibilities. He left the company, returned, then left for good in 1943 to start his own company.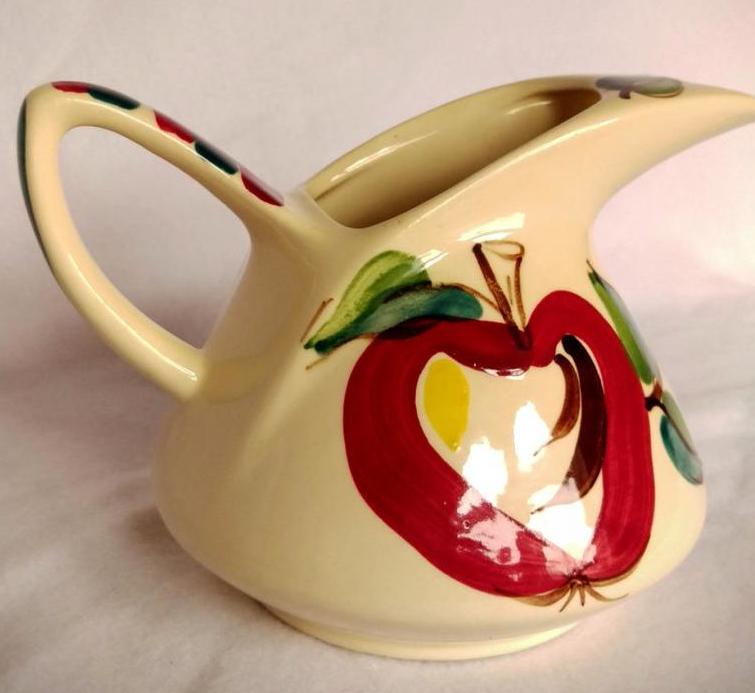 A Purinton piece exhibiting the Apple pattern designed by Bill Blair. Purinton was started by Bernard Purinton who married Bill Blair's sister, Dorothy. This pattern is widely collected.
We picked up this cool piece of Purinton Pottery, a coffee holder in the Apple Pattern, designed by Bill Blair before leaving and starting his own company in 1943.
Bill was somewhat outspoken in the industry.In an attempt to persuade potteries to change their conventional ways, he contacted major potteries but was rebuffed. "Stick to your painting, sonny," they said. His view of American dinnerware was that it needed a "general overhauling." "It's downright immoral," Blair was quoted in 1949. "You see, most American dinnerware today is made by machine on an assembly line, in about the same patterns that have been used for a generation or more. To change their recipes a bit, the manufacturers buy up a few floral designs and paste them willy-nilly on the same old pitchers and plates." He went on to say, "Then these designs are stamped on over the finished pieces, instead of being baked permanently into the clay base, and after a few months of use, they wear off. All you've got left is a stack of clay slabs. Might as well eat off of a pie tin."
After leaving Purinton, he enlisted the help of a nephew, Bart Higgins, who blueprinted the molds while Bill worked up his designs. When they were ready, they traveled to the Springfield area and began searching for a building to convert to a factory. In Ozark, they found the old Fray Johnson Ford auto agency building, located just north of the Ozark square, which was just the right size. For a year, they worked to convert it into a ceramic factory. They bought a $15,000 kiln from West Virginia and installed it into their factory. By 1946, they were hiring local workers and training them to work in mixing, molding, glazing, painting, and kiln rooms. Each piece was painted by hand. Think about this – at age 37, Bill Blair had his own factory, and turning out dinnerware.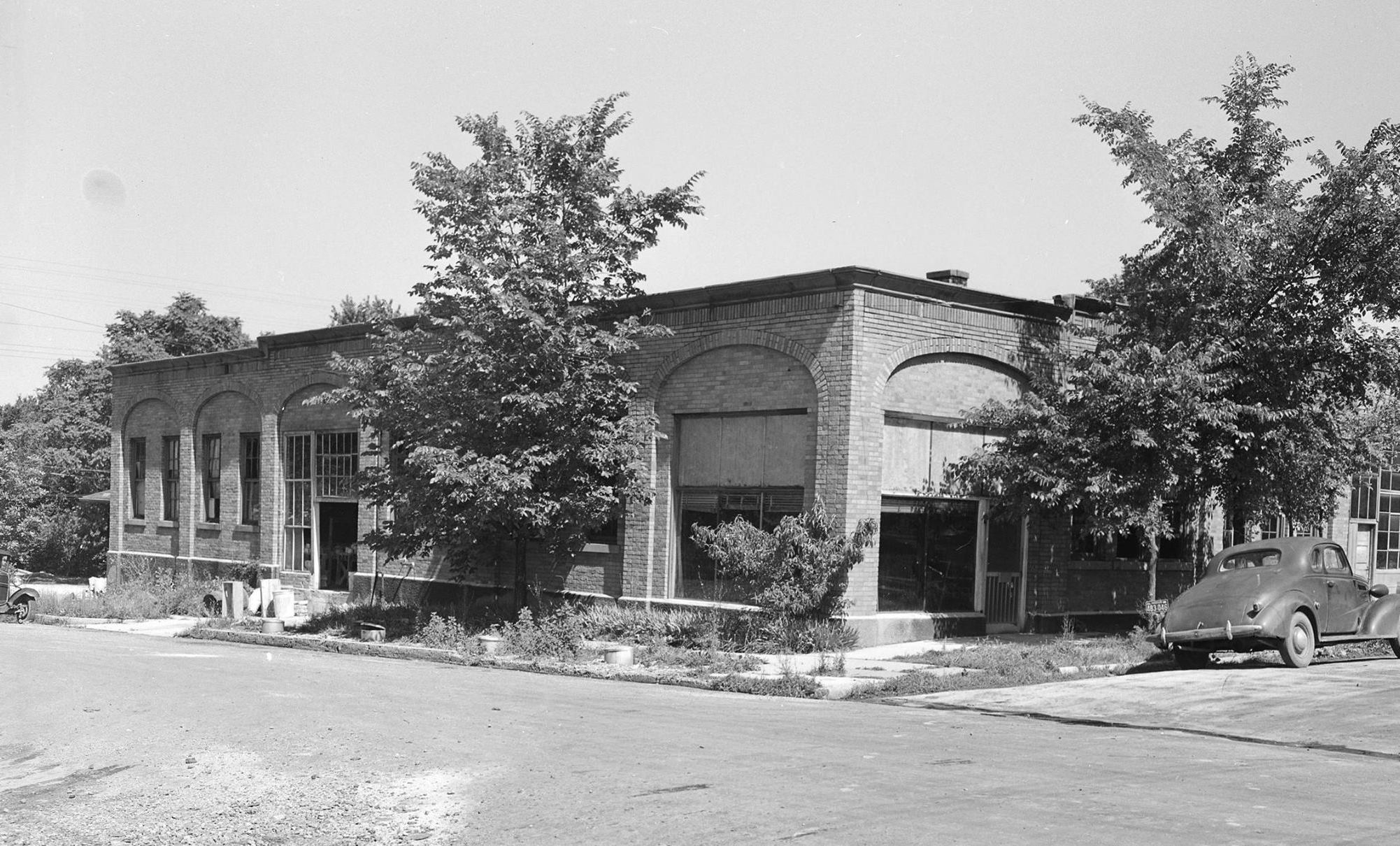 This is a 1951 photo of the Blair Pottery Factory in Ozark Missouri. At it's height, it employed 32 people producing up to 3,600 pieces a week (photo from Internet – Springfield News-Leader used with permission. Can be shared but not used for commercial purposes)
Blair Dinnerware dishes were unique – square shaped but with a slight curve build into each of the four sides. Some pieces were featured with handles styled to look like twisted strands of rope, and some leaf handles on top covers (i.e. sugar bowl or teapot). His pieces were produced with a mirror-like glass that appeared more ceramic than pottery. The processes used proved to be more durable and each piece was oven proof thus being very practical.
in 1948, Blair Dinnerware was shown at the National Exhibition of American Dinnerware in Chicago and written up and pictured in an article about the exhibition bu the Associated Press. This article ran in newspapers across the country. The new dinnerware was a hot ticket and the Missouri Ozarks gained a reputation of producing fine dinnerware. That same year, ads were being run in newspapers by stores in various cities offering a 16-piece set of the "Gay Plaid by Blair" dinnerware for $18.50 in La Crosse, Wisconsin and for $20 in Traverse City, Michigan.
Blair hired more workers, reaching a high of 32 employees and by 1949, Blair Pottery was turning out 3,600 pieces of "Blair Ware" every week. That same year, his factory and dinnerware was featured in the St. Louis Globe and mentioned some of their employees. At the same time, a 16-piece set of Gay Plaid Blair Dinnerware was advertised in Joplin for $16.96!!! In today's dollars, that's about $176!!!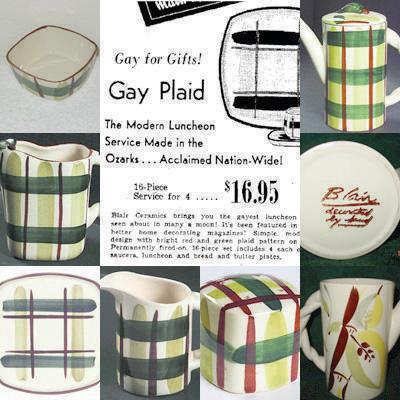 1954 Sales advertisement showing a 16-piece set of Gay Plaid for $16.95! Shortly after, lightning struck the factory in Ozark, burning it to the ground, and Blair Pottery ceased to exist.
In 1950, Bernard and Dorothy Purinton came to visit Bill in Ozark. It's not known if this was a social visit or if Bernard wanted to examine Bill's factory, or both. By 1954, the 16-piece Gay Plaid dinnerware set was being advertised in Iowa and Illinois for a price of $13,95. The era of Blair Pottery came to and end in the Mid-50's when lightening struck the factory building in Ozark and the resulting fire burned it to the ground. Bill Blair, who had overseen the operation each day, was weary of being tied to the business, and chose not to rebuild.
I'll close with one funny story that has been told. In telling this story to a group of scrapbookers one morning, one retreater picked up her Blair tumbler to look at the Blair signature on the bottom. Her friend next to her did the same, forgetting she had just filled it with milk!!! You get the picture.
__________________
NOTES:
In researching information about William Blair and Blair Pottery, little information is found. A few major articles such as the MOzarks Moments by Paul Johns, and bits and mentions here and there. THANK YOU Paul for allowing me to share your story, which in turn seeded this Innkeeper to go out and seek the pieces we use today.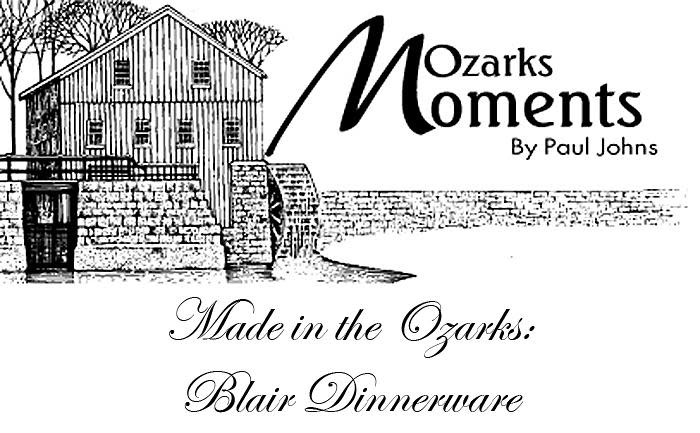 In Googling various search keywords, I found it interesting a number of hits on obituaries. Why? Because several Ozark area people who have passed, worked at Blair Pottery during their life. We had one guest a few years ago, say "my aunt use to work there painting for him".
Other Internet sources and mentions are carried over here as well.
We grabbed a few representative Blair Pottery patterns aside of the popular Gay Plaid. They include the Highland Plaid (more yellow), the Autumn Leaf pattern, and a Bamboo Pattern. If you visit and desire a Show n' Tell, just ask.