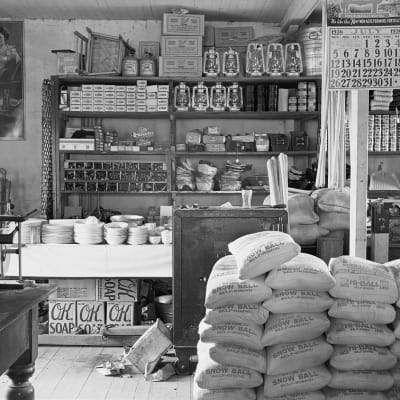 Dixie's Berry Basket Store
Browse our "Dixie's Berry Basket Store" for an item or two to take back and remember your stay with Blackberry Creek Retreat B&B. You can link directly to and pre-order by clicking STORE.
All items are available for pickup during your stay or can be shipped (shipping charges added) to you.
Additionally, we like to patronize our guests and neighbors that might offer products of interest, locally crafted.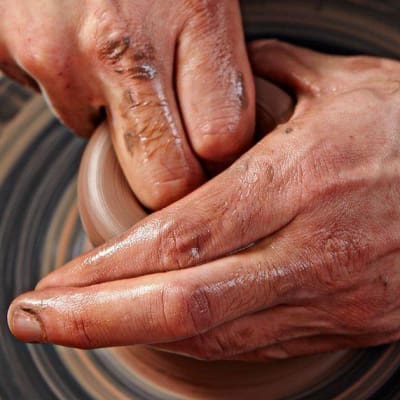 Mugs by Deneen Pottery
The most collected item from our store is without a doubt our "collectible" Deneen Pottery mugs and crocks. Deneen Pottery's slogan, "Our life's work is in your hands.™" exhibits and supports their work and commitment to many customers.
This isn't just some tag line – it's the truth – our 2nd generation pottery has been working with clay since 1972. Deneen Pottery is deeply passionate about creating superior quality hand-thrown pottery mugs for customers like us, to pass onto you, that integrate crisp detailed emblems. Heck, they invented the emblem process and call it Glaze Engraving.™ Each piece we make is touched by over 24 pairs of hands (yes, right here in the USA) and although amazingly uniform, no two are exactly the same.
Our guests have become so attached to our mugs, that they often submit a "Mug Shot" to us of their favorite setting, drink, and mug. We post these on our Pinterest page and you can see them by clicking HER E.
These are a few of the mugs and crocks we offer at our B&B. Start your collections today.

All BCR Hand-Thrown Mugs sell for $18 (tax included)...


Footed Mug - 12 oz.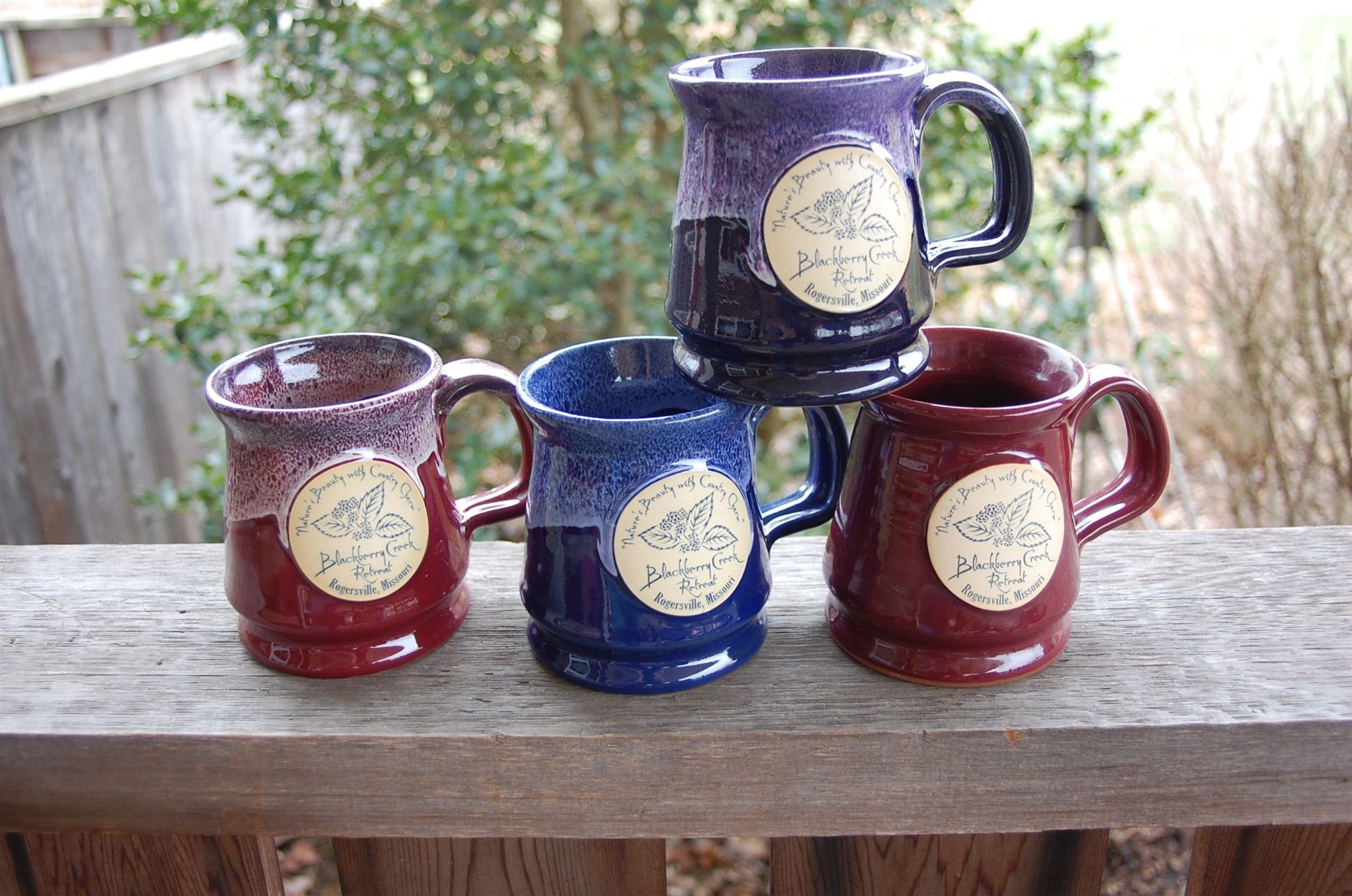 The Footed mug came off the Deneen line in 1996 and has remained a customer favorite ever since. The Footed mug may be our most popular handmade pottery mug seller. Like the Round Belly, it has a nice sturdy bottom with a tapered top. These features allow your beverages of choice to retain their heat, while also making it a very satisfying mug to hold.
BCR 12 oz. Footed Mugs in stock available in:
Navy with White Glaze
Midnight with Lilac White Glaze (everyone calls it purple)
Burgundy (no glaze - our first mugs offered)
Burgundy with Blue/White Glaze
Footed Mug - 10 oz.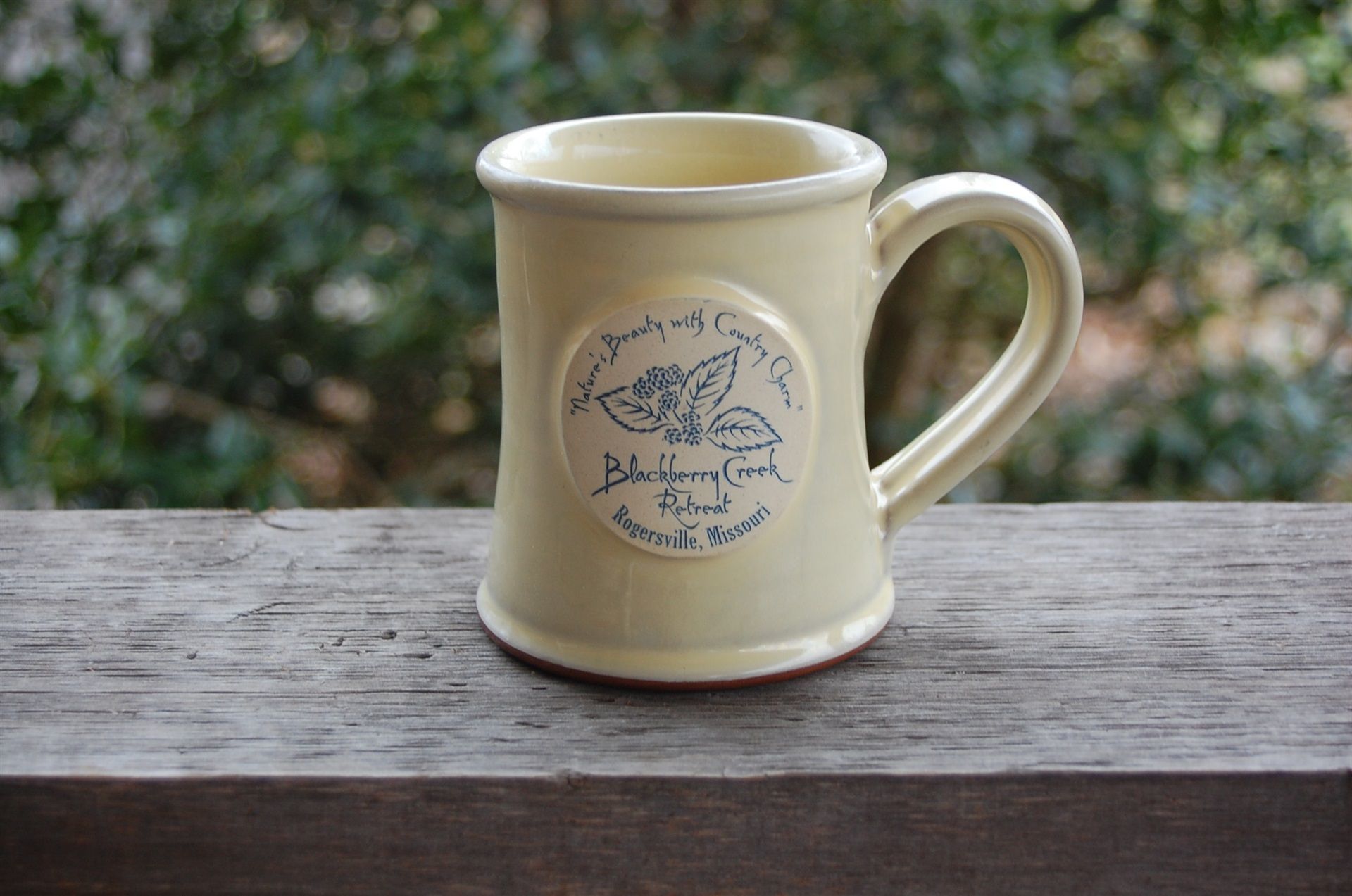 The smaller version, by only a couple ounces, of the 12 oz. shown above. Preferred by tea drinkers and those desiring not so much liquid...
BCR 10 oz. Footed Mugs in stock available in:
Butter (no glaze)

Abby Mug - 12 oz.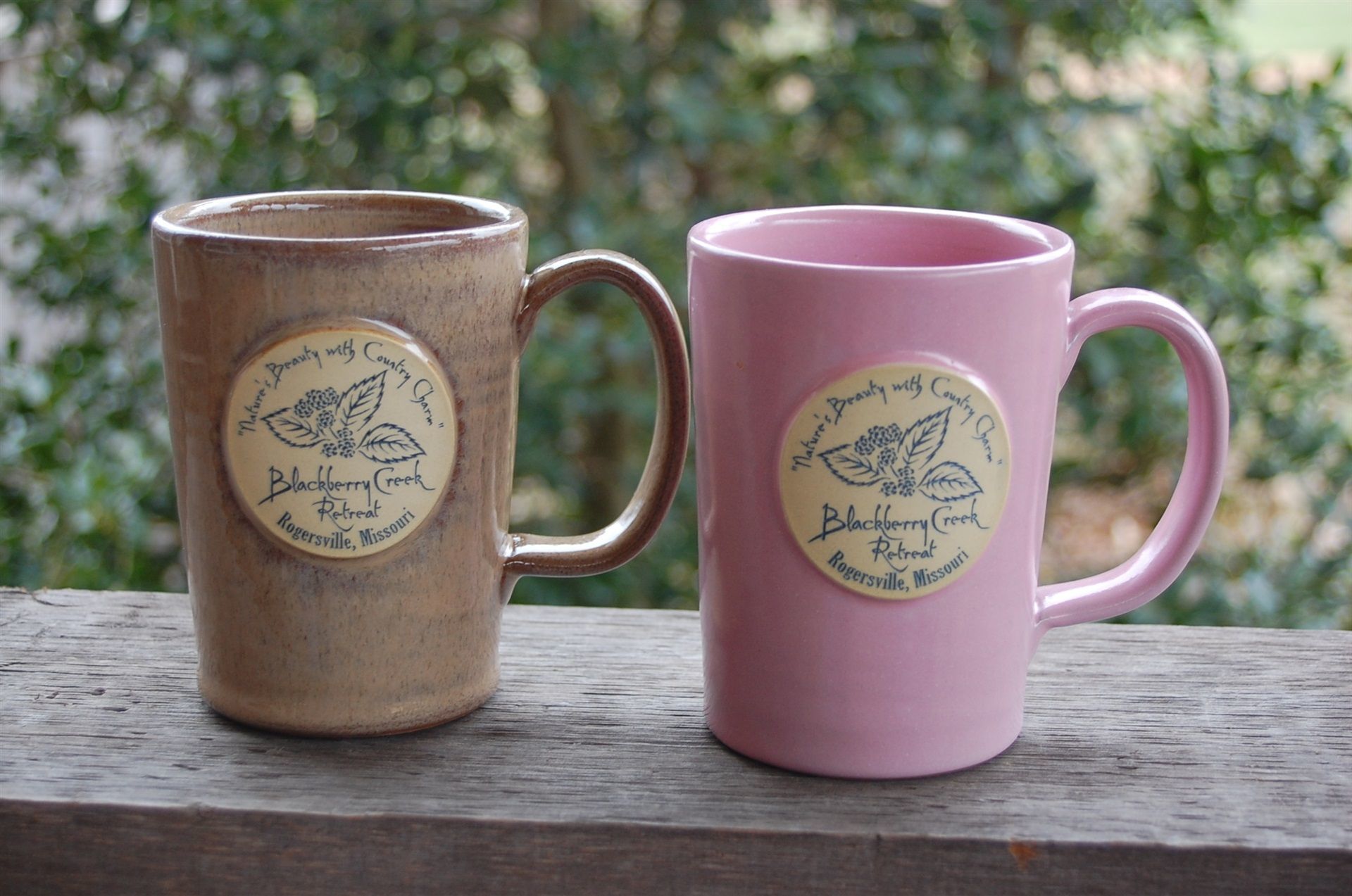 The Abby mug first produced in 2009 and quickly became a top pick because of its simplicity yet sophisticated style. Many Innkeepers chose this style as a "modern" offering over other styles, and it has been quite popular.
BCR 12 oz. Abby Mugs in stock available in:
Pink (no glaze - we brought on board in October, Breast Cancer Awareness month)
Sand (no glaze)
Camper Mug - 12 oz.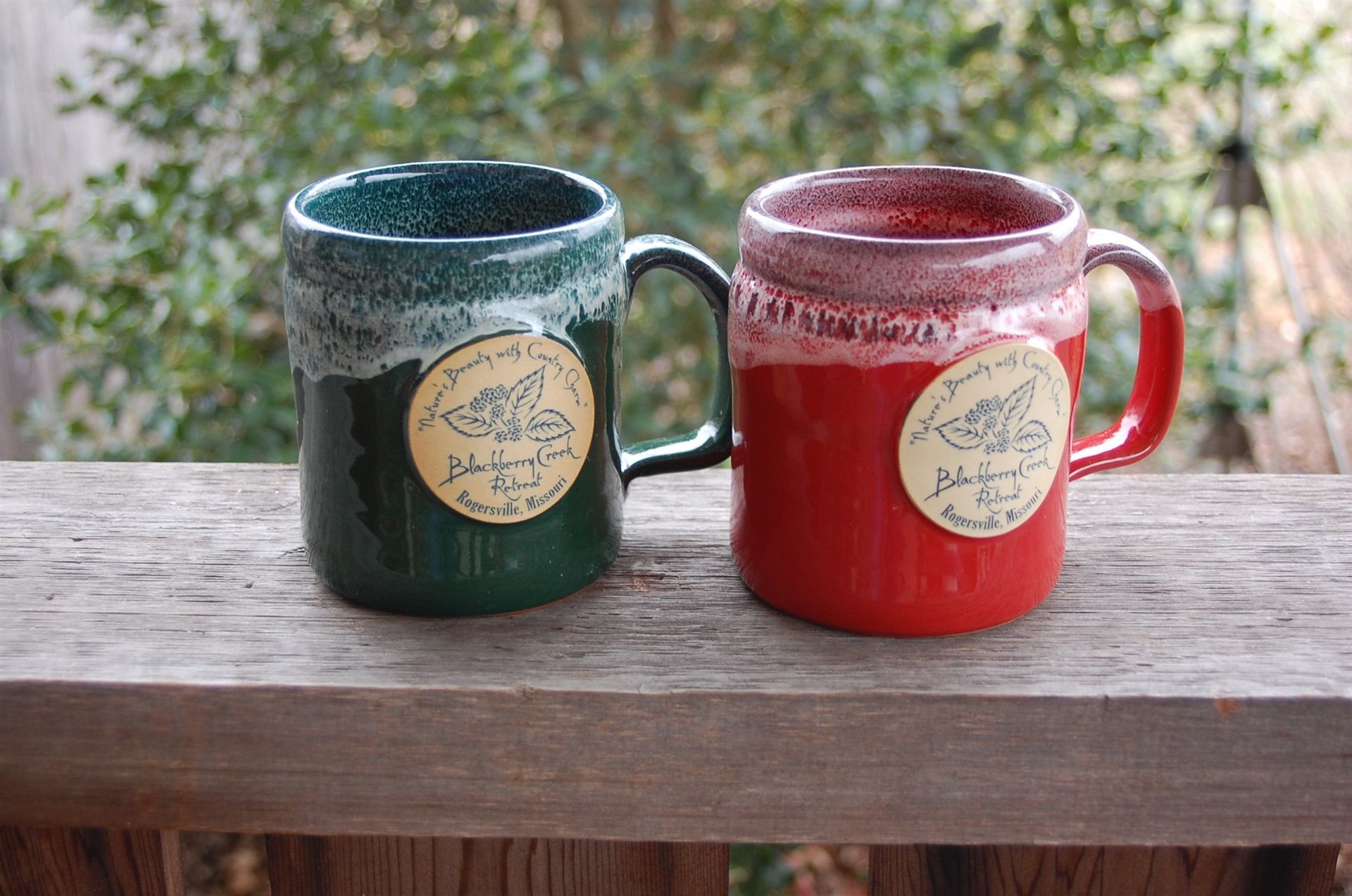 Saw a Deneen mug of similar style at one of the Ozark's National Scenic Waterways parks, and purchased it. Chose the Camper mug, with it's prominent straight sides and a minimalist handle, yet larger handle for a "man's grip". While it is 12 oz., seems like you get more in the cup!
BCR 12 oz. Camper Mugs in stock available in:
Hunter Green with Blue/White Glaze
Red with Black/White Glaze
Round Belly Mug - 10 oz.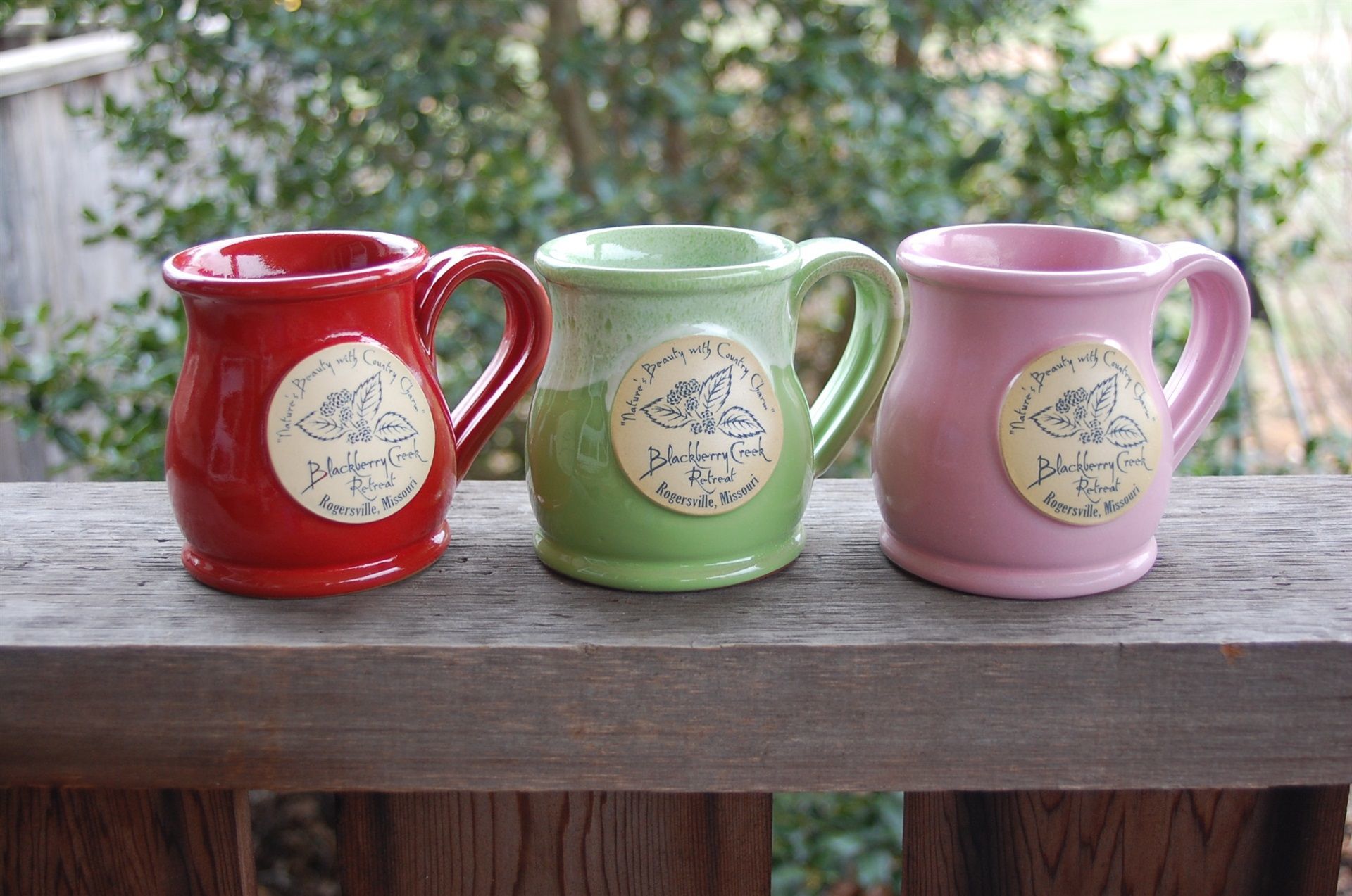 We thought we were "stepping out" when Niles at Deneen suggested we try this mug. Deneen's most popular Signature Mug™ style the Round Belly mug and the favorite of many of our restaurateurs and Innkeepers. It features a nice wide base and tapered top that keeps beverages hot. Many Deneen customers have said that this is the perfect shape to cradle in your hands and we couldn't agree more.
Fun fact - the Round Belly is the very first, and at one time the only, shape that Deneen had in 1991 when we restarted with just one innkeeper.
BCR 10 oz. Round Belly Mugs in stock available in:
Red (no glaze)
Kiwi with White Glaze
Pink (no glaze - we brought on board in October, Breast Cancer Awareness month)
Other Products Offered....
BCR French Latte Mug 12 oz.- $18 ea.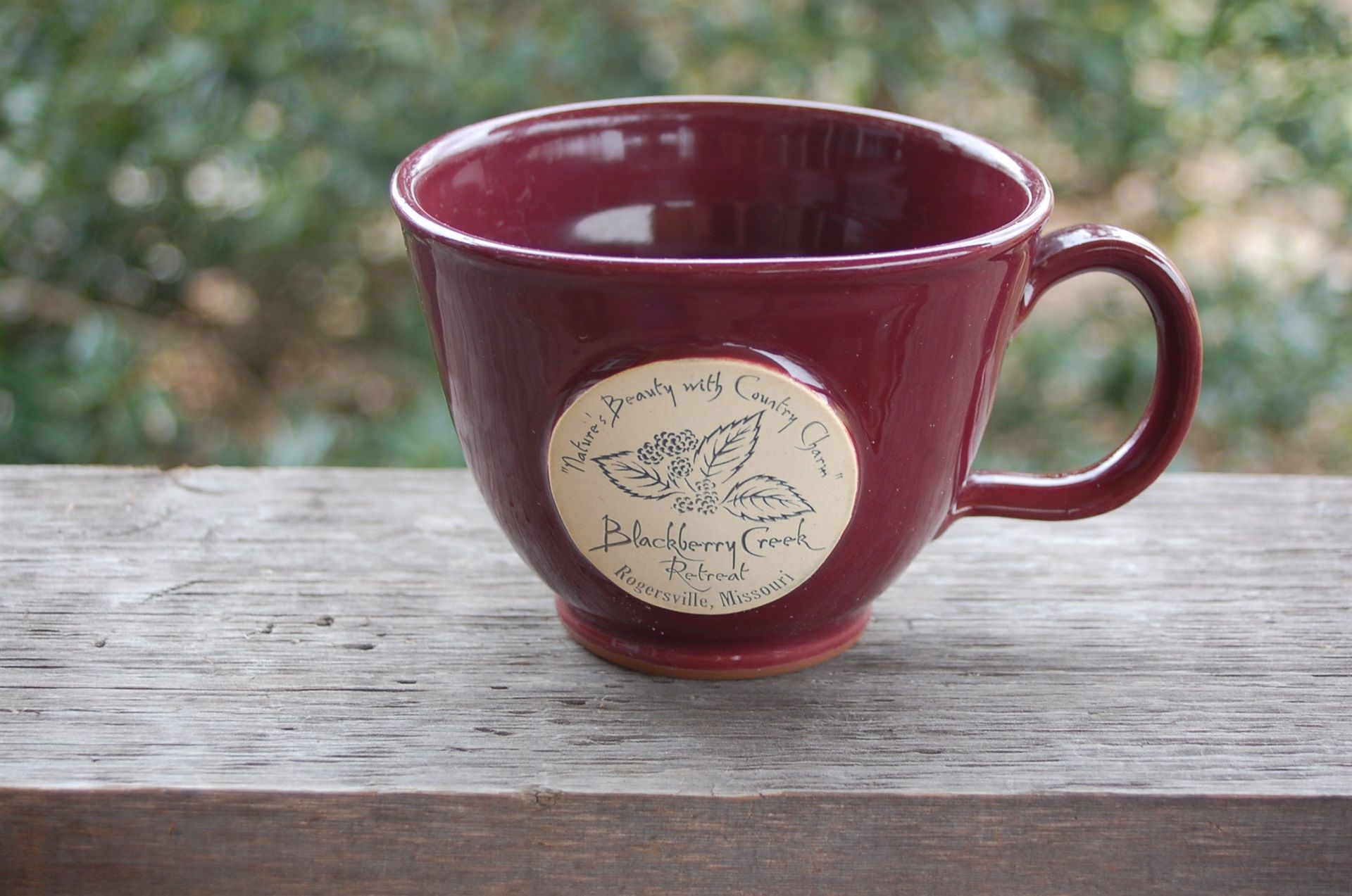 We ordered these when we first opened to serve soup or hot chocolate in, and match our vintage plating. We still use for soup and such, but Deneen has discontinued making these, as we have migrated to Soup Crocks, but still a popular item. Limited quantities of Burgundy (shown). Butter SOLD OUT.

BCR Soup Crock (Medium) 12 oz.- $18 ea.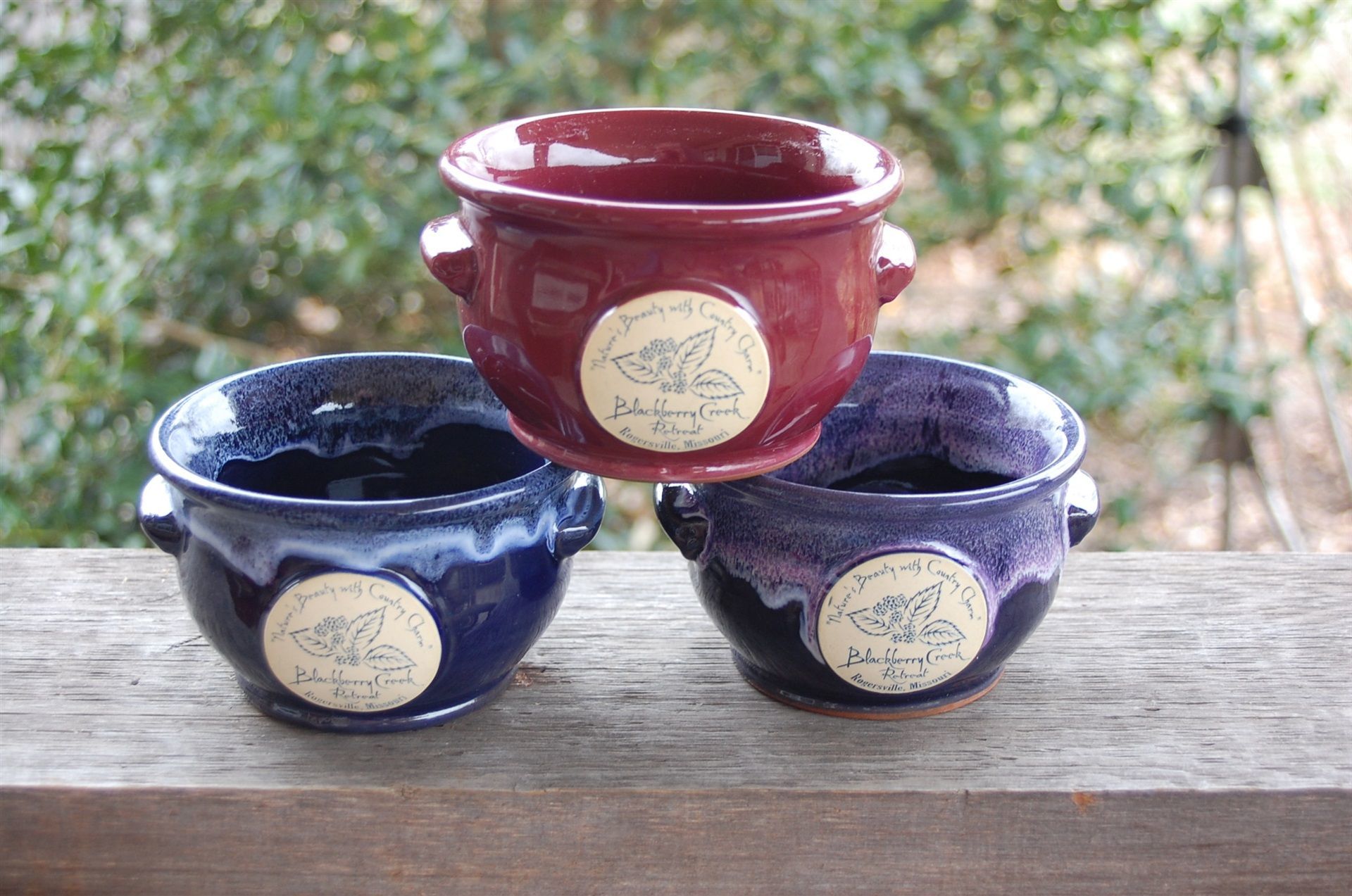 We switched from Latte Mugs to these crocks for Soup service, and to support our larger dinners, and they have been well received as Guests say "are the crocks for sale?" Yes they are. Again, ordered to match our ironstone and china colors. Available in Burgundy, Navy with White Glaze and a few of the Midnight with Lilac/White Glaze (purple the guests say) only.

BCR Soup Crock (Small) 10 oz.- $18 ea.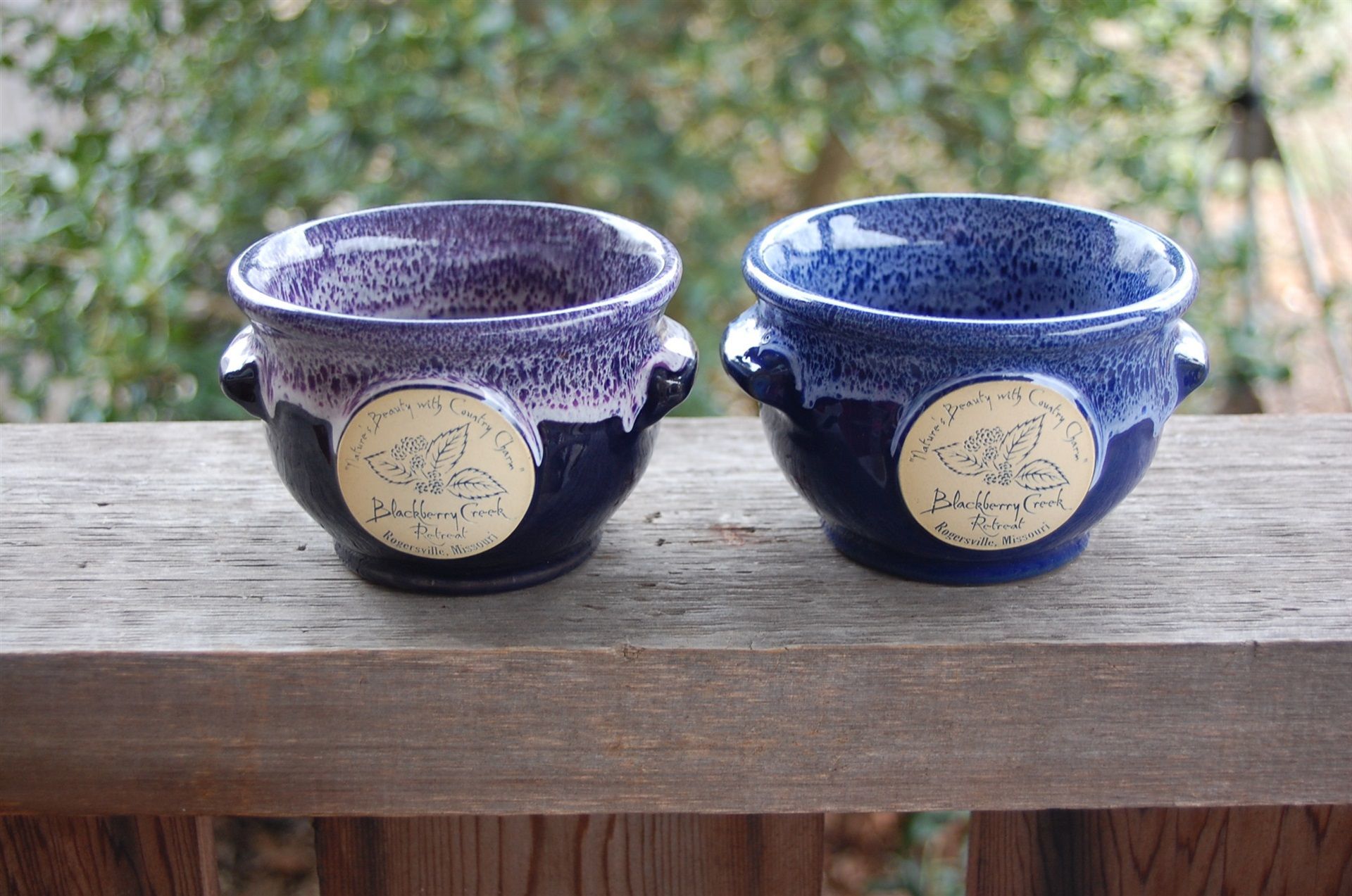 OK, for our larger dinners with multiple courses, the soup amount was too much, so we sized down when Deneen started offering a smaller crock. This 10 oz. size it the perfect amount for a dinner, ice cream, or seconds if need be. Available only in the Navy with White Glaze, or Midnight with Lilac/White Glaze only.

BCR Ornament - $7 ea.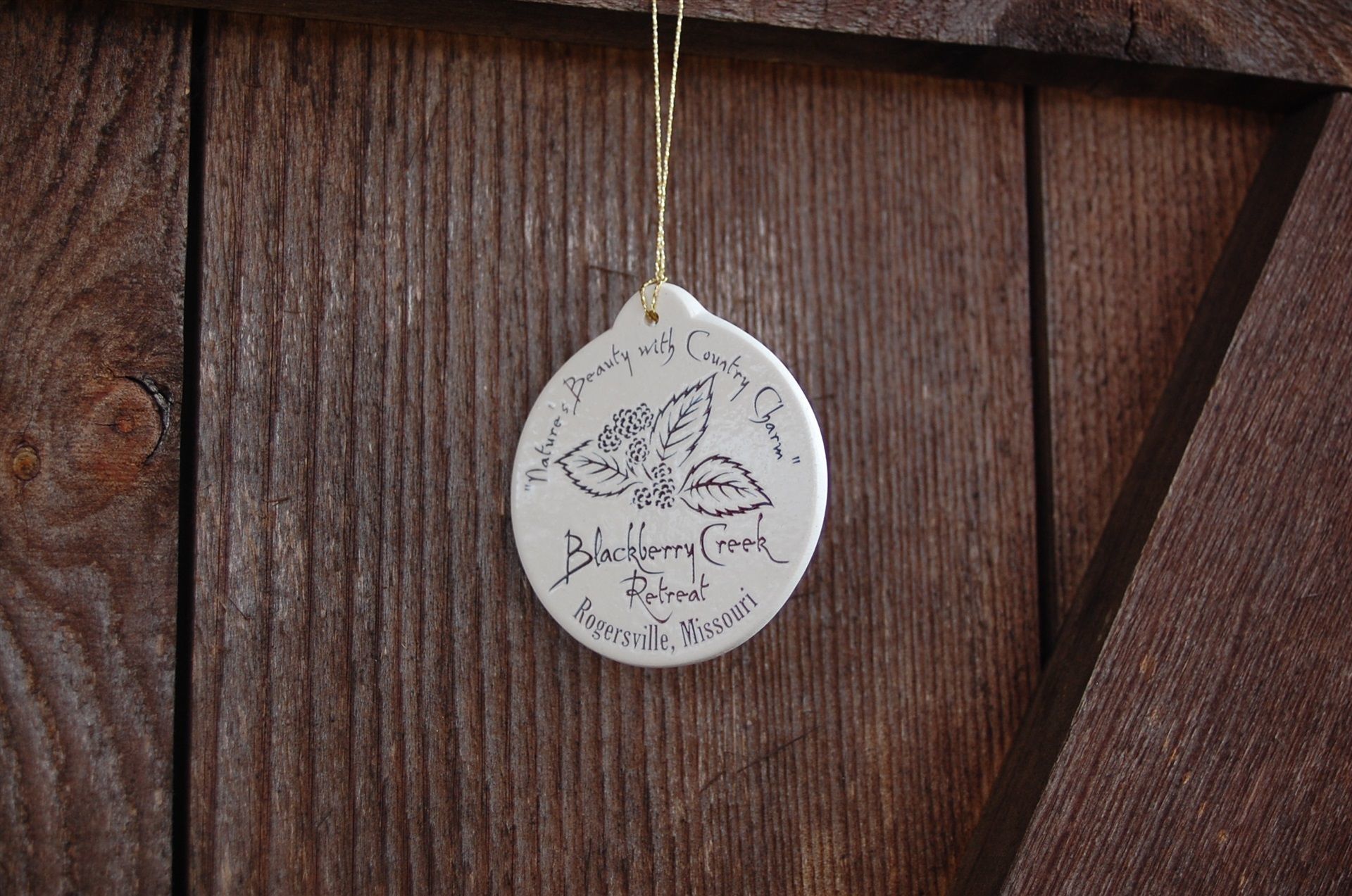 Using the same emblem found on our mugs and crocks, Deneen takes and modifies into this momento ornament to place on your Holiday Tree, or as we have seen, some Scrapbookers use as an embellishment in their projects!