Your Innkeepers & A Dream
When Mark and Dixie (Ewing) Dawson met many years ago, courted and married, the idea of being Innkeepers most likely wasn't even a flash in their minds. Mark, city boy from Springfield, and Dixie, the country girl from Rogersville, met while working in Springfield's at Zenith, the world's largest color television manufacturing factory. Today, that building is home to Bass Pro Shops World Headquarters and Distribution Center.
Now Mark came from a rather small family, having only three cousins, and one aunt & uncle. Dixie had 100 first cousins, and jokingly claimed to have left the county to find her husband to insure a clean blood line! Joking, but Mark wasn't quite sure about this new, LARGE family he was marrying into. Furthermore, Dixie's father's family settled in nearby in the Panther Valley and the Southern Webster County areas in the 1830s. Dixie is a 5th generation Ewing in Webster County, making our grand-kids (while they were here) 7th generation Webster County residents. Mark, well, he's just a guy from Springfield!!
Mark and Dixie Become Texans....
Shortly after their marriage, Zenith transferred Mark to South Texas where he worked across the border in Mexico for three years. There in McAllen, their first son Matthew, was born. About this time, a small manufacturers rep firm offered a job in Dallas, where they moved and spent the next 25 years, raising Matthew and his younger brother, Peter, born in Plano, Texas.
One Foot Back in Missouri.....
Missouri was never in their rear view mirror. In fact, with both families and siblings in Missouri, Mark and Dixie made many trips "home" for holidays, visits and special times. It was during one such trip, their high school class reunions, that 40 acres about 12 miles north or where Dixie grew up, was offered to them by Dixie's Aunt and Uncle. The year was 1992. Dixie, desiring a place to raise her boys and call their own during these visits home, jumped at the idea, and the property was purchased and named The 4D Acres Ranch (four Dawsons, FORTY acres).
Dixie almost immediately approached our good Texan friends, and a gifted builder, Troy and Jan Crane, to see if they would consider the idea of coming up to Missouri and building our "weekend or holiday home". Troy's response "I never have been north of the Red River" and "just bought Jan a travel trailer, guess we could!" For the next several months, Troy and Jan lived out of a "little" pull behind trailer, while they built our new "vacation home".
We celebrated Thanksgiving in the "almost completed" house in 1993. The seed was planted, and for the next several years, 4D Acres became a place to "retreat" to from Dallas, where the Dawsons spent just about every three day weekend school was out, and eventually, most summers, as Mark's company graciously allowed him to work and travel out of Missouri.
A Seed is Planted.....
Between their homes in Texas and Missouri, it seemed Mark and Dixie always had an open door, and were entertaining, be it a group of high school or college kids, or a group of 80 men from church. In fact, one summer, between their homes in Texas and Missouri. In fact, one summer in MIssouri, the Dawson's hosted 55 friends from Texas over a five week period. Mention of "you have a gift for hospitality," and "you guys should open a Bed & Breakfast" were often heard. About 15 years ago, Dixie and a cousin visited a local Missouri Bed & Breakfast, and the dream to build our own Bed & Breakfast caught fire. While those Innkeepers became friends, guided and mentored Mark and Dixie, Mark's sales business based in Dallas was taking a turn, to the Far East. Mark decided to "retire" and he and Dixie began the process of selling their Dallas home (2006), and building Blackberry Creek Retreat Bed & Breakfast .
Full Time Ozarkians.....
Now full time Missouri residents and Innkeepers, Blackberry Creek Retreat Bed & Breakfast consumes most of their time. In the 12+ years we have been open, our two Texan sons have both married on the property, moved nearby, then moved away, and witnessed our family growing with six grandchildren.
When not making beds, cooking, cleaning, and running the business, Mark and Dixie enjoy their time with grand-kids (who doesn't), outdoor piddling, landscaping, antiquing, and exploring Missouri we never knew growing up here.
General Inquiries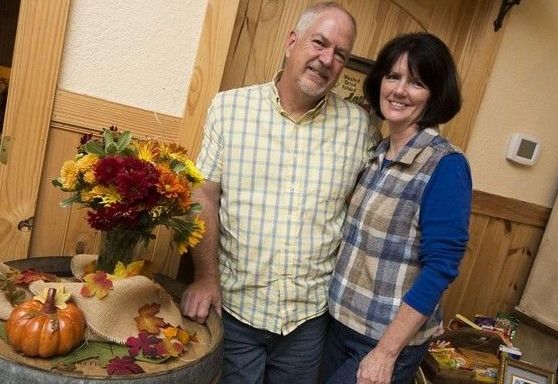 Mark & Dixie Dawson - Innkeepers
reception@blackberrycreekretreat.com