Nestled in the Ozarks
COVID-19 STATEMENT
The Coronovirus (COVID-19) has certainty brought to this country much uncertainty, and ever changing rules and impacts on society. Many businesses are closing, social distancing, and reported cases rising, have created precautions and fears. We have seen several cancellations for these reasons. Therefore, we have CLOSED our property and facility to outside influence and visits through Monday April 6th, while we take pause, self quarantine (Dixie and I) and determine what the next phase, and time-line reveals. It will be tough times for our business and this country. Our prayers and thoughts pour out to our country, leadership, and all Americans and other nations as we work together to put this global tragedy behind us.
__________________
Blackberry Creek Retreat Bed & Breakfast is a newly constructed (opened mid-2007) Springfield, Missouri area bed and breakfast offering lodging accommodations for your Ozarks vacation, romantic getaway, family reunions, retreats, and anniversaries. More than just a typical country inn or Bed & Breakfast, Blackberry Creek Retreat B&B is designed to facilitate the needs of many events. Leaving the upper level with guest rooms, a wide staircase takes one down to our Retreat Level, with it's great open unique space that can meet many different events. This level has several French doors and windows that open onto our beautiful outdoor environment, including a large deck nestled in many trees, including a centerpiece white oak, that provides a canopy over the complete area.
Hashtag photos - #blackberrycreekretreat
THIS SCHEDULED EVENT HAS BEEN POSTPONED UNTIL FURTHER NOTICED DUE TO COVID-19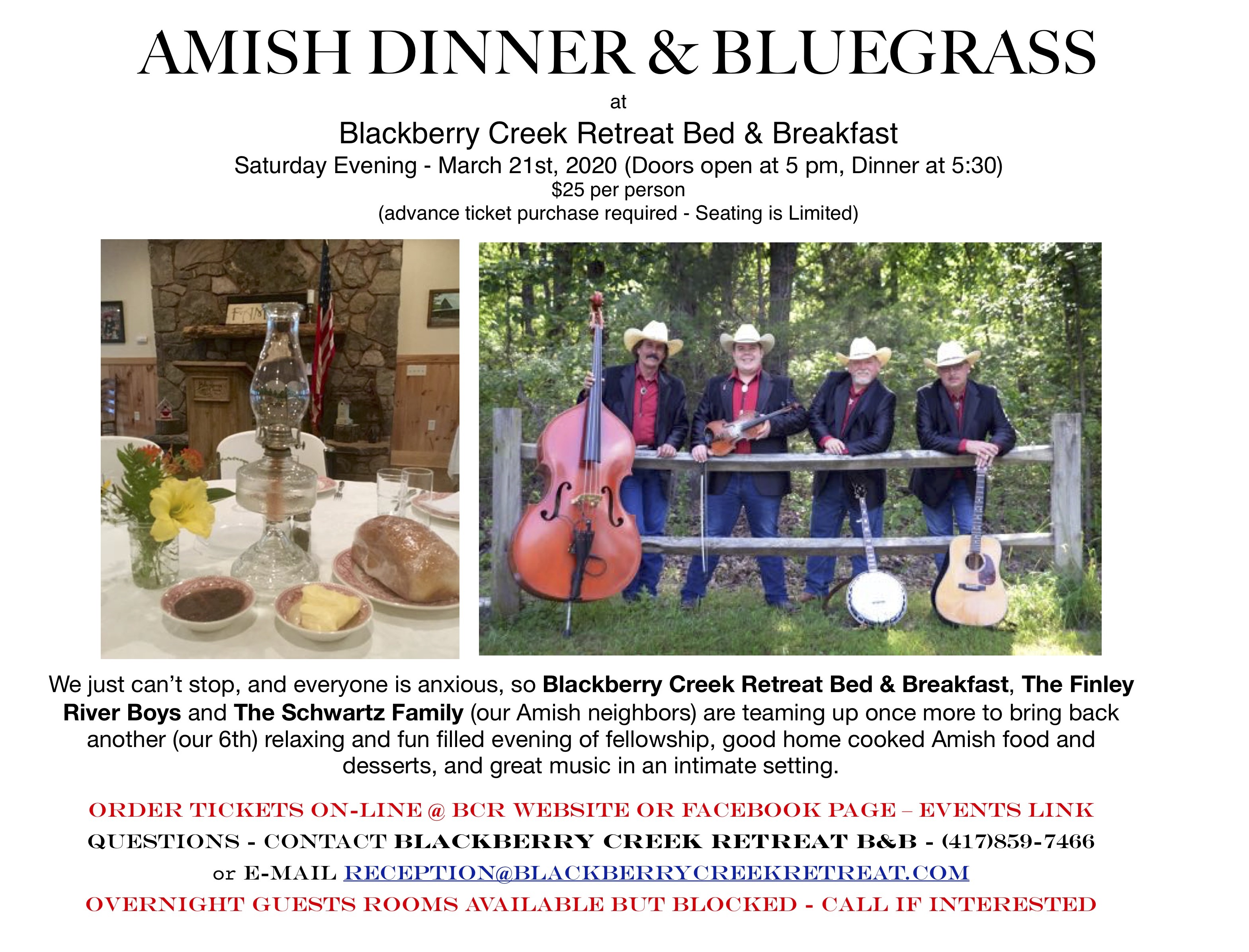 A Perfect Getaway
The Bed & Breakfast consists of four beautiful guest rooms.
Each guest room features a private bath, all with luxurious amenities that reflect their own eclectic charm and rustic style.
Guests can relax in the comfortable lounge/library with bird watching, or they may wish to escape down to the huge room beautifully decorated with country elegance including a massive rock fireplace in a secluded wooded setting.
Experience nature's surroundings by relaxing indoors or outdoors full of wildlife and more bird watching, several patios to choose from.
Come relax by a fire pit and savor your own cup of pleasure. The Retreat area offers 2400 sq. ft. with private restrooms and commercial kitchen (check for use of) that can accommodate small groups, reunions, club meetings, church bible studies, small corporate meetings, or whatever your private function.
See More
---
Come Find Us
We are located at 5086 State Highway KK, Rogersville, Missouri, 65742
---
Subscribe
Subscribe to our newsletter and be the first to learn about our seasonal promotions and special deals.
By clicking "Sign Up" I agree to the Terms of Service.
Guest Reviews
We strive to provide an exceptional level of service for every guest, and are proud to have a 5-star rating on TripAdvisor.
Read Reviews